George Fardon - Chapter 14
Chapter 14 - George David, son of John and Mary
(letters and digraphs/trigraphs in red cross-refer to those in the Sources list and Family Tree)
This is one of the smaller branches of the TG Fardon family. There is no documented evidence that any were blacksmiths, those of the first two generations being recorded as agricultural workers, though of these did become a carpenter. Members of a later generation would start in agriculture, but then leave the land for the towns, for example Cheltenham, Leicester, Birmingham, Southampton, and branch out into occupations such as baker, railway worker, postman, policeman. One person emigrated to Australia while still a young man. At least one, and perhaps others, served in World War 1.
M - George and wife Charlotte
George was baptised in Temple Guiting in 1816, the son of John and Mary. Nothing is known of his early years. He seems not to have been at home in 1841 but is next recorded in 1846 with his marriage to Charlotte Oakey. Banns had been read in Temple Guiting, his home village, and the marriage was registered at Stow in the Wold. Presumably the ceremony took place at Charlotte's home village of Naunton, which was in the Stow registration district. .
Thereafter the couple lived in the Temple Guiting hamlet of Kineton, George working as a labourer, and here three children were born in 1848-53. George died there in 1854 aged only 38, and was buried in Temple Guiting, the parish church for Kineton. It is not known whether he initially took up the Fardon occupation of blacksmith. The only information we have was during his married life when he was a labourer.
George's wife Charlotte married again in 1857 - the banns were read in February of that year. Perhaps she returned to her home parish of Naunton to be married, for, as with her first marriage, the event was registered in Stow in the Wold. The bridegroom was Job Hall from Kineton, born in Upper Slaughter. At 40 he was two years younger than she, and a carpenter, which might have influenced the career of his stepson Joseph Fardon, see below.
The family continued to live in Kineton, the Fardon children initially living as part of the new family. In 1861 Charlotte was described in the census as a shoe-binder, perhaps a job she had taken when she was widowed. I know of one child by Job, Samuel, who was born at Kineton in 1857. Since he was not a Fardon he is not further considered here.
The family was still living in Kineton in 1871, Job still a carpenter, though sons William and Isaac had moved away. But Charlotte was again a widow in 1881, when she was still living still in Kineton, her unmarried son William having returned home. Ten years later the situation was reversed, with William married and Charlotte living in the William household. Charlotte died in 1892 at the age of 73.
| | |
| --- | --- |
| | The children of George and Charlotte |
| | |
| --- | --- |
| | There were three children, all born in Kineton hamlet, Temple Guiting |
| | | | |
| --- | --- | --- | --- |
| | M1 - William | M2 - Joseph | M3 - Moses |
William and Joseph spent their lives in Temple Guiting parish, the former as an agricultural worker, the second as a carpenter. Moses moved to Winchcombe, only a few miles away, and lived the rest of his life there. He also started in agriculture, later working at a mill. All married and Joseph and Moses had children
William lived what seems to have been an unremarkable life in the Kineton hamlet of Temple Guiting. He was born there in late 1847 or early 1848 and he was baptised in Temple Guiting in March of 1848. He was at home in 1851 and 1861, in the latter year as a 13-year-old agricultural worker. Ten years later he had left home and was lodging, still in Kineton, with the family of Noel Chandler, also an agricultural worker. After his mother was widowed he was back at home with her in 1881, age 33 and still unmarried, now employed as a traction engine labourer.
In his mid-thirties he married Lydia Boulton from Temple Guiting at the Guiting Power Baptist Chapel in 1885. She was three years younger than he and a native of Ford hamlet. Six years later he was living in his own household but with no children, and widowed mother Charlotte staying with them. He had reverted to working as an agricultural labourer. The family was still in Kineton in 1901, with his mother Charlotte, who had died in 1892, replaced by mother-in-law Sarah Wiggett, age 82, born in Bricklehampton, Worcs.
He continued to live in Kineton, through and after the First World War. He died, aged 75, at the end of 1924, though he also appears in the 1925 electoral register, and was buried at Temple Guiting on 6th December. His last few years were as a widower, as Lydia had died in 1918, aged 67. I have seen no records of any children.
Joseph was the only one of George's sons to take up a craft, as a carpenter, though he began as an agricultural worker. He spent the greater part of his working life in Temple Guiting, initially in Kineton hamlet, later in Ford, though there is evidence to show residence in Tewkesbury at one point, and being at other places in north Gloucestershire, where children were born. He finally moved from Temple Guiting only on the death of his wife, spending his last few years with his son in Cheltenham.
Joseph's birth was registered at the beginning of 1851 and he was baptised in Temple-Guiting in the same year. His home was in Kineton. He was at home in 1851 and 1861, in the latter year as an agricultural worker. But in 1871, still at home in Kineton, he had become a carpenter, which would be his trade to at least 1911 and probably beyond.. Presumably he was influenced to take up this trade by his step-father Job Hall, himself a carpenter.
In 1873 Joseph married Ruth Chiswell of Temple Guiting. According to the marriage banns, read in September-October of 1873, Joseph was living at Tewkesbury at the time, but the couple were in Temple Guiting in 1874 for the birth of his first son. In early 1876 Ruth, aged 22, gave birth to her second child, an unnamed baby girl, but both she and the baby died, perhaps at the birth (see under Unnamed Daughter, below). The two were buried at Temple Guiting.
In the spring of 1878 Joseph married Sarah Sheward at her home village of Astley, Worcestershire, some 10 miles NW of Worcester. The following year their first child was born in Weston-sub-Edge, which is in the north of Gloucestershire near Chipping Campden. In 1881 he was back in Kineton A fourth child, Adeline Lydia would follow in 1887. She was born in Cutsdean, just north of Kineton.
By 1891 the family had moved to the hamlet of Ford, still within Temple Guiting parish, and here they remained. Joseph's wife died at Ford in 1927, aged 75, and was buried at Temple Guiting on 5th September. Probably soon after her death Joseph moved to Cheltenham to live with son Walter and family. He disappears from the Temple Guiting electoral register after 1928 and is listed in Cheltenham in 1931 and 1932 as a non-householder in his son's household. Joseph's death was registered in Cheltenham in 1933, at the age of 82.
Joseph's departure from Temple Guiting represented the end of a Fardon presence in the parish which had lasted since James Fardon settled there in about 1730, almost 200 years before.


The descendants of Joseph
There were four children, two by each of his wives:
| | | |
| --- | --- | --- |
| by Ruth Chiswell | | by Sarah Sheward |
| M2a - Walter George | | M2c - William Reginald |
| M2b - unnamed daughter | | M2d - Adeline Lydia |
The unnamed daughter died probably at birth and at the same time as her mother. Both the boys moved away from Temple Guiting, Walter to became a baker in Cheltenham, William to work on the railways at Stourbridge. Both raised families of modest proportions (a known total of two and five children respectively). Walter served in the First World War but was invalided out with bronchitis; the nature of any military service by William is undetermined.
M2a - Walter George
and children
Much is known about Walter, thanks to the survival of military records (the "burnt documents") relating to him. These provide some early information of his civilian life at and before his enlistment as well some information on his army life. Details are given in Appendix A, with the salient points summarised below, and in the Sources list. He was initially an agricultural labourer and became a baker. During his twenties or early thirties he moved to Charlton Kings, then a village near Cheltenham, and spent the rest of his life there, with wife and two children. The son emigrated to Australia, the daughter married locally. Walter served in the Army during World War 1, joining the Army Service Corps as a baker and remaining in the ASC throughout his service.
Walter was born in Temple Guiting in 1874. One document (1901 census) shows his birthplace as Coleman, Gloucestershire, perhaps a reference to the Coleman Cottages which still stand in Temple Guiting. In 1881 he was at school in Kineton hamlet, in 1891 working as an agricultural labourer in Ford hamlet, both within the Temple Guiting parish. In 1898, at the time of his marriage, which took place in Naunton, he was an assistant baker, and in 1901 a journeyman baker in the same village, where he continued to live until at least 1904.
By 1911 he had moved to Shipton Oliffe, where he was again working as a farm labourer. All these locations are villages in the Cotswolds to the north and northwest of Cheltenham.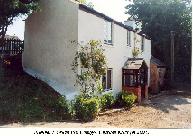 In 1915 Walter was living at 1, Gravel Pits, London Road, Charlton Kings, now (since 1974) part of Cheltenham, which would be his address until his death in the 1950s. He was working as a baker. Gravel Pits Cottages is a group of five houses just off the London Road, first recorded in Cheltenham Central Library records in the mid-nineteenth century and still standing in the twenty-first. Number 1 is a detached bungalow backing onto the main road; the others form a terrace of two storey houses standing at a ninety-degree angle a little way back from the road.
Walter enlisted in the armed forces on 18th August 1915, having undergone an examination four days before that at a bakery in Cheltenham which classed him 'very good' as a Table Hand (Baker). This provided him with the required Certificate of Trade Proficiency (Army Service Corps). Armed with this he was accepted into the ASC as a baker at his attestation in Cheltenham and was posted to Aldershot the same day. The date of enlistment shows that he would have been a volunteer, since conscription for married men was not introduced until mid-1916. At age 41 he must have been at the upper end of military requirement.
Walter was a small man. On enlistment he was just five feet, four and five-eighths (!) inches tall and with a chest measurement of 35½ inches. The attestation documents very usefully give family details - wife's name and maiden name, date and place of their marriage and the dates and place of birth of their two children.
Nothing is known about Walter's service in Aldershot, but in February 1916 he was transferred from 226 Company, presumably of the ASC, to an unknown unit prior to a posting to the Expeditionary Force in France the following month. But he was back in Britain by the end of December. This was presumably because of sickness, for a form generated on 7th January 1917 by the ASC at Catterick shows that he was suffering from bronchitis. And within three weeks he was discharged from the army as no longer fit for war service. This was under the provisions of paragraph 392 (xvi) of King's Regulations, which dealt with the release from front-line duty, at unit level, of soldiers suffering from wounds or illness. Many of those thus released were assigned to support units (Labour Corps) in Britain, and the fact that Walter was discharged completely from the army might suggest that he was quite ill.
As a result of his service he received the usual two war medals (British and Victory). He did not receive a star as these were only awarded to soldiers who served in a theatre of war in 1914 and 1915.
Post-war information is derived from Cheltenham electoral registers and shows the family still at 1, Gravel Pits in Charlton Kings, where Walter and Sarah would live until their deaths in the 1950s. After the death of Walter's mother in 1927 his father Joseph came from Temple Guiting to live with the family from at least 1930 until his death in 1933 (see above). Their two children lived there, one until the 1920s, the other until the 1930s, see below. George and his wife died in successive years, both deaths registered in Cheltenham; Sarah in early 1952, at the age of 81, George in 1953, aged 79.
Children of Walter George
There were two known children, Walter Edward, born in 1902, and Eileen, in 1904, both born in Naunton. They were at home with their parents in 1911, and still there at 1 Gravel Pits in Charlton Kings, Cheltenham when they first qualified to appear in the electoral register - Walter when he reached the age of 21 in 1923, Eileen when she qualified under female suffrage laws in 1930. Walter when he reached the age of 21 in 1923, Eileen when she qualified under female suffrage laws in 1930. Walter was shown there for two years, and then he emigrated to Australia, leaving from London for Melbourne on 20th September 1925. He is in Moorabbin, Victoria, Australia in 1954 as a Foreman and died later in 1982 in Bentleigh, Victoria. Further information is awaited.
According to Australian records Eileen is seeking the whereabouts of Walter in 1929, we do not know if she found him, but in the second half of 1931 Eileen married a Sydney J Chandler; the marriage was registered in Cheltenham. Eileen died a Widow in 1972.
The birth of an unnamed girl was registered at Winchcombe in the first quarter of 1876. The death of clearly the same unnamed girl was registered in the same quarter. The GRO reference for the death is the same as that for Ruth Fardon, and it is clear that this was Ruth's daughter; also that Ruth and the baby died together, presumably in childbirth.
William left Temple Guiting probably before the age of 20 and went to Stourbridge (Birmingham), where he became a railway guard, his lifetime occupation. He was married and had children, and descendants still live in the Birmingham area.
William was born in Weston-sub-Edge and his birth was registered in the Evesham district in early 1879. He was at home in Temple Guiting in 1881 and 1891, at school in the latter year. By 1901 he had moved to Stourbridge, where he was in lodgings and working as a railway guard. This would be his lifetime job. In 1907 he married Myra Louisa Adams, a year younger than he, at the Baptist Chapel, Hanbury Hill in Stourbridge. .
Based on the birthplaces of his children William lived in the Stourbridge district until at least 1921, moving to the Birmingham district by 1923. In 1941 his son Reginald was married in Birmingham, William was still working as a railway guard,. His death was registered in Birmingham in 1955. He was 76. His wife Myra had died in 1949, also in the Birmingham district, aged 69.
There is no William R in the First World War medals listing at National Archives, Kew. There are two Williams without second initial, one a private in the Royal Warwickshire Regiment, later a sergeant in the Machine Gun Corps; the other a driver in the Army Service Corps. Both served in France. Details in the medals listing in Appendix B. No documentation survives on these and it is not possible to determine which, if either, is William Reginald..
William Reginald's children
William had five children, one of whom died at or soon after birth, and there were grandchildren. The first four children were born in Stourbridge, the last in Birmingham.
Reginald Joseph
Reginald was born in Stourbridge in 1908 and married Gladys Cooper in Birmingham on 1st November 1941. At the time of his marriage he was a serving soldier, a gunner, number 1070613 in the Royal Artillery. His civilian job was postman. He was 33, his bride ten years younger. She was the daughter of a shoemaker, deceased, and was a Rescue Worker in the ARP (Air Raid Precaution organisation, mainly civilian, involved in warning and rescue work during air raids). The listed address for both was 120 Anderton Road, Sparkbrook, but it is not known whether this was the residence of bride or groom.
There were four children, two born during World War II, two after, see next paragraph. Reginald's death was registered in Birmingham in 1973 at the age of 65. Gladys survived him by more than two decades, her death registered in October 1995, also in Birmingham. She was 77.
Births and marriages of the four children were registered as follows, all in Birmingham save for Myra's marriage, which took place in Gosport.
name
birth
marriage
Michael J
1942
1965 to Jeanette V Plester
1977 to Iris M Page
Myra S
1944
1965 to David J Pepper
Reginald
1947
1969 to Mary E Anderson
Derek
1953
1973 to Susan J Smith
1980 to Carol A Bird
The detail of Michael, Reginald and Derek's families is shown in the Sources listing and the Family Tree.
Doris
Doris was born in 1912 in Stourbridge and married in 1938 in Birmingham to Harold Lowcock. There were two children, twin girls, born in Birmingham in 1943 - Barbara and Margaret. She died in Birmingham in 1996.
Edna
Edna was born in Stourbridge in 1918 and married in 1940 in Birmingham to Samuel Walter Cox, by whom she had seven children:
Judith Ann (birth registered in 1940), Valerie Jean (1941), Jacqueline Mary (1946), Jennifer Christine (1950), Pamela Jane (1951), John Leonard Andrew (1953) and Christine Julia (1957). All births were registered in Birmingham. Edna survived until the great age of 91, and died in Solihull Hospital in Aug 2010
Walter
Walter's birth and death were registered in Stourbridge in the same quarter (the first) of 1921, indicating that he died at or soon after birth.
Jack
Jack was born in Birmingham in1923 and married Maria A D Dimarco in Birmingham in 1945. He had a son John in 1946 who died at or soon after birth (birth and death were registered in the same quarter of the year). Then in 1948 his wife Maria died at the age of 24, a little over three years after they were married. Jack did not marry again, remained in Birmingham working as an electrician, and died there in 2005 at the age of 81.
Adeline was born in Cutsdean, just north of Temple Guiting, and the birth was registered in Winchcombe district in 1886. She was at home in Temple Guiting (Ford) in 1891 and in 1911, when she was occupied as a dressmaker. In 1914 she married Arthur Harris, a 25-year-old farmer's son. They seem to have remained in the area, for the births of four children were registered at Winchcombe in 1915, 1920, 1923 and 1925. The gap between first and second may imply that Arthur was absent, perhaps in the armed forces, during World War 1.
George's third son, Moses, moved to Winchcombe, where he married and brought up two children. He lived out his life there, variously as an agricultural worker, at a local paper mill, and as a labourer.
Moses was born in Kineton, and was baptised in Temple Guiting in 1853. He was at home in 1861, when he was listed in the census as an agricultural labourer even though only eight years of age. The next record is in 1877 with his marriage to Eliza Clayton, from Winchcombe, registered in the Winchcombe district, and 1881 he was living in Winchcombe. She was the daughter of a labourer. Subsequent records show that he would remain in Winchcombe until his death in 1924, at an address or addresses listed variously in the different records as Tythe Court, Tythe Court Back Lane, and Back Lane Sudeley Tenements, probably different descriptions of the same residence. There were two children. In 1891 his 82-year-old mother-in-law Leah had been living with them, but she was missing, presumed dead, in 1901.
He was employed as an agricultural worker between 1861 and 1891, but in 1901 he had taken up indoor work as a bleacher in the paper mills (his wife had been a paper mills glazier in 1881), and he was still working at the mill in 1911. His wife died in 1903, aged 56. Presumably his unmarried daughter Lizzie was still at home; perhaps she never left, for although she married in 1907, she remained in the area (the births of two children were registered in Winchcombe), and on census day 1911 she and the children were at Moses's home. Moses was 71 when he died in 1924.
There were two children, George and Lizzie. Like others George began in agricultural work but left to become, eventually, a policeman in Southampton.
George was born in Winchcombe in 1876. He was at home in 1881, and in 1891 he was a 14-year old farm servant working, and presumably living, at Stanley Pontlarge, a few miles north of Winchcombe. Ten years later he had given up agricultural work and was in Leicester, working on the railways as a loader.
By 1911 George was living in Southampton, working as a police constable at the docks. He was back in Winchcombe two years later to marry Emily Ward, who lived in Winchcombe and was probably thus a local girl. George presumably then moved back to Southampton with his wife, as this is where they died some 50 years later. George's death was registered there in 1957 at the age of 79, Emily's in 1961, aged 86. There are no known records of any children.
The evidence of his service in the First World War is inconclusive. A George Fardon is shown in the medals lists as having been a driver in the Army Service Corps and to have served in Gallipoli, but there is nothing to say whether this was the same George, who might in any case have been granted exempt status because of his job.
Lizzie was born in Winchcombe in 1882. She was at home with her parents in 1891 and 1901, working as a dressmaker on the latter date. In 1907 she married Tom James Stephens in the Evesham district, but subsequently lived in the Winchcombe district where the birth of two children were registered in 1907 and 1909. On census day 1911 she was at her father's house in Winchcombe with her children, but without her husband. It is not known if this was her permanent address, but her father was now widowed and otherwise living alone. She was next seen in 1913, still at Winchcombe, when she was witness at the marriage of her brother George. There are no reports of further children and nothing more is known.
This page was last Updated 11 July 2015