Those who fought in the First World War were awarded the British War Medal and the Victory Medal. The medals were issued in their millions, but each one is unique in that it bears around the rim the name, service number and unit of the recipient.
Also a medal designated the 1914 Star but popularly known as the Mons Star was awarded to those who had seen action in a theatre of war in 1914; and a similar 1915 Star to those who saw action in 1915. A serviceman could not receive both. These stars are useful in confirming that the recipient had been a volunteer, since conscription was not introduced until 1916, after which no further stars of this type were issued. The reverse is not true, of course. The lack of a Star could indeed mean that the person was conscripted, but it could also mean that he joined in 1914 or 1915 but had not seen action or had not seen it until 1916 or beyond.
There was a further award, the Silver War Badge (SWB). This was strictly not a medal, but a badge which was given to servicemen who had been released from active service under para 392 (xvi) of King's Regulations because of wounds or sickness. Some were released from the service but most seem to have returned to non-combattant duties at home, for example in the Labour Corps. Wearing the badge would be an indication of this status in the context of a situation where young men not at the front line were often called cowards.
At the time that this was prepared (2015) more information on these medals, and in particular notes on those who were entitled to receive them, could be found on the Imperial War Museum web site, as follows: http:// www.iwm.org.uk/history/british-first-world-war-service-medals
This information is taken from the index cards at the National Archives (ref WO/372) and we are grateful for their help and assistance. Also acknowledgement goes to the Imperial War Museum (web site above).
The British War Medal
The British War Medal was approved by King George V in 1919 to commemorate the services rendered

by His Majesty's Forces and to record the bringing of the war to a successful conclusion. Eligibility for the award was later extended to cover the years 1919?1920, while post?war mine clearance at sea continued, as did service in North and South Russia, the Eastern Baltic, Siberia, Black Sea and Caspian Sea.
The medal, which is silver, hangs from its ribbon by a straight suspender bar without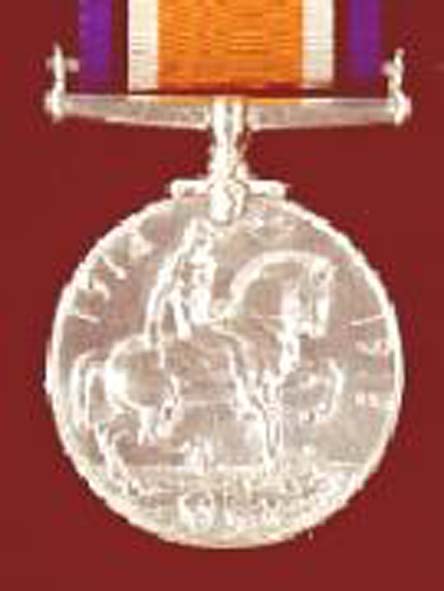 swivel. The obverse bears the coinage effigy of His Majesty the King with the legend GEORGIVS V:BRITT: OMN:REX ET IND:IMP:. The reverse depicts a male figure mounted on horseback, trampling underfoot the eagle shield of the Central Powers and the emblems of death, a skull and cross?bones. Above is the risen sun of victory, and the dates 1914 1918. The male figure was chosen because men had borne the brunt of the fighting.
The British War Medal The design symbolised the mechanical and scientific advances which helped to win the war. The silk ribbon has a central vertical stripe of gold with stripes of white and black at each side and borders of royal blue. It is not thought that the colours have any particular significance. The recipient's name, rank, service number and unit are stamped on the bottom edge of the medal. Those awarded to Army officers, with the exception of the Royal Artillery, omit the name of the regiment or corps.
The medal was designed was W McMillan, and struck by the Royal Mint. The total number of medals awarded is as follows: silver: 6,500,000 bronze 110,000
The Victory Medal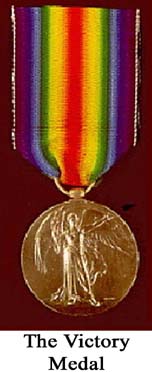 The Victory Medal was authorised in 1919 to commemorate the victory of the Allies over the Central Powers. It is lacquered bronze and bears on the obverse the classical figure of Athene Nike, the goddess of Victory. On the reverse is an inscription,
THE GREAT WAR FOR CIVILISATION and the dates 1914 1918. The version of the Victory Medal issued to members of the South African forces is identical, except that the obverse inscription is in both English and Afrikaans.
The silk ribbon is red in the centre, with green and violet on either side shaded to form the colours of two rainbows. The medal is suspended from a plain ring.
Those who received a Mention in Despatches were authorised to wear, sewn on to the ribbon, a single emblem of oak leaves in bronze. When the ribbon alone was worn, a smaller version of the emblem was fixed to it.
The medal, designed by W McMillan, was authorised to obviate the exchange of Allied Commemorative War Medals. It was struck by the Royal Mint. The total number of medals awarded is 5,725,000
The 1914 Star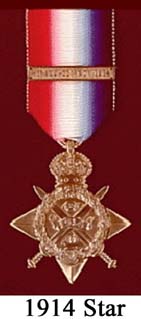 The first "general issue" medal had been the 1914 Star, often referred to as The 'Mons Star'. In 1917 King George V approved the grant of this medal to all those officers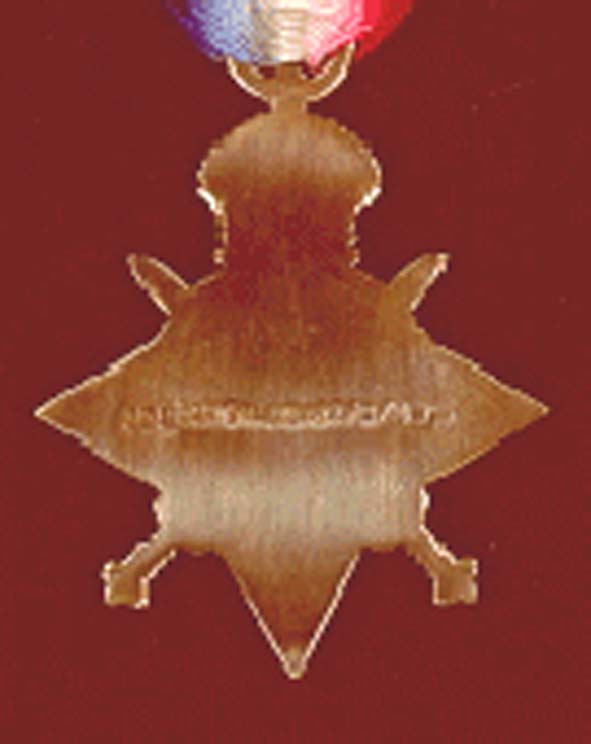 and men of the British and Indian Expeditionary Forces who actually served in France or Belgium on the establishment of a unit between 5th August and midnight 22/23rd August 1914. Later, a clasp was awarded to those who served under fire of the enemy in France or Belgium during the period.
The decoration is a four-pointed star in bright bronze. The reverse is plain, but is stamped with the name and unit of the recipient. The ribbon is red, white and blue silk, shaded and watered, worn with the red nearest the centre of the chest.
The medal was struck by the Royal Mint, and the numbers issued were: 1914 Stars: 365,622 1914 Star clasps: 145,000
The 1914/1915 Star
The 1914/15 star, sanctioned by the King in 1918, is similar in design to the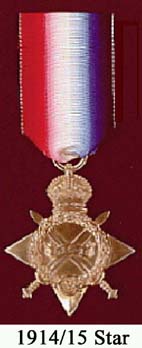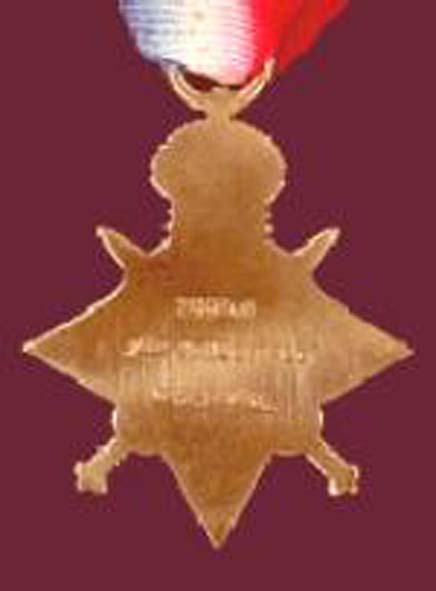 1914 Star but with the dates 1914 -15 on the central scroll and with the smaller scrolls bearing the words Aug and Nov omitted. . The ribbon is identical to that of the 1914 Star.
The medal was awarded to those who saw service in any theatre of war against the central powers between 5th August 1914 and 31st December 1915, but those having the 1914 star were not eligible.
The medal was struck by the Royal Mint, and the numbers issued were 2,078,183