The Family and Descendants of William and Martha Fardon
Chapter 6: William, son of John and Mary
(the red letters and digraphs cross-refer to similar in the Source Listing and the Trees) - (Click images to see enlarged versions)
This branch of the Fardons provided blacksmiths at Temple Guiting and later Hawling for much of the 19th century. One of William's two blacksmith sons later went into farming near Winchcombe. Two of William's sons emigrated to America as young men, set up as farmers in Ohio, married and raised families there. In later generations Fardons of this branch were found in Lancashire and in the West Midlands, though not as blacksmiths - for example the West Midlands family were butchers. However, daughters outnumbered sons through the generations and some of the sons did not marry. Thus in spite of the size of this branch at the end of the nineteenth century the Fardon name here all but disappears in England in the twentieth.
William must have been a craftsman typical of his time, spending all his life in a very small rural area. He followed his father as blacksmith in the village of his birth, later moving to a nearby village. He brought up a family, one of whom was to follow him in his trade, and he eventually died in the village where he had spent most of his life.
William Fardon was born around 1797 in Temple Guiting. On 22nd May 1821 he married Martha Gillett in Temple Guiting. She was from the village, though originally from Taddington in the parish of Stanway, where she had been baptised in 1798. (There is an inconsistency in the records, the census enumerators in 1851 and 1861 having written Toddington, probably in error). After marriage William and Martha were living in Kineton, a hamlet within the Temple Guiting parish, where three children were baptised between 1821 and 1826. For reasons unknown the family then moved a few miles to Hawling, where three more children were baptised between 1828 and 1837, and here William would remain until his death.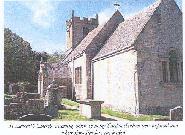 The family was recorded in Hawling in 1841-1861, with a deceasing number of children as the fledglings in turn left the nest. William's wife Martha seems to have had an independent skill as a nurse. On census day in 1851 (30th March) she was staying not at home but at a nearby house in Hawling occupied by a Sarah Hathaway, seedsman's widow, with six children and servant. She was shown as a nurse, but as a visitor rather than a live-in servant. Her presence is probably explained by the fact that one of the children, Edmund, 11, was ill.
William was a blacksmith throughout, maintaining the Fardon presence in Kineton until the move to Hawling. His son Henry was being schooled from the first to take over the business, see below.
William died in 1867, aged 70, probably at home, and he was buried in Temple Guiting on 7th May. On census day (2nd April) in 1891 his widow Martha was staying as a visitor with James Humphries, a local farmer in Hawling. She was listed as Mary and her age was overstated, but her birthplace was shown as Stanway, in which parish Taddington is located (see above) and there can be no doubt that it is she. Martha died on 24th November 1875, aged 77, at the Wotton "County Lunatic Asylum" in Horton Road Gloucester. Cause of death was Atrophy of the Brain, perhaps what we now call Alzheimer's Disease. There is no record of any family member being present, the death being registered by the resident medical officer of the Wotton Asylum eight days later .


Children of William and Martha
Parish records show six children, baptised in Temple Guiting and Hawling as follows:
| | | | | | |
| --- | --- | --- | --- | --- | --- |
| name | baptism date/ | /place | residence | father's job | |
| E1 - James | 30 Dec 1821 | T-Guiting | T-Guiting | blacksmith | born Taddinton |
| E2 - Frederick | 9 May 1824 | T-Guiting | Kineton | blacksmith | |
| E3 - John | 21 Aug 1826 | T-Guiting | Kineton | blacksmith | |
| E4 - Jane | 2 Dec 1828 | Hawling | Hawling | blacksmith | |
| E5 - Henry | 16 Aug 1829 | Hawling | Hawling | blacksmith | |
| E6 - Lucy | 1 Jan 1837 | Hawling | Hawling | blacksmith | |
All except Lucy are well documented, especially James and Henry.
Two of the boys, Frederick and John, emigrated to America while in their twenties, and became farmers in Ohio. Both married and had families. The oldest boy James may also have been thinking of emigrating, and indeed did visit America, to the same areas where his brothers were living, but nothing came of it. He returned home and remained in Gloucestershire until his death, sometimes as blacksmith, sometimes as labourer. The other son, Henry, who remained in Gloucestershire, took over the family blacksmith business in Hawling. Later he became a farmer near Winchcombe.
Both James and Henry had large families, though the ratio of girls to boys in favour of girls, and the failure of some sons to marry, meant that there were few to carry on the Fardon name. Sons generally remained in the Gloucestershire area, though one of Henry's sons moved to Lancashire, another to the West Midlands. A third became a farmer in Cheltenham
Of the two girls Jane married a plasterer from Stanway, where she went to live and bring up a large family. She also ran the village grocer's shop. Nothing is known of Lucy after the age of 14.
James seems to have been a colourful and somewhat enigmatic character, perhaps of a restless nature. He had left home by the age of 20 and was working as an agricultural labourer. He had three wives, the first two of which died very young, the third twenty years his junior. While still married to the second wife he made a somewhat mysterious visit to the United States, where two younger brothers had emigrated. His wife and children remained at home. Perhaps he was looking to emigrate, but he returned within eighteen months. James had twelve children, two by his second wife, ten by his third; there may have been another, miscarried, who was the cause of the death of his second wife. He was in his sixties when his last child was born. James was a blacksmith most of the time - once a master blacksmith - but with gaps in which he was shown as a labourer. He was 79 years of age when he died.
James was born probably in 1821 and almost certainly in Taddington, a hamlet within the parish of Stanway. But his family's home was in the Temple Guiting hamlet of Kineton, and it was at Temple Guiting that he was baptised at the end of 1821. He presumably moved with his family to Hawling around 1828, and it was here that he was living in 1841. However, on census day (6th June) of that year he was living in the village but away from home, lodging with a William and Sarah Cobham and working as an agricultural labourer.
In May or June 1847, following banns, James married Susannah Smith at Guiting Power. She was the daughter of William Smith, a tailor of that village. The ages of both were shown as "legal", ie 21 or over. The marriage was brief, as Susanna died only five months later, aged 21, and was buried at Guiting Power on 28th November. The cause of death is not known, as detailed records have not yet been found.
On 27th July 1848, nine months after the death of Susanna, James, now 26, married Ruth Lovesy, 19, after banns at Temple Guiting. She was a spinster who had been born at the Temple Guiting hamlet of Barton. The ceremony took place at Temple Guiting, the residence of both parties. There would be two children of the marriage, Jane born in early 1849 Fanny in early 1850, details below.
By the time of Fanny's birth James had set off for the United States. On 14th May 1850 a James Farden of the correct age (28) arrived in New York from Gloucester, UK, on the SS Solway. In July he was staying with a Mr Law, a blacksmith from England, at Ashtabula, Ohio. James also gave his occupation as blacksmith.
There are no known records of the reason for James's trip to the United States, though it is must be connected with the recent emigration there of two of his younger brothers, Frederick and John. Both were living in Ashtabula township of Ashtabula county, Ohio, where James was recorded on census day (18th July)1850. It must be assumed that James was at least checking on the possibility of emigration, though he had left his wife at home in England. Why did he then not send for her? Why when he returned did they not both emigrate to America? Did he not like what he saw in the New World? We will probably never know.
In 1851, when James was in America, his wife Ruth was still in Temple Guiting with her two small children, Jane and Fanny, now aged 2 and 1. In the census of that year she was shown in her own household, separate from other Fardons, and described as servant and pauper. She was reunited with James by November 1851, when she and James, back from America, were witnesses at the marriage of Ruth's sister.
Ruth's died in Temple Guiting in July of 1852 at the age of 22 and was buried in the village. The cause of death, as shown on the death certificate, was "child bed and exhaustion from haemorrhage", probably indicating complications resulting from a miscarriage. The immediate fate of the two existing children, now toddlers, is not known; they were next seen in 1861 staying with grandparents, one with each set (see below).
Nothing is then known of James until 27th August 1859 when he was in the nearly village of Sevenhampton to marry Emma Bateman, a native of that village. He was aged 39, she twenty years younger, the daughter of a labourer. The banns and marriage records show him as a resident of Hawling, where he had presumably been since his return from America. A daughter was born very shortly afterwards, probably within six months of the wedding, almost certainly in Sevenhampton where the child was also baptised. They were still there for the census of 1861, where the entry follows immediately that of Emma's father Joseph Bateman, who is listed separately, a widower. Presumably they are living next door to him, or perhaps as two households within a single accommodation.
The witnesses at James's first marriage, to Susanna Smith, were James's brother John and a member of Susannah's family. However, there was no family witness for the second marriage. Similarly for the third marriage, though this was at Sevenhampton rather than immediately locally. On this occasion both witnesses were from Emma's family, John and Sarah Bateman, probably her brother and sister-in-law. There may be any number of explanations for this, but one could perhaps be family disapproval of the later marriages?
James now settled to producing a family. The fact that he was almost 40 years of age when he married did not prevent him fathering ten children over the following two decades and more, as shown below. Information on the birthplaces of the various children is contradictory. The best guess, based on baptismal data and information from censuses, is that the family returned briefly to Hawling at the beginning of the 1860s, but soon moved to Temple Guiting, where James would stay until his death.
James did not take his two children by his second wife into his new family. Instead, they were with grandparents in 1861 and 1871, see under Jane and Fanny below.
His occupation as shown in the various documents is somewhat of a roller-coaster. When first seen, in 1841, he was an agricultural worker, but six years later, at his first marriage he was, typically for a Fardon, a blacksmith. Then agricultural worker again at the time of his second marriage, but he was listed as a blacksmith again in the American census in 1850. After he had settled down with his third wife he was again a blacksmith, and indeed in 1871 a master blacksmith, and was shown in the Kelly commercial directories of 1870 and 1876 as the village blacksmith at Temple Guiting. But then something seems to have gone wrong as, in 1881, he is again an agricultural labourer. He returns as a blacksmith from 1890, but is no longer in Kelly as the village blacksmith, which position is held by someone else.
In 1901 he was at home in Temple Guiting, aged 79, with wife Emma and one son Fred, 19. No occupation is shown. He died in 1904, aged 82, and was buried at Temple Guiting on 1st March of that year. Emma died in 1909, her age overstated at 75, and she also was buried in Temple Guiting.
The children of James and Ruth Lovesy
There were no known children of his first marriage. His second marriage, to Ruth Lovesy, produced two:
| | | | | |
| --- | --- | --- | --- | --- |
| name | birth regn | baptism date | /place | residence |
| E1a - Jane | 1849/1 | 18 Jun 1849 | Temple Guiting | Ford |
| E1b - Fanny | 1850/2 | 21 Apr 1850 | Temple Guiting | |
A third child may have miscarried in July 1852, see above. After the death of Ruth, Jane and Fanny went to live one with paternal, one with maternal grandparents. Both are documented through their early years, at least one going into service and marrying (though not before bearing an illegitimate child).
Jane was born at Ford. She was living with her mother and sister in Temple Guiting in 1851 (her father was absent in America). Following her mother's death she probably went to live with her maternal grandmother Sarah Lovesy in Temple Guiting; certainly she was there in 1861 in spite of her father having returned from America and married again. In April 1871, aged 22, she was working as a cook at Cheltenham College Boarding House in Cheltenham. In October of that year, aged 22, she was in Winchcombe where she gave birth to an illegitimate daughter Louisa at the town's Union Workhouse. Seven years later, in October 1878 in Temple Guiting she married Thomas Shillam, an army reservist. She appeared in 1881, still in Temple Guiting, with husband Thomas, an agricultural worker, and daughter Louisa. Jane died two years later and the death was registered in the Winchcombe District, and there is no evidence that she had any other children. Louisa, married George Barnfield, from Withington, in 1894 and subsequently had four children, two surviving. She died in 1942 in Thornbury and George later in 1948.
Fanny was born in Temple Guiting and was listed with her mother and sister there in 1851 (her father was absent in America). Following her mother's death she went to live with her paternal grandparents William and Martha in Hawling, where she was in 1861. In 1871 she was with her maternal grandmother Sarah Lovesy in Temple Guiting (her sister had been staying there but had now left). She may have moved there following the death in 1867 of William, though Martha was still alive. There are no further reports, but it is speculated that she might be the Fanny Radcliffe who was a witness at her sister Jane's wedding in 1878. However, this cannot be proved at present.
The children of James and Emma Bateman
There are ten children by James's third marriage, eight of them girls. Birth registrations (year/quarter) and date and place of baptism, where known, are as follows:
name
birth regd
baptism date ......
place
E1c - Lucy Emily Bateman
1860/1
1st April 1860
Sevenhampton
E1d - Mary Helena
1862/1
14th April 1862
Hawling
E1e - Annie Alice
1863/4
17th March 1864
Temple Guiting
E1f - Emily Amelia
1865/3
5th November 1865
Temple Guiting
E1g - William Walter
1868/1
16th February 1868
Temple Guiting
E1h - Agnes Amy
1869/3
3rd April 1870
Temple Guiting
E1i - Margaret Evelyn
1876/4
E1j - Constance Amy
1879/4
E1k - Fred James
1881 (date of birth)
Temple Guiting
E1l - Agnes Eva
1883/3
Many of these, including the girls under their married names, can be followed to the middle of the twentieth century. Of the girls, Agnes Amy died as a baby. The rest first went into service, then married, one when in her seventies. At least three moved away after marriage, but others stayed locally in the Cirencester area of Gloucestershire, where they seem to have formed a close family group..
Neither of the two boys seems to have taken up the Fardon profession as blacksmith. Frederick remained in Gloucestershire, working as a labourer, and died prematurely at the age of 27. William Walter moved away to the West Midlands where he set up as a butcher, married and had a family. Of James's children it was he who would maintain the family name through his children.
Lucy was typical of a girl of the time, first at home, then into service, then married and bringing up children. She was born in Sevenhampton, was at home in 1861 (Sevenhampton) and 1871 (Temple Guiting). In 1881 she was in service as a parlourmaid at Allombrosa Boys Preparatory Boarding School in Pittville Circus Road, Cheltenham. She was in West Dean, in the Forest of Dean, Gloucestershire in 1886, where she married Henry Gwynn, a miner of West Dean. By 1901 she was living at Broadwell Lane End in Coleford, West Dean, with her husband and six children (another would born in 1903), all born in West Dean district beginning 1888. These are listed in the Sources feature attached.
Her husband died at Lane End, Coleford in October 1908 at the early age of 54. She died at Broadwell, Coleford, in November 1926, at the age of 66. She is also buried at Christ Church, Coleford. Lane End (the 1908 record) and Broadwell (1926) are probably the same as the Broadwell Lane End of 1901, indicating that she remained in the same address throughout.
Bearing in mind that Lucy lived not far from Cirencester (39 miles along the present road network) it is more than likely that she was part of the group of Fardon sisters in that town, discussed above. But she died before the date (the 1930s) of the documentation detailing this group
| | |
| --- | --- |
| | E1d - Mary Helena (Hellina), also known as Pop |
Mary remained unmarried until she was in her mid-70s, probably living in Cirencester with her sister Emily after the early death of Emily's husband. She eventually married - after Emily's death and at the age of 75.
Mary was born in Hawling at the end of 1861 or beginning of 1862 and was at home in Hawling in 1871. Her second name was registered at birth as Hellina, but in subsequent documentation she is always Helena. She is then lost, presumably somewhere in service, until 1890 when she was a witness at her sister Annie's wedding in Temple Guiting. She was at home again the following year
There is then a gap until 1930, when she turns up, unmarried, living at the home of her sister Emily Amelia in Cirencester. Emily had been married, but had lost her husband young in 1901 (see below) and left with a baby girl. It could be that Mary had moved in with Emily at some stage after this. Her absence from documentation after 1901 is explained by the fact that under the emancipation laws then in force an unmarried woman who was not a householder would not qualify to appear in the electoral register until 1929 or 1930. The picture in Mary's case is consistent with her living anywhere, including with sister Emily, where she emerges in 1930. The release of the 1911 census on 2nd January 2012 may resolve this.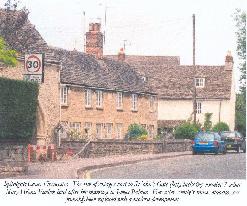 With Emily's death in 1936 niece Hettie Allaway came to live in the house. But Mary took on a new lease of life. A few doors along in the same street, at number 7, Spitalgate Lane, were an elderly couple James Palmer and his wife, who had moved in a few years previously. The wife died and after Emily Fardon's death Mary married James Palmer and moved in with him. She was 75 years of age, he was 84. They were still there at the outbreak of war in 1939.
In the list of wreaths for Emily's funeral in 1936 was one from "Pop and Maggie". By a process of elimination the first of these nicknames must be that of Mary Helena.
Annie was born in 1863 and was at home in 1871. Ten years later she was in service to Frederick Godfrey who was the manager of the Assembly Rooms in Cheltenham. Back in Temple Guiting in 1890 she married William Henry France, bricklayer and son of a bricklayer. She was shown as a domestic servant. Her sisters [Mary] Helena and Emily were witnesses at the ceremony. She moved to Colemere, Ellesmere, Shropshire after marriage, and her first child was born there in 1891 or 1892. She was still living there at the turn of the century, with husband and four daughters, Annie, Lucy, May and Gladys. Her husband was working as a bricklayer. The family reappear in the 1911 census with the addition of a son, William Albert. Annie's death is registered in the 3rd quarter of 1932 and this is probably the reason her family do not feature in the list of family wreaths at Emily's funeral in 1936.
| | |
| --- | --- |
| | E1f - Emily Amelia, also known as Min |
Emily was born in 1865 and was at home in 1871. In 1881, at the age of 15, she had already left home and was working as a servant to Joseph W Morris, a grocer and draper in Main Street, Evesham, Worcestershire. She was back in Temple Guiting in 1890, perhaps on a visit to act as witness at the wedding of her sister Annie, but was lost in 1891. In 1897 she herself was married in Temple Guiting, to George Hobbs Hunt. Her occupation was shown as domestic servant. She was in Stratton, a mile or so north of Cirencester, in 1899 for the birth of her daughter Constance, and at Saxon Lodge in the Abbey area of central Cirencester for the census of 1901.
George Hobbs Hunt was a local man, born in Guiting Power probably in the autumn of 1865. He had gone into service before enlisting in the army (Welsh Regiment). in 1888. He had served in Malta and India and in 1896 he returned with his regiment to England where he was placed on the Reserve. When he married Emily the following year he was working locally as a gardener. In October 1899 he was recalled to the colours, and was posted with the first battalion of his regiment to South Africa. He fought in the Boer War, but was repatriated in May 1901 and released the following month as unfit for further service. The nature of his unfitness is not stated in available documents, presumably it was illness or wounds. But four months later he was dead. The death certificate showed cause of death as Intermittent fever, Perityphlitis, Operation Discharging sinus exhaustion (perityphlitis was a description at the time of appendicitis). Emily's sister Agnes Eva, who was in service in Cirencester, was present at, and registered the death.
Emily thus had very little time with her husband, just two and a half years before he was called up to fight in the Boer War. Then, after an absence of nearly two years, just three months after his return wounded from the war. There was one child, Constance Muriel, born in February 1899, before George went to South Africa.
During George's absence, and indeed perhaps before he left, Emily was living in Cirencester, at Saxon Lodge, the Abbey. This was the address shown in the 1901 census, and in George's discharge documents. Emily probably had no occupation. In the 1901 census she was shown as Wife of Reservist, but this was erased and Head [of household} inserted. With her was daughter Constance Muriel and Ida E Hunt, 12, relationship s[ister]-in-law..
There is then no more on Emily until 1918, when she appears in the Cirencester electoral register as a result of female emancipation. She had not remarried, was presumably working, and sister Mary Helena may have been living with her (see above). There may also have been a pension as a result of her husband George's 13 years and 15 days military service. She remained at the same address in Cirencester (12-13 Spitalgate Lane, not far from the town centre) until the year of her death, though her actual death occurred at another address (12, Whiteway) in the town. She was associated with, probably working at, Bailey Brothers, a furniture store in Cricklade Street in the centre of Cirencester - Mr and Mrs Bailey sent a wreath for her funeral, as did the staff, see below.
In the 1901 census daughter Constance Muriel appears as a two-year-old, born at Stratton, a mile or so north of Cirencester. As an unmarried female non-householder she would not have appeared in the electoral register until 1929 or 1930. But she is not listed at home at this point (she would have been nearly 30 years of age) and is assumed to have been living elsewhere. At her mother's funeral in 1938 there was a wreath jointly from her and her cousin Bert Allaway, which may suggest some association with Bert. After that she was appears at her mother's house in 1938 and 1939, but she is then lost until 1963, when she died at 8 Barton Lane, Cirencester. Her entire estate of £354 11s 6d was left to Hubert Allaway. She was unmarried.
Emily's death was reported in the local press, and in a separate article was a list of the wreaths at her funeral. The latter is impressive and is worth detailing here, for what it tells about her family, friends and colleagues, and the identification of what appears to be a closely-knit group of Fardon sisters, though under their married names, in and around Cirencester.
In its personal columns the local newspaper reported the death on August 21st 1936 at 12, Whiteway [Cirencester] of Emily Amelia Hunt, widow of George Hobbs Hunt, late of 1st Welsh Guards, aged 71. A separate item reported that Emily had been interred at Cirencester Cemetery the following Monday and listed the wreaths received as follows. The list as given is in bold script, my comment and identification in italics.
The list consists of family wreaths (in order daughter, sisters, nieces and nephews), then those from friends and acquaintances. Among her family Emily was known as "Min". In the following table the material in square brackets has been added by the editor to identify the senders and show the relationship to Emily.
Family wreaths:

My darling mother from Murie [daughter Constance Muriel] and her nephew Bert [Allaway]
In loving remembrance from her loving sisters Pop [Mary Helena] and Maggie [Margaret Evelyn Louisa]
In loving memory to our dear sister Min from Con [Constance Amy] and Joe [her husband Joseph Cashmore]
In loving memory of our dear sister Min from sister and brother[-in-law] [Agnes] Eva and Fred
To dear aunt Min with our best love , [nieces] Hetty and Phyll [Allaway, daughters of Margaret Evelyn]
In loving memory from Fred and family [not identified, nephew of George Hobbs Hunt??]
In loving memory of aunt Min from nieces and nephews at Quenington [children of Agnes Eva and Frederick]
To aunt Min with love and Sympathy from Stan and Sid [The wreath from Stan and Sid, were Stanley Dyer (Hettie's husband) and Sid Tovey (Phyllis's fiancé at that time, they were married in Cirencester Parish Church on 30 July 1938]
There were 18 other floral tributes, probably from friends and acquaintances, both local and from far afield (two from London) and possibly also from work colleagues (see below). These are shown here for the record:
Dorcus and children; Bill, Vi and Di; Mr and Mrs Whiteman and Maggie; all the neighbours; Bennie; Mrs Dance and Mrs Rowe; Mary Allen, London; Mr and Mrs Frost, London; Mrs H Price; Winnie, Woodmancote; Mrs Weaving and Bessie; Mr R H and Mrs F I Bailey; the Staff of Bailey Brothers; Mr and Mrs Shirley; Mr and Mrs Miles; Miss Mildred; Cissie.
The wreaths from Mr and Mrs Bailey and from the staff of Bailey brothers presumably related to the home furnishing store Bailey Brothers in Cirencester. They may suggest that this was Emily's place of work or, perhaps less likely, that she was a valued customer there.
William was the one who was able to perpetuate the family name. But not the family tradition as a blacksmith. He moved to the West Midlands, set up as a butcher and shopkeeper, a trade which lasted through at least three generations. His grandson also, it seems, was into farming.


William was born in Temple Guiting in late 1867 or very early 1868 and was at home in 1871 and 1881. In the latter year he was working as a thirteen-year-old agricultural labourer, but he abandoned that and seven years later was in the Stourbridge area, where his marriage to Christiana Bennet was registered. Three years after that, at the age of 23, he was a butcher in Rowley Regis, at 43 High Street. For at least the next 20 years he was a butcher, slaughterman and shopkeeper, having moved by 1901 to another address (number 81) in the same street, self-employed and working from home (ie living over the shop). In the 1911 census he shows his location as Black Heath, which was within the parish of Rowley Regis.
There is then a lack of information for nearly four decades. However, in 1913 William's son George, and perhaps William himself, was still in Rowley Regis, a master butcher living at yet another address (120) in High Street. It is not known whether this was the family shop or a new shop opened by George, now married. A look at the Kelly's directories and the electoral registers for the area might resolve this. .
William was living in Halesowen by the mid-1930s, and died there at Sycamore, Mucklow Hill in August 1938 at the age of 70. Probate was granted in London to his son George and law clerk Arthur Mills. His effects totalled £652 4s 9d. Seventeen years later, in 1955, the death of a Christina Fardon was registered in Kidderminster. She was 88 and is thus likely to be the same as the Christiana who was William's widow.
| | |
| --- | --- |
| | Descendants of William Walter : Son George and children |
The birth of William's only child George was registered early in 1889 in Dudley, and the boy was at home in Rowley Regis in 1891 and 1901. In 1911, when he would have been 22, his marriage to Caroline Dunn was registered at Stourbridge. Two sons, presumably twins, followed in 1912, and another in 1913. At least the last child, and probably all, was born in Rowley Regis, at 120 High Street, Blackheath, the same street in which George's father William had had two butcher's shops in succession. Like his father, George was a master butcher at the address in 1913.
There is then a gap, though perhaps including war service. George would have been about 26 years of age when World War 1 broke out, and would thus have been eligible for service. Perhaps he was the George Fardon who served as a driver in the Army Service Corps, service number T4/670640 who served in Egypt and was discharged after the war on 8th May 1919 (See medals table in Appendix B). If so, his date of arrival in Egypt (12th September 1915) and the award of the 1915 Star shows that he would have been 1914 or 1915 volunteer rather than a conscripted man.
The next information comes in 1936 with the marriage of George's son Major Bennet. Major was living at a house (Bella Mount) in Mucklow Hill, Halesowen, which could well also have been George's address. George's father was also living in this area at the time, but in a different house (see above). Two years later George's death was registered at Stourbridge, the reporting centre for Halesowen. He was 70. His widow Caroline died aged 73 in 1962, her death also registered at Stourbridge.
Information on George's three sons and their descendants is patchy and is based almost entirely on GRO sources (registrations of births, marriages and deaths) and with some family input. They indicate that the family remained in the West Midlands (Dudley, Smethwick, Birmingham, Stourbridge area). Towards the end of the twentieth century there was some movement away. Son William George died at Cannock Chase in Staffordshire in 1989; son Major Bennett died in the Evesham (Worcestershire) area in 2000, where he may have had a farm; and in the 1980s two of George's great-grandchildren, and thus presumably their parents Bryan and Christine, were in the Torbay area. There is little information on occupations except that George's third son was, like his parents and grandparents, a butcher.:
First son William George was born in 1912, There is no indication that he married, nor any indication of his occupation. His death was registered in Cannock Chase, Staffordshire in 1989. He was 77 and Justice of the Peace.
Second son James Patrick was probably William George's twin. He married in 1934. There were children (Michael James, Bryan P, Carol C and Robert W), and grandchildren as shown in the Source list and Family Tree. The family may have been in the Torbay area in the 1980s, where two of the children were married. Again no evidence of occupations.
Third son A little more is known about third son Major Bennett. Presumably his second name recalls his grandmother's maiden name. He may not have liked his unusual first name, for it seems that, like his father, he was known as George. He was born in 1913. He married Alice Mary Bailey in 1936 and had a son and grandchildren. Like his father and grandfather he was a butcher, at least in 1936 when he was 22. He died in the Evesham area in 2002 at the age of 89. His son George Jeffery was an architect.
Family information (Rita Bailey) is that Major Bennett had two butcher's shops, one in West Bromwich, one in Birmingham. He also had a farm, possibly at Inkberrow near Evesham in Worcestershire.
Agnes was born in Hawling in 1869 but lived only 1 year and ten months. She was listed in the 1871 census but died later the same year. As was often the case her first name was passed on to a later baby.
| | |
| --- | --- |
| | E1i Margaret Evelyn Louise (Maggie) |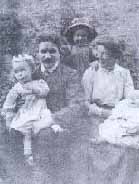 Margaret was born in Temple Guiting in 1876 and was at home in 1881 and 1891. In 1901 she was in service, a lady's maid at Alcombe Lodge in Dunster, Somerset. She was back in Temple Guiting in 1905, a domestic servant perhaps at home, to marry William David John Aston, a local labourer. The death of her husband was registered in Winchcombe the following year, there are no known children. Four years later her second marriage was registered in Cirencester, to Robert Charles Allaway. He died in May 1916 aged 33. There are three children, Hettie b.10 Sep 1911, Phyllis b.14 Aug 1913 and Hubert b.Jun 1915.
Margaret was back in 1936, as Maggie, she presented a wreath with sister Mary at their sister Emily's funeral and was witness at Mary's funeral the following year, where all three children provided tributes. She was next known in 1953, when her death was registered in Norwich, Norfolk.
Hettie was in Emily's house in 1937
Hubert was in Emily's house in 1938
Phyllis may have married a Mr Tovey in Cirencester in 1938
No more is known about this family, but they are not Fardons.
Constance was born in Temple Guiting in 1879 and was at home in 1881 and 1891. Ten years later she was staying with her brother William Walter, see above, at Rowley Regis, when she was aged 21 and unmarried, no occupation listed, and there was no indication whether she was a visitor or more permanent guest. She was still in the area six years later when her marriage to Joseph Cashmore was registered in Stourbridge in 1907. It appears from the 1911 census that they may have had only one child and James Fardon Cashmore's birth was registered at Dudley in the first quarter of 1910. Joseph's occupation is shown as a Butcher, where at that time they were living at 50 High Street, Blackheath, Staffordshire.
A wreath from sister Con and Joe, clearly this couple, was listed among those for sister Emily Amelia's funeral in Cirencester in 1936. Joseph died in 1949 and Constance in 1958, both in the Stourbridge area at the time.
Fred was born on the penultimate day of 1881 and was at home in Temple Guiting in 1891 and 1901, in the latter year working as a road labourer. He seems to have remained in the area after his father's death in 1904, for on 21st November 1908 he was married at the Winchcombe Register Office to Leah Harvey. Just over year later he died in the Winchcombe district at the age of 27. He left one child, Evelyn Leah Harvey, who was born in the Winchcombe district at about the time of his death. Little is known of her, other than the registration of her marriage in 1931 to Alfred Phillips at Stow-on-the -Wold.
| | |
| --- | --- |
| | E1l Agnes Eva (known as Eva) |
Eva was born in 1883 and was at home in Temple Guiting in 1891. Ten years later she was in service in Cirencester, at 38 Cecily Hill, at the home of James W Kenyon, 40 and single, living on his own means (i.e. with a private income). The other servants were a married couple in their late 30s, Robert Bembridge, butler and valet, and Agnes Bembridge, cook and housekeeper. Agnes Fardon was the kitchenmaid and clearly the bottom of the heap! Later in 1901 she was present at the death of George Hobbs Hunt, husband of her sister Emily Amelia (see above), and it was she who registered the death.
In 1906 she was in Coln St Aldwyns to marry Frederick John Moaby. The pair lived briefly in Coln St Aldwyns, Hatherop and Quenington, all villages just to the west of Cirencester before settling in Quenington. There were seven children, the first born in Coln St Aldwyn, the rest in Quenington. Over the years from the time of her marriage Eva's husband Frederick had a variety of occupations, including groom. labourer, stonebreaker, postman, gardener and gamekeeper. Frederick also served in the army in World War 1. The family remained in Quenington, and in 1936 at the funeral of sister Emily there was a wreath from her and her husband and another from their children, the "nieces and nephews at Quenington". Agnes died in 1958 at the age of 75, Frederick survived her by five years. The two are buried together in Quenington cemetery.
The second son of William and Martha, Frederick, was the first of two brothers to emigrate to the United States. Both became farmers.
Frederick was born at Kineton and baptised at Temple Guiting in May 1824, and he will have moved with his family to Hawling in about 1828. He was absent in the census of 1841, the next record being in America in 1850. Here, aged 26, he was living in Ashtabula township, Ashtabula County, Ohio, with wife Esther, nee Phillips. He was a farmer. Staying with him was his younger brother John, see below.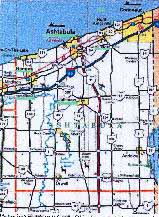 By 1860 he had moved to Harpersfield, also in Ashtabula County. This was the home town of his wife, whose father, a farmer there, and mother had died in 1857, see below. Perhaps Frederick was working his father-in-law's farm. By 1870 he had again moved, to Geneva, again as a farmer, and here he would spend the rest of his life. He was clearly doing well, at least in the early ears. He was credited with estate value of
| | | |
| --- | --- | --- |
| date | real estate | personal estate |
| 1860 | $2300 | $500 |
| 1870 | $6000 | $1000 |
Frederick's wife was Esther E Phillips. One source states that she was born in 1819 in Salisbury, Litchfield, Connecticut of father Jacob Phillips and mother Betsey Ball. This was a pioneering family, one of those opening up an area which began to be developed in 1798, in a state which was admitted to the Union only in 1803. Her arrival in Ohio in the year of her birth is described in an article called Pioneering Women of Harpersfield 1800-1850, extracted from "Memorial to the Pioneer Women of the Western Reserve," Part I, Mrs. Gertrude Van Rensselaer Wickham, Editor [Women's Department of the Cleveland Centennial Commission, July, 1896], p.p. 83-87 and posted on a American web site. Betsey, wife of Jacob Phillips, with her husband and child, Esther, left Salisbury, Mass., for a home in the West, and arrived at Harpersfield in 1819. They settled at Roger''s Corners, where Mr. Phillips for many years was the village blacksmith, at the same time clearing and cultivating a farm. Thus it was that Frederick married into a family of American pioneers.
Esther died in 1898 at Geneva, where the family had lived for about 30 years. She survived Frederick by two years. She had clearly made here mark locally.
There is one known child, a boy Ferris J. He was born in Harperstown in 1851, and was home with his family in Geneva in 1870. In 1874 he married Libbie A Lockwood, and six years later was recorded as farming in Geneva. He was living next door to his father, perhaps working on the family farm. He died in 1883.
Ferris had a daughter Grace in 1876 born in Ohio. Sadly she only lived for about two years and died in 1878. He also had a son, Fred J, born in Geneva in 1879. In 1912 he married Bernice Bartholomew. He was next seen in 1910, still in Geneva and a farmer. In 1917 he was registered for the military draft in connection with America's entry into World War 1. He died in Ashtabula in 1957.
John, the second son to emigrate to America, was baptised in Temple Guiting in 1826, and will have moved with his family in about 1828 to Hawling, where he was shown in the 1841 census. He was in Temple Guiting in 1847 as the witness at brother James's wedding, and on 24th March 1850 he himself was married in Hawling, to Eliza Yeoman, spinster. He seems not have entered the family blacksmith business, for he is shown in the wedding documentation as a labourer. He then emigrated with his wife to America, an event which must have occurred very soon after the marriage, as he was listed in the US census on 16th July 1850, staying with his brother Frederick in Ashtabula, Ohio. Here he gives his occupation as labourer, as previously in England. Frederick, who had married since he arrived in America (see above), was listed in the census as a farmer.
Three children were born between about 1852 and 1856. Eliza then disappears, presumably dead. In the 1860 census John has not been found, and his three children were scattered in different households around Ashtabula county, one in Kingsville, one in Jefferson, one in Harpersfield.
John remarried in 1861, his wife being Betsey Baker, and the family - John, Betsey and the three children by his former marriage - were together again in 1870. They were living in Jefferson next door to a Rebecca Crowson, widow, with whom son John G had been boarding in 1860. John was now a farmer, with a declared real estate value of $1400 and personal estate of $600.. He would stay in Jefferson as a farmer until his last appearance in 1900, aged 73, with unmarried son William remaining at home and probably working on the farm. He had presumably died by 1910, when wife Betsey, aged 87, was living, still in Jefferson, with her stepson William.
There were three children, two boys and a girl. They were split up in 1860 following the death of their mother, but together again with father and stepmother in 1870. The older brother stayed at home, probably unmarried, perhaps running the farm with his father. The second son married and moved to work on a farm in another town. The daughter married, had a son, seems to have lost her husband and returned to the Fardon nest:
William H was born in about 1852. In 1860, probably following shortly after the mother's death, he was staying in Kingsville with Eldad Ginge, a labourer. He was in Jefferson in 1870, back with the family, including his stepmother. He was then at home in Jefferson in 1880 and 1900, a farm worker presumably on the family farm, and unmarried. He was still there in 1910, aged 58. with his stepmother, who may then have been a widow..
John G, the second son, was born about 1854, and in 1860, with the split up of the family, was living in Jefferson with lawyer Joseph and Rebecca Crowson. It was next door to Rebecca, now a widow, that the Fardon family would be living in 1870. In 1874 John married Matilda Akins. The next records is in 1900, when he has moved to Austinburg, and is working as a hired man on a farm for a Mr Burton Bliss. His wife was housekeeper.
Martha A was born about 1856 and in 1860 was living in Harpersfield, boarding with Aaron Allen, a lawyer. She was at home in Jefferson in 1870 and five years later married Oscar P Griggs. He must have died by 1880, for then she is back with her parents and with son Clarence. Here she remained until at least 1910.

Jane was born in 1828 at Hawling, and was at home there in the 1841 census. In 1850, she married Charles Hopkins, a slater and plasterer from Stanway, and he took her back to his village to live. Here she remained for the rest of her life, bearing eleven children between 1851 and 1872. In addition to his work as slater and plasterer Charles was also the village grocer, and was listed as such in Kelly from 1874 to 1910. But it was Jane who ran the shop, as shown in the various censuses. In his last census appearance, in 1901, Charles was described as a "pensioner on [the] estate, former slater and plasterer", suggesting that he had had steady and pensionable employment. No doubt the family was quite well off. Jane died in 1904, aged 75, her husband in 1911 aged 86. They are buried at Stanway.
Following Jane's death the shop was taken over by an unmarried daughter, also Jane, who ran it until her death in 1932. It was then run by other members of the Hopkins family until at least the outbreak of World War 2, so that it had been in the family then for at least 65 years. Of Jane's other children, one, Jesse, married and moved to Birmingham. His descendants are still alive. Another, Harry, emigrated to the United States. However, none of these bore the Fardon name and have not been further followed.
Henry was took over the family blacksmith at Hawling and remained there until he was in his fifties. He then moved with his family to the Sudeley estate in Winchcombe to become a farmer. The venture may have prospered, but may then have declined after his death, as his family soon disappears from the records and the farm goes to other hands. As far as can be ascertained from records seen there may have been no male descendants after about the middle of the 20th century and the Fardon name presumably died out from this branch.
Henry took over the family blacksmith business at Hawling and was training his son Edwin to do the same. But, in his fifties, he gave this all up and the family moved to the Winchcombe area and went into farming. Sons left home but all except one returned to work on the farm. The farm did not long survive Henry's death and the family dispersed. Those who married and moved away had children, but as far as is known and with the possible exception of the son who moved to the West Midlands, the Fardon name did not survive beyond the third generation.
Henry was baptised at Hawling in 1831, and was at home in 1841 and 1851. In 1859 he went to Notgrove to marry Rebecca Williams of that village. The couple settled in Hawling, where he was listed as a blacksmith. There soon followed the first of ten children baptised in Hawling between about 1861 and 1879 (Rebecca is shown consistently as Rebekah in the parish records).
Although he was the youngest son Henry took over the family business in Hawling after his father's death (brother James was in Temple Guiting, two other brothers in America). He had been working as a blacksmith at home as early as 1851, and after his marriage his household was placed in the 1861 census immediately after that of his father. Presumably the two households were living next door to each other, father and son working together as blacksmiths. Following his death in 1867 father William was erroneously shown as the village blacksmith in the 1879 Kelly directory, but after that it was Henry.
The schooling of another generation of Fardons into the business was shown in the listing of Henry's eldest son Edwin John as apprentice blacksmith in 1881. But this came to nought. Around 1889 Henry, in his fifties, underwent a career change and moved to Sudeley near Winchcombe to become a farmer. Later he would be listed as farming at Spoonley Leys (or Leas) Farm there. Some foretaste of this may have been seen in 1881, when two of Henry's sons (William and Frederick) had been shown in the census as farm servants. They were at home on census night and the implication is that they were working on a farm or farms at Hawling. There is no indication that Henry himself was involved in farming at this time; indeed Kelly lists him as a blacksmith throughout the 1880s. Son William would later farm on his own account in Cheltenham, and Frederick take over at Spoonley, see below.
Henry would remain at Spoonley, helped by up to four of his sons. He died at the farm in February 1908 of a stroke (morbus cordis cerebral haemorrhage 2nd attack) at the age of 75. His wife Rebecca had died earlier the same year, only weeks before Henry, coincidentally also of a cerebral haemorrhage 2nd attack). His youngest son Frederick, who would then briefly take over the tenancy of the farm, was present at Henry's death, and registered the event the following day.
Henry's children
There were ten children, all born and baptised at Hawling and the births of all perhaps except William registered at Winchcombe.
| | | | |
| --- | --- | --- | --- |
| name | date of birth | birth regn | baptism |
| E5a - Edwin John | | 1861/3 | 13th October 1861 |
| E5b - James | | 1862/4 | 27th December 1863 |
| E5c - Thomas | | 1863/3 | 27th December 1863 |
| E5d - William | | unknown | 30th December 1866 |
| E5e - Frederick | | 1867/1 | 30th December 1866 |
| E5f - Mary | 30th May 1868 | 1868/2 | 19th May 1872 |
| E5g - Charles | | 1871/1 | 24th February 1871 |
| E5h - Jane | | 1874/2 | 27th August 1876 |
| E5i - Annie | | 1876/2 | 27th August 1876 |
| E5j - Emily | 14th September 1878 | 1878/4 | 11th May 1879 |
Charles and Annie died as babies, aged three days and a few months respectively
Birth dates are from school records. The registration of William's birth has not yet been found. Baptism dates show a curious pattern. After Edwin John the babies were baptised in pairs, James, William and Jane waiting for the next younger sibling; except for Charles, whose baptism was clearly an emergency (he survived only three days) and who was baptised out of turn. Was it cheaper to baptise two children together rather than separately?
Each of the five surviving boys except Frederick left home, but of these only Thomas stayed away and brought up a family in Lancashire. But he was to die young (in a mental institution). The rest returned to the family nest, the farm in Winchcombe, and in the early 1900s the workforce on the farm consisted of Henry with four adult (in their 30s) unmarried sons. William married and took on the tenancy of a farm in Cheltenham before his father's death in 1908. Edwin and James drifted away at some stage, at or before Henry's death, and were later found elsewhere on Gloucestershire working as labourers. The youngest son Frederick took over the tenancy of the farm, married, but lost the tenancy after about four years.
Of the girls only Emily can so far be followed. She, it seems, eloped to Norfolk with the local gamekeeper.
There are school records from Hawling for the last few years that Henry was living in the village, but too late for the first three children. However, they were by no means as diligently kept as in other villages. Some of the useful information, such as a child's date of birth, is sometimes missing, as is the reason for leaving school. But there is enough there to provide a picture. At least two of the boys went first to Sevenhampton school, but the details and the reasons for this are not available.
Edwin John was originally intended to take over the blacksmith business in Hawling. He eventually ended up with the family on the farm at Spoonley but seems to have ended his years as a general labourer after his father's death. He probably did not marry. He was known as Edwin in his earlier years. but seems later to have preferred to be known as John or Jack.
He was born in Hawling in 1861 and baptised in the village the same year. He was at home in 1871 and 1881, working on the latter date as a 19-year-old blacksmith's apprentice, presumably with his father. Perhaps he was being schooled to take over the family business when his father retired, as two of his younger brothers had left Hawling and the other two were working as farm hands. Following the move of the family to Sudeley around 1889 he is missing from the census in 1891, presumably having gone away. But he is back home in 1901, still unmarried and working on the family farm at Spoonley. The census shows him as being blind and lists him as John.
He is still at Spoonley in 1911, which is now being farmed by younger brother Frederick following their father's death. He is unmarried, listed as Jack, and without entry in the Occupation colunn of the census form. He is then lost for several years. He will no doubt have left Spoonley before or when the family lost the lease of the farm around 1912, and is next seen after World War 1. This absence may be no more than a reflection of non-householder status, which would have precluded his appearance on the electoral register.
After the war he was living in Roel, near Hawling, in 1921 and 1922, apparently a householder but with no wife. And then, listed in the electoral register as John, at Guiting Power in 1923-1928. He died in Gloucester Street Infirmary in Winchcombe in September 1930 at the age of 70. Cause of death was heart problems (valvular disease of heart) and senile debility. The death certificate and the registration of death were under the name John.
The only information on his occupation after the turn of the century comes in his death certificate, which showed him as a stone quarryman. It is not known how this, and his other movements between 1901 and 1930 can be reconciled with the report in the 1901 census that he was blind! There is no evidence that he was married. In fact it was the "occupier" of the infirmary where Edwin died who registered his death.
James left home while still in his teens, but returned to the family to work on the farm. Like Edwin he must then have left before or at the time of the loss of the farm tenancy and was later found as a labourer in Cheltenham, where he died. There is no evidence of marriage
James was born in 1862 in Hawling and was baptised with his next younger brother Thomas at the end of the following year. He was at home in 1871 but not in 1881. He was probably the James Farthing listed that year in Nottingham, an unmarried 16-year-old, born in Halling (sic), Gloucestershire, working as a railway navvy. He was lodging with Richard Gardener, also a railway navvy, and family, at Limb Street, Hucknall Torkard, just north of Nottingham.
He was back at home (Spoonly Farm) in 1891 and 1901, shown in the censuses as a farmer in the first year, a farmer's son in 1901. Ten years later, aged 48 and still unmarried, he was listed in the census at his younger brother William's farm, Oakley Farm in Cheltenham, working as an agricultural labourer. Presumably he was working for his brother. He is next seen in 1917 in Cheltenham, where he died of Bright's disease (a disease of the kidneys) at The King's Arms in King Street. He was aged 57 and a general labourer. His brother William, was present at his death, and it was he who registered it.
Thomas was the only son who left home and did not come back. While still a teenager he went to Cheltenham, and later to Lancashire, where he married and had children, and where he spent the rest of his life before an early death.
He was born in Hawling in 1863 and baptised there during the same year. He was at home in 1871, but ten years later he was in Cheltenham, in what appeared to be a lodging house, 17 years old and working as a telegraph office messenger.
In 1889 his marriage to Sophia Artsall was registered at Barton Island, 5 miles west of Manchester and now part of Salford. Over the next four years there were three children, a girl and two boys their births all registered in Barton. In 1891 the family was living in Cadishead, which is part of Barton and within the Barton-on-Irwell registrations district. It is probable that they had been there since arriving in Lancashire. Thomas was working as a general labourer.
Thomas died on Christmas Day 1894 at the age of 31 in the lunatic asylum. Various sources indicate that following his death the family remained in the Barton-on-Irwell district up to at least 1925. And that at least son Henry died in Lancashire half a century later.
Following Thomas's death Sophia remarried in 1897, her new husband being John Thomas Davies. By him she had five children, a girl and four boys, between about 1899 and 1907, but then also died, for in the 1911 census she is a widow again. Thus in 1911 her household consists of her three Fardon children, aged 18 to 21, and the five Davies children, 4 to 11. The Fardons were the breadwinners, all three working at a presumably local soap factory. These are shown in the following paragraphs.
Lucy
birth registered 1889 and at home in Cadishead until at least 1911, when she was working as a "soap worker dry soap packer". Her marriage to John Garvey was registered in Barton-on-Irwell in 1915 and a son, Wallace O, was born in the same year.
Henry
birth registered 1891 and at home in Cadishead until at least 1911, when he was working as a "soap worker dry soap packer". His marriage to Laura Penkethman was registered in Barton-on-Irwell in1913. There were two daughters - Irene L (registered early 1915) and Mary C (early 1917). Henry's death was registered in Blackpool in 1968. Presumably Henry served during world War 1. There are two possibilities in the medals listing, but there is no evidence whether either is the Henry here. The first is Sgt Henry H Fardon of the RAMC (no further details), the second, more likely, L/Cpl Henry Fardon of G Gas Regt Bn, who enlisted on 3rd March 1917 and who was discharged on an unknown date with neurasthema.
James
James was born in Cadishead in 1893 and was at home in Cadishead until at least 1911, when he was working as a "soap worker dry soap packer" which was still his occupation when he attested for military service in 1916. The military documents also show that at this time he was still living at home in Cadishead with his mother. On August 1916 he attested for military service and was enlisted into the reserve in Manchester. Six weeks later he was mobilised into the Cheshire Regiment. In February 1917 he sailed for Alexandria to be part of the EEF (Egyptian Expeditionary Force), and would stay here until mid-1919 as a private soldier. He was transferred into the Labour Corps only seven months after arrival. In February 1919, he was retained for military service in the army of occupation in Egypt.
He sailed for home in June 1919, where a curious sequence of events occurred relating apparently to a medical check perhaps in connection with his continuing availability, presumably for service in the Reserve. Full details are shown in Appendix B, but in summary attention was drawn to a fracture that he had suffered as a child, in 1900, resulting from the fall from a roof. This caused distortion and weakness to one of his arms. Although he had this when he enlisted, it was now decided that he was unsuitable for military service, with a disability of 20%. But no compensation was payable since it was an existing condition. However, he did receive a gratuity of £30 as a one per cent disability allowance in respect of varicose veins in the leg, which had worsened during his military service.
All that is known after that is that marriage to Linda Cassells was registered in Barton-on-Irwell in 1925. There are no known records of children. Linda's death was registered in Barton in 1946, aged 48 and the death at the age of 64 of a James Fardon in Bridgend in Wales in 1957.
Like other brothers William left home to strike out on his own but returned to the family at Spoonley Leys farm. But this was only briefly. Soon after returning he married and moved to his own farm in Cheltenham where he had a family. Marriage was quite late in life and he died in his early 50s.
William was born probably in 1865 at Hawling and was baptized at the end of 1866 with his next younger brother Frederick. Later documents show his birthplace as Hawling but there is no record of a birth registration at Winchcombe. He was at home, a scholar, in 1871. In 1878 he and his brother Frederick registered at the local school together, on 14th January, when already in their teens. They had been at Sevenhampton school. This curious entry cannot be checked against the Sevenhampton school records, which are not available for this period.
In 1881, at the age of 15, William was still living at home and, again like his brother Frederick, was working as a farm servant. When the family moved to Spoonley Farm at Winchcombe around 1889 William went with them and was working there as a farmer. But by 1901 he had left Spoonley and in that year had assumed the traditional Fardon family occupation as a farrier, lodging with Frederick Nichols, farrier and blacksmith, at 1 Grosvenor Cottage, High Street, Cheltenham.
Within four years he had returned to the family at Spoonley Farm, which was the address he gave at his marriage to Mabel Kate Stephens at St Paul's Church, Cheltenham in 1905. But by 1907 (before his father's death) he had again moved out, for his second child was born in that year at Oakley Farm in Cemetery Road (later Priors Road) Cheltenham. The 1911 census confirms that he was farming at Oakley "on his own account", presumably as a tenant, with wife and two children and female general servant. Also in the house was his older brother James, described as an agricultural labourer (see above). Here he would farm until his death a decade later. William was also recorded in 1917, when he was present at, and reported the death of his brother James at an address in Cheltenham.
William's wife Mabel was the daughter of John Thomas Stephens, a retired railway clerk, and was living in Cheltenham. She was a spinster, aged 32, William was 39 when they married. There were three children, born in 1906, 1907 and 1914, see below. Later Mabel's sister Ada Stephens would marry William's younger brother Frederick, also see below.
William died in 1919 at the age of 53. He had done very well for himself, his effects, probate for which was granted to his wife, amounting to £1205 17s 10d, a not inconsiderable sum for a working man at that time.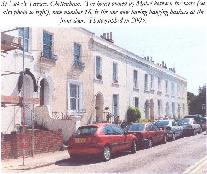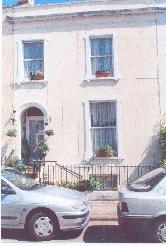 His wife Mabel soon moved out of the farm, presumably a tenancy, for by 1922 she is living at 3, St Luke's Terrace, St Luke's Road, Cheltenham. This is one of a small terrace of houses not far from the centre of the town and just round the corner from Bath Parade where her brother James Alfred Stephens lived; it was he who had registered William's death, and perhaps he helped her to find the accommodation. The house is still standing, part of an attractive terrace. It has two floors, probably with two or three bedrooms upstairs, and a self-contained semi-basement. Property prices in the local paper of the time suggest that she could well have bought the property using some of the estate left to her by her husband.
Mabel remained here (renumbered in the mid-1930s as 18 St Luke's Road, until her death in 1954 at the age of 80. The electoral register shows a flow of people in the house in ones and twos over the years, some recorded once, others for a few years. One married her daughter, her son may have married another. It would seem that Mabel was letting out a room or two, perhaps the basement as a flat, no doubt to supplement her income.
During the period two of the three children of William and Mabel, all of whom had been born at Oakley Farm, will have been living there, although at first too young to be included in the electoral register. There were three children. The eldest, a girl, married and remained in Cheltenham. The second, a boy, emigrated to Australia in his late teens, the third, also a boy, married and moved first to Gloucester, then to the Yeovil area of Somerset; he served in the Second World War in an unknown capacity.
Norah Kathleen was born in Cheltenham on 1st April 1906 and was at home at Oakley Farm for the census in 1911. The next record was in 1925, when she married Frederick Ernest Huckfield in Cheltenham. He had been living at the Fardon house in St Luke's Road, Cheltenham, for at least two years, probably as a lodger. He was a civil servant, son of a civil servant and born in Cardiff in 1902, Norah was working as a photographer's assistant.
After their marriage they went to live in Lansdown crescent near the centre of Cheltenham, in what appears to have been a multi-family house but by 1929 had a house to themselves in Moorend Crescent.in the south-eastern suburbs of the town. Between 1930 and 1939 Frederick was listed in the Kelly's directory as an electrical engineer; this was in the commercial, rather than general listing, perhaps suggesting that he was running his own business. He reverted to the general listing in 1939.
By 1937 the family had moved to the Charlton Kings area, then a town administered separately from and perhaps more up-market than Cheltenham itself. Here they remained for the rests of their lives. Frederick died in 1963 and Norah remained there until her death in 1977 at the age of 71. In 1959 they had both been witnesses at the second wedding of Norah's brother Eric, at Shurminster in Dorset (see below).
There is no information regarding any service by Frederick during World War 2. He was certainly home in June 1945, when he appeared in the main electoral register, rather than the supplementary list which contained the names of those absent on military duties.
One son is known, John J T Huckfield, who was born in 1926 and who duly appeared at home in the electoral register when he became of age, and later, in the late 1950s, at a separate address in Charlton Kings.


John William was born in 1907 at Oakley Farm, where his father was farming and was at home there for the census of 1911. He is next seen in 1922-1924, when a J Fardon is shown in the local commercial directories at Oakley Farm, presumably farming there after his father's death even though he was still in his late teens. By 1922 his mother had moved from the farm to an address in the centre of Cheltenham (see above). He was not long there, for in June of 1923 he boarded a ship in London, emigrating to Australia. (The 1924 identification at Oakley Farm is not inconsistent with this, as entries in local directories are often out of date by a year or two). In Australia he is later joined by his Uncle Frederick and Aunt Ada Mary. There is no evidence of a marriage, or children, and John William dies in Gilgandra, New South Wales, Australia in 1965. .


Eric Stephen was born in 1914, presumably at Oakley Farm. He was next seen at home in St Luke's Road, Cheltenham when he became of age and qualified for inclusion in the electoral register (1936-1939). In 1940 he married Beatrice Maud Constance Howells, who gave her address as 18 St Luke's Road and who may thus also have been a lodger at the family house (as with Frederick Huckfield, who married Eric's sister Norah, see above).
After marriage the pair moved to 2 Bath Street in Cheltenham, a multi-family house which is only a short walk from St Luke's Road. At some point Eric must have been called up for military service as in the first post-war electoral register in June 1945 he is shown in the supplementary listing, which contained the names of military personnel absent from home. He did not return to the standard list until October 1947, which indicates his return within the twelve months before that date. The length of time after the war ended might suggest that he was serving overseas. (Eric's name was shown at 2 Bath Street in local directories throughout the war, but this may be no more than a reflection that he was the householder, albeit absent; or even that there was minimal updating during hostilities).
He was last listed at 2 Bath Street in 1948, and then disappears until he is located in Gloucester in 1951, at 46, Weston Road, just to the south of the city centre. His wife Beatrice was with him in what seems to have been a multi-family house.. In 1956 they moved to Hucclecote, an outer eastern suburb of Gloucester, to 1 Havelock Road. But they did not last long there. Beatrice is shown alone in the 1958 electoral register, then Eric alone in the following two years. No doubt this was a reflection of their breakup and divorce, for at the end of 1959 Eric, divorced, married Vera Doreen Brockway at Sturminster in Dorset. She was a spinster, 33, daughter of a retired postman (Eric was 45).
Eric clearly moved from Cheltenham following his marriage, almost certainly to the Yeovil area of Somerset, where he seems to have spent the rest of his life. His daughter Diane was married there in 1964 and he died at South Pendleton, near Yeovil in 1999 at the age of 85. There are reports of a third wedding before this, to Barbara Yvonne O'Connor.
Little is known about Eric's work. At the time of his first marriage, in Cheltenham in 1940, he was an aircraft worker. At the time of his second marriage, when he was living in Hucclecote, Gloucester, he was a manager/buyer at a builder's merchant. Otherwise no records have yet come to light.
Frederick was born in Hawling probably in the last quarter of 1866 and was listed at his parents' home in Hawling in 1871 and 1881. Like his brother William he entered Hawling school on 14th January 1878, apparently having been educated before then at Sevenhampton (see under William above). Also like William he was working as a farm servant in 1881, but this is well before the family moved to Sudeley to engage in farming there.
With the move to Sudeley around 1889 Frederick worked on the family farm. He seems to be the only one of the brothers who did not leave home, and is there in both 1891 and 1901. When his father died in February 1908 he appears to have inherited the lease of Spoonley Leys Farm over the heads of his elder brothers, since his name replaced his father's in the local electoral register and in the Kelly's directory. Within months of his father's death he was in Cheltenham to marry Ada Mary Stephens. She was the sister of the Mabel Kate who had earlier married his brother William. Mabel Kate was one of the witnesses at the wedding.
Frederick continued briefly to farm at Spoonley Leys, probably for only about four years; his name was shown in the Kelly directory of 1910, the census of 1911, and he continued to appear on the electoral register. But after 1912 he disappeared from the register, and in the next available Kelly's Directory (1914) others (Frank and Mary Roberts) are listed at Spoonley. Later, around 1930, he and Ada Mary are seen farming in New South Wales, Australia. Here, according to the Australian Records, they are living with their nephew John William. There are no records of any children and Frederick dies in 1938 and Ada Mary in 1961, both in Gilgandra, New South Wales, Australia.
Mary was the first of a series of daughters who were seen briefly during their early years but who then disappear from the record. School records have provided a birth date of 30th May 1868, but, typically of the family, baptism was delayed until 1872. She was at home in 1871 and 1881. During this period she was admitted to school in Hawling in March 1876 and again in January 1877. This is an incomplete picture, as she would have been expected to begin schooling around 1871/1872. Perhaps, like her older brothers, she had started at Sevenhampton, but there is no entry in the "previous school" column in the Hawling records and those for Sevenhampton are not available for this period. She is not seen after 1881, and the trail goes cold. Presumably she married.
Charles was born in Hawling perhaps around 21st February 1873. He died at the age of three days and was buried in Hawling on 28th February. Unusually for this family his baptism occurred within a day or two of birth (and before his nearest eldest sister had herself been baptised), no doubt because he was not expected to survive.
Like her older sister Mary, Jane appears in parish, census and school records and then disappears. She was born in 1874 and baptised two years later with a younger sister. She was at home in 1881 and 1891. She attended Hawling school, joining first in July 1876 (perhaps rather early at two years of age!) and again in June the following year. She was entered in the school records as Jennie. She was not seen after 1891. Presumably she married, but no record of this has yet been found
The second of the children to die as a baby, Annie was born in the summer of 1876 and was buried at Hawling on 2nd December of the same year. She was baptised with her older sister Jane in August.
The last child, Emily, was born on 14th September 1878 and was baptised a year later at Hawling. She attended Hawling school from the age of five, but after the first three years seems to have had little or no continuous schooling. The school records show three periods of attendance between 1887 and 1890, one as short as a month. But no reason is given for the withdrawals, in spite of there being provision for this in the attendance register.
After this she was at home at Spoonley in 1901, unmarried, "working at home", no doubt helping to look after the family and waiting for a husband to appear. And then some unaccustomed excitement. A family source states that she eloped to Norfolk with a gamekeeper from Bath. And indeed there is a record of her marriage in 1908 to a Samuel B Watkins at Heacham in Norfolk. There is no further information until her death there in 1952.
This page was last Updated 16 January 2018