James Fardon - Chapter 4
Chapter 4 - James, son of John and Mary
This is a very large branch of the family, with perhaps 200 Fardons across the generations and across the world (Australia and the United States of America, as well as southern England). James moved as a young man to Kenilworth in Warwickshire. After his death one son remained in Warwickshire to maintain the blacksmith business he established there developed the art of ornamental blacksmith work to a very high degree indeed. Other sons had gone forth and multiplied, resulting in large families of Fardons in north and east London, then spreading to Devon, Northamptonshire, and Berkshire among other places; and probably also to Australia. At least one of the London Fardons was also a blacksmith, as was his son in Devon, but in the few cases where later occupations are known they are not related to the blacksmith trade. Of the members of this branch who fought in the World Wars, one was lost on the Western Front in 1917 at the age of 19, another perished in action in Italy in 1944.
Some initial problems in establishing identities have been caused by the widespread use in this branch of names other than baptismal names, especially in census returns. However, other features such as ages, locations and, for example, names on children's birth and marriage certificates have helped resolved this. Where such instances occur the person involved is headed as, for example, William (aka John), ie baptised as William but also appearing as John.
For ease of reference and navigation round this large branch the following shows how the branch is arranged:
C - James and his children:
C1 - Thomas Kinman
C2 - Caroline
C3 - Emmanuel and his children:
C3a - Frederick and descendants (the Australian group)
C3b - William Ernest and his descendants (the east London group)
C3c - James Richard and his descendants (the north London group)
C4 - William
C5 - Catherine
C6 - Edward Langley and his descendants (the Kenilworth/Stoneleigh group,
C6a - Mary to C6i - George Henry and their descendants)
C7 - Isaac
C8 - Mary E
C9 - Elizabeth
C10 - James
The main body of descendants in this branch of the Fardon family is thus from Emmanuel and Edward Langley, especially the former.
C - James, and wives Sarah and Mary - the move to Warwickshire
James, the oldest son of John and Mary Fardon, was born in Temple Guiting and was baptised there in March 1793. In 1814 he moved to Warwickshire - a family source says from Lower Guiting, which is the present Guiting Power rather than Temple Guiting - arriving at Stoneleigh Abbey to work there. Thus would begin over a century of service to Stoneleigh Abbey by the Fardon family. A family document dated August 1916 notes that James carried on working here until 1865, and that afterwards the work was continued by [his son] Edward Langley Fardon and "is now carried on by [grandson] Charles Langley Fardon".
On 16th March 1818 a filiation order was taken out against James in the parish of Cubbington, just northeast of Leamington. On the oath of an Ann Kinman, and taking into account the "causes and circumstances", it was judged that James Fardon, labourer of Stoneleigh Abbey, was the father of her "bastard child" who had been born on 25th January. Whether or not James was the culprit, it places him at Stoneleigh Abbey in the spring of the previous year (else the charge would not have stuck), and shows him working as a labourer at that point. The upshot for James was an up-front charge of £4 9s 0d for various services (including the cost of finding and apprehending him), then a continuing charge of 2s 6d a week for the upkeep of the child by the local authority. Interestingly, the girl involved, Ann Kinman, was also to pay one shilling a week. A full transcript of the order, and a thumbnail, are given below
It is not known to what extent James may have been involved with the child, who would be called Thomas Kinman Fardon. But it is known that Thomas later joined the army, served in Australia, and remained there on completion of his service, see below.
James returned to Gloucestershire briefly in 1819 to marry Sarah Green in Winchcombe, and the couple then settled in Stoneleigh parish in Warwickshire, where four children were born between 1820 and 1832. Their residences, as shown in the baptism records, were Stareton (1820- 25) and Mary Lodge (1832). The latter is a house on the Stoneleigh estate in the village of Stareton, and this is likely to have been their residence throughout this period.
James's wife Sarah died in 1832 and was buried at Stoneleigh. She may have died in childbirth or as a result of complications from the birth, as her last child, daughter Catherine, was baptised there just two weeks after Sarah's death.
In 1839 James married Mary Langley in her parish church at Coleshill. just east of Birmingham. She was the daughter of Edward Langley, a builder and was a native of Coleshill. Her family name would be remembered in several generations of Fardons as children were given second name Langley. It would be Mary's son and his descendants who would maintain and develop the family business in Warwickshire.
In the wedding documentation James showed his residence as Leamington Priors (the current Leamington Spa), but there is no more detail. But in 1841 he is in Kenilworth parish, where between then and 1846 five children were born. After this there are several addresses in Kenilworth shown in the available documentation, the most constant of which is Castle End, which is the south-west of the town. James was listed here in Kelly's directories between 1850 and 1860. And after James's death his son Edward Langley was likewise in Kelly's between 1871 and 1874 and in the 1871 census. These suggest that this was both business as home address, as would be expected in Kelly's and the census respectively. But in the middle of the period the census of 1861 shows James at "back of Bowling Green Inn", and Kelly's of 1863 and 1866 shows him and his widow respectively at Rosemary Hill. There was a Bowling Green Inn in Abbey Hill at least in 1874, and Rosemary Hill was not far away. These are at the northern extremity of Castle End. Abbey Hill was the address of James's young son, also James, in 1859, see below.
The censuses and trade directories show that James continued in the family trade as blacksmith, once listed as shoeing smith, and that in 1851 and 1861 he was employing two men. On three occasions he described himself as whitesmith. The family documentation shows that he was working for Lord Leigh of Stoneleigh Abbey throughout..
James's death was registered in Warwick in 1865. He was in his early seventies. The following year the trade directory shows his wife Mary in charge of the blacksmith business, and that by 1870 the oldest son by the second marriage, Edward Langley, had taken. The death of a Mary Fardon, presumably James's widow, was registered at Warwick, at the age of 78, in 1882.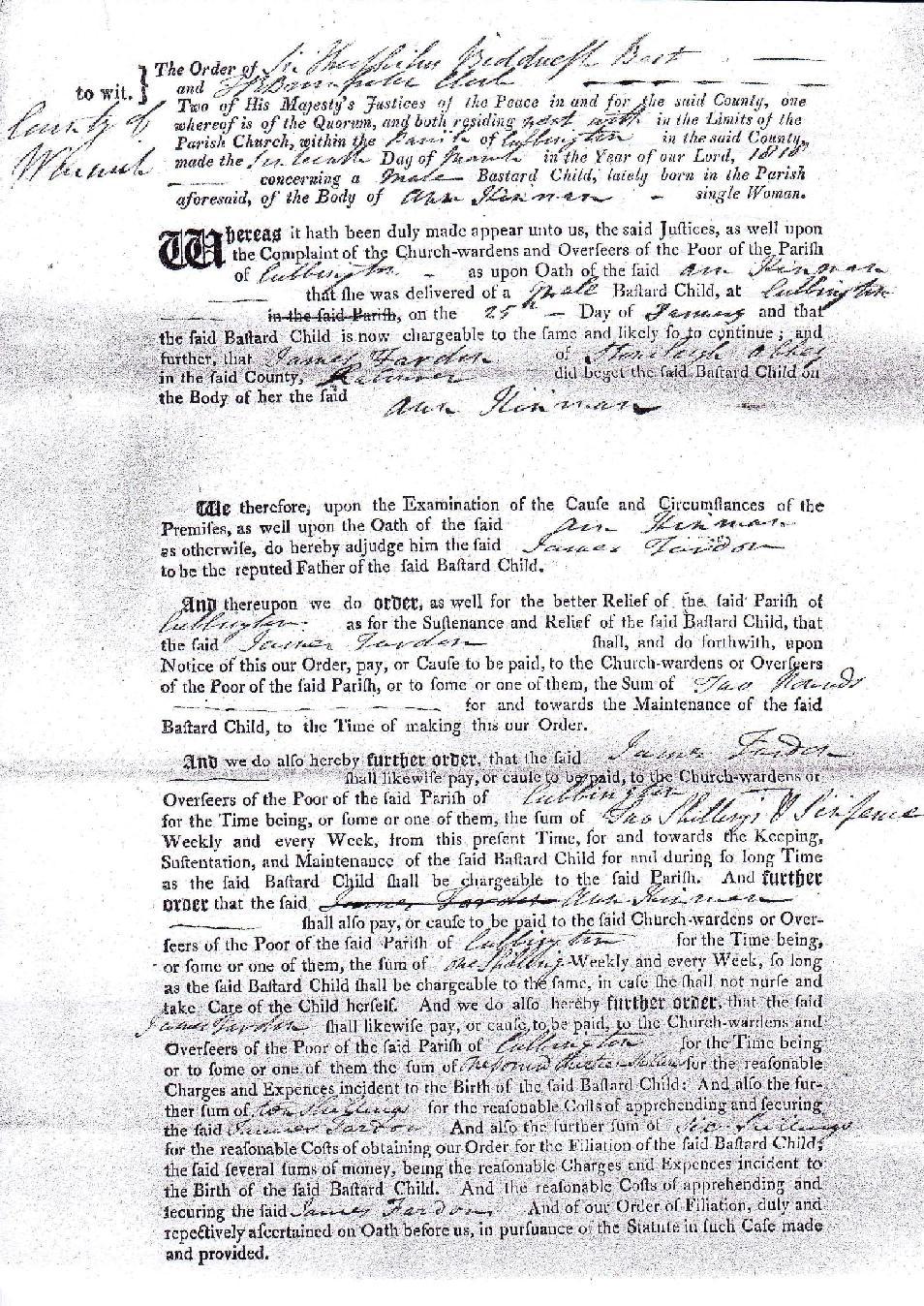 The wording of the filiation order against James. March 1818
Note: This is in proforma format, with blanks to be filled in. The normal font represents the fixed text, the italics are the longhand inserts
County of Warwick To wit. The Order of Sir Thomas Biddulph Bart and J B Barnfield Clerk Two of His Majesty's Justices of the Peace in and for the said County, one whereof is the Quorum and both residing next with in the limits of the Parish Church, within the Parish of Cubbington in the said County made the Sixteenth Day of March In the Year of our Lord, 1818 concerning a Male Bastard Child, lately born in the Parish aforesaid, of the Body of Ann Kinman single woman.
Whereas it hath been duly made appear unto us, the said Justices, as well upon the Complaint of the Church-wardens and Overseers of the Poor of the Parish of Cubbington as upon the oath of the said Ann Kinman that she was delivered of a Male Bastard Child, at Cubbington [in the said Parish - deleted] on the 25th Day of January and that the said Bastard Child is now chargeable to the same and likely so to continue; and further, that James Fardon of Stoneleigh Abbey in the said County, labourer, did beget the said Bastard Child on the body of her the said Ann Kinman.We therefore, upon Examination of the Cause and Circumstances of the Premises, as well as upon the oath of the said Ann Kinman as otherwise, do hereby adjudge him the said James Fardon to be the reputed father of the said Bastard Child.
And therefore we do order, as well for the better Relief of the said Parish of Cubbington as for the Sustenance and Relief of the said Bastard Child, that the said James Fardon shall, and do forthwith, upon Notice of this Order, pay, or Cause to be paid, to the Church-wardens or Overseers of the Poor of the said Parish, or to some or one of the, the sum of Two Pounds for and towards the Maintenance of the said Bastard Child, to the Time of making this our Order.
And we do also further order, that the said James Fardon shall likewise pay to the Church-wardens or Overseers of the Poor of the said Parish of Cubbington for the Time being, or some or one of them, the sum of Two Shillings and Sixpence Weekly and every Week, from this present time, for and towards the Keeping, Sustentation, and Maintenance of the said Bastard Child for and during so long Time as the said Bastard Child shall be chargeable to the said Parish. And further order that the said Ann Kinman shall also pay or Cause to be paid, to the said Church-wardens or Overseers of the Poor of the said Parish of Cubbington for the Time being, or some or one of them, the sum of one Shilling weekly and every Week, so long as the said Bastard Child shall be chargeable to the same, in case she shall not nurse and take Care of the Child herself. And we also do further order that the said James Fardon shall likewise pay, or cause to be paid to the Church-wardens or Overseers of the Poor of the said Parish of Cubbington for the Time being or to some or one of them the sum of one pound thirteen shillings for the reasonable Charges and Expenses incident to the Birth if the said Bastard Child: And also the further sum of ten shillings for the reasonable Costs of apprehending and securing the said James Fardon. And also the further sum of six shillings for the reasonable Costs of obtaining our Order for the Filiation of the said Bastard Child; the said several sums of money, being the reasonable Charges and Expences incident to the Birth of the said Bastard Child. And the reasonable Costs of apprehending and securing the said James Fardon .And of our Order of Filiation, duly and re[s]pectively ascertained on Oath before us, in pursuance of the Statute in such Case made and provided.
There were ten children. The first was the illegitimate boy (C1) Thomas Kinman born in 1818 as described above, then four by first wife Sarah and five by second wife Mary a shown in the following table. The years in the following table are those of baptism, except for Edward Langley, which is estimated year of birth:
| | | |
| --- | --- | --- |
| by Sarah | | by Mary |
| C2 - Caroline (1820) | | C6 - Edward Langley (1839) |
| C3 - Emmanuel (aka William)(1822) | | C7 - Isaac (1841) |
| C4 - William (aka John) (1825) | | C8 - Mary E (1842) |
| C5 - Catherine (1832) | | C9 - Elizabeth (1844) |
| | | C10 - James (1846) |
Thomas Kinman joined the army and was posted to Australia, where he settled. Of Sarah's children, little is known about the two girls, and one of the boys, William, died before adulthood. Emmanuel settled in London and there is considerable history over several generations as shown below; his own sons were ultimately responsible for an explosion of Fardons in north and east London, some of whom then moved to other areas of England; and for a large family of Fardons in eastern Australia..
Of Mary's children Isaac and James died in childhood, Edward Langley survived to take over the family business. Mary married and Elizabeth disappeared from the available records, perhaps also on marriage. All this is detailed below.
Thomas was born in Cubbington, near Leamington, on 25th January 1818. He is the subject of the filiation order discussed above. It is assumed that he was looked after by the mother, Ann Kinman, since his father James then married in Gloucestershire and returned to Stoneleigh to raise a family of his own. Ann disappears from the available records.
Thomas was next seen in mid-century, when he was a soldier in the 11th Regiment of Foot (North Devonshire Regt) which was serving in Australia. Presumably he went in 1845, either with the Regimental HQ and three companies which sailed in July from Chatham to Sydney on board the Castle Eden, arriving in November; or with the balance of the regiment which sailed the following month on board Ramillies. This is slightly at variance with the information on Thomas's death certificate which indicates that he had been in Australia for 35 Years (ie from 1848); unless that refers to the date on which Thomas left the Army and was thus considered to be his date of initial residence.
The regiment returned to the UK in 1857 but Thomas had clearly left the army before then. He had married Christiana Shaw in Yass, New South Wales, in 1852 and a son, James Shaw, the first of thirteen, was born there in 1854. Descendants of James still live in Australia.
The only information so far on Thomas's occupation after leaving the army comes on his son James's birth certificate, which showed him as a labourer. He died in Churchdown, near Adelong, in 1883 at the age of 64.
Much of the information here is from descendants in Australia. But also on web sites relating to the 11th Regiment of foot, eg http://freepages.history.rootsweb.ancestry.com/~garter1/11th.htm, where a Thomas Fardon is shown as on the strength of the regiment.
Caroline was baptised in 1820 at Stoneleigh, her home was at Stareton. In 1849 her marriage to John Hurse was registered at Warwick, after which she is no longer recognised in the records so far seen. An Edward George Hurse whose birth was registered at Warwick in the third quarter of 1850 could have been their son.
C3 - Emmanuel - to London
Emmanuel, who left Warwickshire to live in London, was ultimately responsible for an explosions of Fardons. Three sons, one in north London, one in east London and one in Australia, had very large families and provided copious grandchildren. The descendants of the first eventually spread out over southern England. One of his sons and one grandson are known to have been blacksmiths. As for the rest, as far as is known the immediate descendants were in unskilled occupations. Emmanuel himself was in service in his earlier years, and was later a licensee at an inn. After moving to London he seems to have done manual and unskilled work.
Emmanuel was baptised at Stoneleigh in 1822 from his home in Stareton. The next record of him is in 1851 when he was in service as a footman at the Priory at the Foreign of Reigate in Surrey, one of twenty in service to the Marquis of Ailsa, the Marchioness and their two children (son, 3, and daughter, 1). In 1855 he was back in Kenilworth to marry Anne Beasley, and the following year a son was born at Church Terrace in Leamington; Emmanuel was still in service as a servant.
The next few records are a little confusing, but they end with a final and permanent move to north London. They are summarised from the various sources as follows:.
1859 In Marylebone, London, where another child was born. Emmanuel was employed as a butler at an unknown house.
1860 At the Cricketer's Arms, Stoneleigh. An entry in Kelly's Trade Directory for that year implies that he was the innkeeper. Kelly's is sometimes a little out of date, but it is clear that Emanuel must have been at the Cricketer's at some point around this time. (see next entry)
1861 Probably in London alone. Emmanuel's wife and two children are at the Cricketer's, Arms where the innkeeper is Anne's father, Samuel Bird. Anne's occupation is shown as housekeeper. Emmanuel is not there. But there is a William Farthing lodging at 27 Sudbury Road, Sudbury, Harrow, Middlesex. He was a married man, aged 38 and a labourer but his wife not with him. This is likely to have been Emmanuel, given that he registered himself as William on other occasions, the age and occupation are correct and Emanuel was later found living in Sudbury Road. It would thus seem that he went ahead to London and that Anne and the children would join him later.
Thereafter he settled in north London, at a variety of addresses:
1863-71 Sudbury, Harrow. Middlesex (birth of one son, and census). Address Sunbury Road in 1871.
1881(-86) Greenford, Middlesex. In 1881, he was living at Brewery Cottage, Greenford, Middlesex. In 1885-86 the marriages of two of his sons were registered at Brentford, which is the registration district centre for Greenford.
1901(-02) Hornsey, north London. Address 36 Park Road, Crouch End in 1901.
The deaths of both Emmanuel age 78, and his wife Anne, 65, were registered in the first quarter of 1902 at Edmonton, which was the registration centre for Hornsey.
We have no information about his occupation in the early years, and do not know whether he was tempted to, or indeed did follow the family trade as a blacksmith, as one of his sons was to do (see below). The earliest that we have is at the age of 29, when he was in service, and this continued through the 1850s, rising to the post of butler and probably ending with a brief spell as innkeeper. After he settled in London he was engaged in labouring and other manual work, and as late as his 78th year he was still working, as a watchman.
There were three known children, all sons:
C3a - Frederick, who almost certainly emigrated to Australia
C3b - William Ernest, who moved to the east end of London and produced a large family
C3c - James Richard, who lived in north London and likewise produced a large family.
C3a - Frederick
(emigrant to Australia)
The first son, Frederick almost certainly emigrated to Australia, perhaps in the building trade but afterwards as a farmer, clearing virgin land to establish his farm. He married there and had a large family which produced many grandchildren for him and ensured the spread of the Fardon name within his chosen area south of Brisbane on the east coast.
Frederick was born in 1856 in Leamington before his father had made his final move to the London area. .He was at home at Sudbury, London, in 1861 and 1871, working in the latter year as a chemical labourer. Nothing further has been found in UK records, though there is some suggestion that he may have gone into the building industry, see next paragraph.
Although a definite link has not yet been found, he must be the Frederick Fardon who emigrated to Australia in 1876 on a free passage on the City of Agra, leaving London on 14th April 1876, arriving at Hervey Bay, for Maryborough, on 14th July. Maryborough is just north of Brisbane, Queensland, on the east coast of Australia, and its seems that he soon moved south, just over the state border into New South Wales, to work in the Byron Bay area, perhaps in the building trade. In 1883 he was in Lismore, a little farther south and inland, to marry Charlotte Schofield, and here he would settle for a few years, given that the births of probably three children were registered here in 1884-1886. His occupation at the time of his wedding was brickmaker, which may give credence to the account, see below, that he was involved in the building trade just before and after he emigrated.
The family account indicates that Frederick then spent some years share-farming with Charlotte's parents at Ellangowan, south of Casino. But the official records show children born (or at least their births registered) at Lismore 1884-1886, then at Ballina, on the coast, in 1889-1900. Around the turn of the century the family moved to Mummulgum, west of Casino, and here he bought a 444-acre plot, which they cleared for growing corn and keeping livestock, established a small sawmill and built a three-bedroom house. Two children were born here, their births registered at Casino.
Following a tragedy in 1914 in which a son was accidentally killed, they sold up and moved to Yorklea, just south of Casino and not far from Ellangowan, where they share-farmed for a Stan Junor. Frederick died here in 1925. According to the family his son Clifford took over the estate and Charlotte continued living there until her death in Casino in1932. But there is some inconsistency, the records of children's births suggesting that Clifford's family was in Murwullumbah, north of Brisbane, in 1925 and 1929, before perhaps returning to the Casino area in 1930. Brother Emmanuel and perhaps also sister Annie, may have been living at Murwullumbah at the time.
There are pictures of the Junor estate at Yorklea, the presence of the family being marked by the existence of Fardon Lane, the signpost still standing. The old house burnt down in about 1995.
Details of the official records, as received from the family, are shown in the accompanying Sources table. The account derived from information provided by his son Clifford, who died in 1984, is given in full below. .The reference here to two brothers may be an error. Frederick's known brothers are accounted for in England, and the ship's manifest records only one Fardon on board, Frederick himself. Also, the present descendants cannot find any brothers in the official records, There is a further inconsistency. Two Australian sources, including that below, give Frederick's birth as 1857 in Leamington and 1859 in London; it was actually 1856 in Leamington, and the London information is valid for his younger brother William Ernest.
The following is an account of the first days of Frederick in Australia, as told by his son Clifford and provided by a family member:
Frederick Fardon was born in London in 1859, but no details are known of his parents. He later moved to Lancashire where he and his brothers learned the builder's trade. He migrated to Australia with two brothers in about 1876, and for a while they worked at their trade in or around the Byron Bay area. There was little call for builders in the area, however, and the brothers separated.
Frederick married Charlotte Schofield at Buckendoon in 1883. They share-farmed with Jim and Martha Schofield in the early 1900s and bought a selection of 444 acres at Theresa Creek, Mummulgum. This selection was all virgin scrub with some cedar in it. Frederick and his sons cleared the area, using brush-hooks to clear the smaller growth and axes to fell the larger trees. These had to be hauled out by bullock team, most of which were hauled to Casino. A small mill was started at Mullulgum, and there much of the local timber was sawn. Frederick built a three-bedroom house on the selection, continuing to clear the scrub. Much of the cleared land was planted with corn which was used to feed the large number of pigs which he reared. Some cattle were also reared, but mainly for their own use,
There was a plentiful supply of scrub turkeys in the area, and in 1914, while shooting for them with a double-barrel shotgun, Harold (aged about 16) was killed accidentally. Charlotte, who was a quiet, sensitive woman and who had worked in the field with her husband, driving the horses in the plough, planting and pulling corn, could not overcome her grief at losing her son, so persuaded Frederick to sell the selection (Riley and two other men bought it). So, soon after the end of the First World War, he moved to Junor's estate at Yorklea. Here they remained until his death on 27.9.1925, share-farming for Stan Junor,
Following his father's death Cliff took over the Junor Estate, renting approximately 600 acres and milking 120 cows at a time, with the help of Daisy (his wife) and their boys. Charlotte lived with them, until not long before her death in Casino on 20.9.1932.
There are children, grandchildren and great-grandchildren, as shown in the attached Source Listing and the Family Tree diagrams, resulting in many dozens of Fardons over the generations. Son Clifford in particular was very productive with some thirteen children. All those that have been identified have remained in the area of north-east New South Wales and southern Queensland. From information received little is known of them other than information on birth, marriage and death.
C3b - William Ernest (the East London Fardons)
William set up family in the docklands area of east London, and sired eight children there, six of which survived infancy, before his death at the age of 38. The two surviving children who can be followed, and perhaps others, remained in the area and brought up families there. William and his children probably had unskilled occupations, information on subsequent generations is generally scarce.
William was born in 1859 in Marylebone at the time when his parents were shuttling between London and Leamington. He was at home with his mother at the Cricketer's Arms in Leamington in 1861, and was back in London ten years later, with his family, in Sudbury, Middlesex. In 1881, at the age of 21, he had left home and moved to West Ham in east London, where he was lodging with a family and working as a coal porter. His address was in Ford Street, very near St Luke's Church in Canning Town, in a heavily built-up area north-west of the Royal Victoria Dock.
He had briefly moved back to north London by 1886, where he was married at Greenford Parish church, his address given as Greenford. His bride was Elizabeth M Patterson, a resident of St Luke's parish, West Ham. She was 20 (he was 26) and her father was foreman at a chemical works. Presumably William had met her during his stay in West Ham, and unusually the bride travelled to the groom's church for the ceremony. But the witnesses (David Davies and Mary Chambers) were not known family members.
William and Ann returned to West Ham after their marriage and in 1891 the couple was living at 35, Amelia Street in the Silvertown area of Canning Town. This was an industrial and residential district first developed about 1850 round the rubber and telegraph works of S.W. Silver and Company - hence the name. It gradually extended along the Thames with an oil refinery, factories and engineering and chemical works.. In 1893 Amelia Street was one of some half a dozen streets serving around 100 back-to-back houses located in an area of marshland between the River Thames to the south and the Royal Victoria Docks to the north. There were various wharves and docks in the area, to say nothing of mud flats, and also chemical works, a jam factory, india rubber works and a telegraph establishment.
This would be William's home until his death in 1899, by which time he will have had eight children. He was working probably as a deliveryman, described as a horse driver in 1891, carman in 1899, but there is nothing more specific. William died in 1899 of acute bronchitis at the early age of 38.
William's wife Elizabeth quickly remarried, in 1900, to Alfred John Ackhurst, a labourer, and in 1901 the family, including the Fardon children, were still living at the Fardon house, 35 Amelia Street, and with a baby by the new marriage. The fact that Alfred had moved into the Fardon house and brought no family with him suggests that he may have been a bachelor. In 1911 the family were at a new address in the area, in Gray Street, and included three of the Fardon children and four Ackhurst children. Details of the lives of the Fardon children are given in the individual sections below. The immediately following paragraphs deal with the Fardons as a family.
After this the Fardon children dispersed. Annie (Daisy) married in 1911 and John James, who had anyway been in local lodgings in 1911, married in 1912. Each set up a household in the area, and in 1919 all the unmarried children were living at Annie's house. Joshua, who did not survive the Great War, had also moved out. He gave his address as that of his brother John when he enlisted in 1914, though later Annie would claim that he lived at her address. By 1919 their mother Elizabeth was living at another address in the area, in Custom Street, presumably with her husband, and with most of her second brood - the Ackhurst children.
There is no suggestion of any rift in the family. Indeed, Annie, the oldest daughter, as well as providing a home for her unmarried siblings, seems to have acted as surrogate "materfamilias" on behalf of her mother. She it was who carried on the family correspondence with the military authorities. And indeed, one of the Ackhurst children was living at Annie's address in 1919. Perhaps the dispersion was the result of an illness which caused mother Elizabeth to be in the Leytonestone Infirmary from at least August 1914 to January 1915 (source, enlistment documents for sons Francis and Joshua). In one document the location is called the Leyton Union Workhouse, but this may be no more than a reflection of the fact that the Infirmary seems to have been the hospital used by the warehouse. It is not known what illness Elizabeth was suffering from. It is noted, however, that Leytonestone Infirmary was on the site of what is now Whipps Cross Hospital, rather remote, it would seem, from Silvertown. Elizabeth was back home by 1919, with her Ackhurst family.
After the First World War the three unmarried siblings married. After this the family seems to have dispersed, or at least lost touch and it has not always been easy to find records of them. Annie remained in West Ham, but later moved either during or after the Second War to the Romford area, in Essex east of London. Elizabeth Rose may also have moved to Essex after marriage. John James probably remained in West Ham and he may be the John Fardon whose memorial is in the City of London Cemetery, Manor Park, One of his children would later retire to, and die at Huntley, a village near Gloucester, not 30 miles from Temple Guiting where the Gloucestershire Fardons had their beginning. The oldest son, Francis remained in West Ham, as did his son; his granddaughter Linda still lives there; she has contributed to this dairy.
The Custom House area of West Ham, where the Fardon family lived for so long, had been developed from about 1880 as a working-class residential area and got its name from the custom house which stood on the north side of Victoria Dock. The 1914 map shows a densely crowded area of back-to-back terraces, part of the West Ham borough which was the most populous in the country. The area - London''s docklands - was badly hit by bombing in World War 2 with most of its housing stock destroyed. Post-war development has resulted in a new map in which many of the original streets, including some of those associated with the Fardons, have disappeared.
William Ernest's children
William and Elizabeth had eight children all born probably at Amelia Street. Births were registered in West Ham, later censuses showing Canning Town or Silvertown, the latter a district within the former and both part of West Ham. In the following table the dates are those of registration, except for Joshua's, which the exact year of birth:
| | | | | |
| --- | --- | --- | --- | --- |
| Francis Emmanuel | 1887 | | Elizabeth Rose | 1893 |
| Annie Emily (Daisy) | 1888 | | Frederick Herbert | 1894 |
| John James | 1889 | | Benjamin Robert | 1897 |
| Ellen Louise | 1891 | | Joshua | 1898 |
The girls are variously lost from the records. Of the boys Frederick and Benjamin died at or soon after birth, Joshua was lost, aged 19, on the Western Front in World War 1. Francis and John both stayed in West Ham and did some of their children, no doubt becoming typical cockneys. This family provided two stereotypical examples of service in the First World War. Francis volunteered very early and was attested into the infantry only weeks after war broke out. He fought on the Western Front, was wounded and discharged. Joshua joined the same regiment as Francis by falsifying his age (19 instead of 16). He also fought on the Western Front and fell in action, aged only 19.
Most of the other information at this level is from mainly GRO (St Catherine's) indexes, which gives nothing on occupations. Given the area in which the family lived it is likely that the male members of the family would have been stevedores at the docks, or labourers in other river- related activities.
The first son Francis, who preferred to be known as Frank, was born in the Plaistow area of West Ham in East London in1887. He remained at home with family until at least 1911, when he was working at the local rubber works. Within a few days of war being declared in 1914 he enlisted into the army and was posted to the depot of the Royal West Kent Regiment in Kent.
There are a number of his military documents extant, details given here in Appendix A. They show him being posted to the France with the 7th battalion of his regiment as part of the British Expeditionary Force. In November 1916 he was wounded and repatriated. He spent some time in Northamptonshire Military hospital, after which, in mid-1917, he was discharged from the services as unfit for further service. He received a small pension. His granddaughter Linda Stock remembers that he had a hole in his left shoulder which affected the use of his arm.
At some point, perhaps even before his service, he had left the family home and moved to the house of his married sister Daisy in Chauntler Street, Silvertown, and it was to here that he returned from the war. Other documentation (military records relating to his brother Joshua, as well as to him, all shown in Appendix A) places him and his other sisters at this address in 1919, and him still there in 1921.
In 1923 he married Alice M Creek at West Ham Register Office. Among the witnesses was his sister Annie (Daisy). His address was shown as 3, Young Street in Custom House. Later, from at least 1943 until his death in 1962 he was living at 97Argyle Road, still in Custom House. Thus, apart from his military service, he lived throughout and died in this area of West Ham.
After school he worked as a van boy (1901 at the age of 14), then as a labourer in the local rubber works (1911, 1914). After the war, in 1923, his marriage certificate shows him as a watchmaker, and his family remembers his interest in watches and clocks, forever taking them apart and putting them together again. But later he was a postman working for the General Post Office, and this became his career.
He died at home in 1962 at the age of 75, of myocardial degeneration and brochitis/emphysmia. His wife survived him by three years. There was one son, Kenneth John.
Kenneth was born at Custom House in 1925, the only child of Francis and Alice. The next information comes in 1943, a couple of months before his eighteenth birthday, when he volunteered for service in the Royal Navy. Whether he did this to avoid call-up into the Army, something not unknown during the war, or whether he had a genuine desire to serve in that arm cannot be known. He did his initial training as an Ordinary Seaman at HMS Collingwood, and HMS Victory, shore-based establishments at Fareham, Hampshire and Portsmouth respectively. Then, as an Able Seaman, he served on HMS Premiere from January 1944 to March 1946.
Premier was built in the United States and transferred to the UK under lend/lease. It was a mercantile hull converted during build for use as an Escort Aircraft carrier. It was formally transferred to the Royal Navy in November 1943 when it received the name HMS Premier (it had previously been USS Estero). Initially it carried out transfer work (carriage of aircraft) from the USA to the UK, but then it was nominated for air mine-laying operations, convoy work and attacks on shipping off Norway. This was its job during the last years of the war.
His daughter tells how on one occasion he ignored an order to duck during action and ended up in sick bay unconscious for three days. He lost the end of his finger as he was struck during an attack by an incoming aircraft. He enjoyed his navy days and was awarded a medal by Russia for serving on the convoys.
After a spell at land-based establishments he was discharged from the service in December 1946. His discharge record shows that he was a big man of 6ft 2in, with a 37-inch chest, brown hair, blue eyes and a dark complexion. The documentation also shows the award of a "hurt Certificate", presumably relating to the incident described above. Perhaps unusually, he gave his nearest known relative as his mother, whom he named as Maud Alice (rather than Alice Maud), living at 97 Argyle Road in Custom House. Presumably this was his address too.
After the war he married Rose Margaret Nelson and with her had his only child, daughter Linda. They were divorced in 1960 and he was married again, to Mary Margaret Cain. No children were born to this second marriage. Mary died in 2003 after nearly 40 years of marriage.
He lived in the east end of London all his life, and was typical of the time in enjoying a game of bingo on Sundays and being an enthusiastic supporter of the local football team West Ham United ("The Hammers")
He celebrated his 80th birthday in November 2005, during which he suffered a fall. He was later taken to hospital, where he died unexpectedly from pneumonia.
He was a labourer (not further specified) when he joined the navy at the age of 17. After his war service he had various jobs, including at Tate & Lyle, the sugar company, and as a stoker at the Beckton gas works, then one of the largest in the world. And from 1965 to 1985 he was a Senior Jewel House Warder at the Tower of London, helping to guard the Crown Jewels. He was forced to retire from the last at the age of 60 because of ill health.
His one child, daughter Linda Rose, was born on 8th March 1948 and married Jeffrey Walter Stock on 8th March 1969. They have a daughter Karen and a son Kevin, and five grandchildren. Linda continues to live in the West Ham district of London
Annie, who preferred to be known as Daisy, was born in 1888. She was at home with the family in 1891 and 1901 at 35 Amelia Street in Silvertown; and at 51 Gray Street in 1911. On the last two occasions the family included step-father and his children. In 1911, like her older brother, she was working in a local rubber factory. Later the same year she married Horace Belfall, three years older than she, a labourer and son of a labourer. Although she had been at home with her family on census day in 1911 she gave her address in the marriage documents, in August, as 15 Andrew Street, just round the corner from Horace at Drew Road. The family witness at the ceremony was not one of her immediate family but maternal grandfather Francis Patterson, who was still living locally, now at 7 Finch Road. At some point after her marriage - certainly by 1917, and perhaps 1915, the household moved to 97 Chauntler Road in Custom House.
Annie, as the oldest one present of the Fardon children (older brother Francis was serving as a soldier in France), seems to have taken it on herself to look after the family. Up to at least 1921, 27 Chauntler Road, presumably her marital address, is also shown in various documents as that for brother Francis, sisters Ellen Louise and Elizabeth Rose and one of her step-sisters.
Also, she carried out all the correspondence with military authorities relating to brother Joshua on behalf of her mother who, it seems, was not up to doing this. In 1916, when Joshua was home on sick leave, she successfully persuaded the authorities not to send him back until he reached the age of 19. In 1919 she answered on behalf of her mother a query sent to her mother about the latter's current address.
Two Belfall children are known, both births registered in West Ham: Horace F in early 1913 and Maud A R in 1923. The gap between the two might suggest absence of the father due to military service, but there is no known record of a Horace Belfall serving in the army at this time.
The family seems to have remained in West Ham until at least the late 1930s, for son Horace was married there in 1937. After this they moved to Romford in Essex, just east of London, perhaps during or after the war, for daughter Maud was married there in 1948 and Annie's husband died there in 1950 at the age of 65. Annie lived a further sixteen years, her death being registered at the age of 78 in 1966 in the London Borough of Havering, the new name for the district which includes Romford.
John was born in Canning Town/Silvertown, West Ham, in 1889 and probably spent his whole life in the area. He was at home with his family in 1891 but thereafter was shown at the home of his maternal grandparents in West Ham on census day 1901, and as a boarder at an address in Silvertown in 1911. In 1912 he married Daisy Constance White in Woolwich, giving his residence as yet another address, in Woolwich, the same as that of Daisy.
He would have been old enough for military service in World War 1 but nothing has been found of a relevant John Fardon in available army records of the time. In 1919 he was living in Leslie Road, Custom House, and had probably been there since at least 1915 as this was the address which his younger brother gave as his own when he signed on for military service in January of that year. He clearly lived in West Ham throughout this period, for his children's births were registered in the district between 1914 and 1927. And he died in the borough in 1956 aged 67, his wife six years later.
The only indication of his occupation has been in the census of 1911 where he was described as general labourer.
The children were John Sidney (birth registered 1914), Elizabeth M (1915), William E (1918), Florence M (1922), Thomas J (1924), George (1927). Their details, essentially just births, marriage, deaths, are summarised:
Thomas and George died soon after birth, which leaves the remaining four children.
Elizabeth registration of birth is known but nothing more
Florence married Frederick J K Wright in 1942 in West Ham and there were two daughters, all events in West Ham.
John married Evelyn Nicholls in West Ham in 1940. He was serving in the Royal Navy during World War 2 with an address (13 Kensington Avenue) in Manor Park, also in the east end of London, when, in 1942, his wife gave birth to twins: Eric G and John William. Both were born in Trowbridge, Wiltshire (284 Frome Road), the births were registered by a D L Langley, described as the occupier of the Trowbridge address. Perhaps Evelyn was an evacuee from London, or staying with relatives. Eric married Lynn M Orpin in 1967 in West Ham, they had two children, Richard John in 1970 and Danielle Elizabeth in 1974. John William married Sharon Lyn Brownfield in 1974 in Dagenham and they had two children, James John in 1977 and Natalie Ann in 1980.
John Sidney died in 1968 in Newham, east London.
William and his wife Mary G Beadell, married in Greenwich in 1942 and had a son David William, in 1947 at Bethnal Green. He later married Virginia Barr, in Lewisham in 1969, and had a daughter, Laura Elizabeth, in Bromley, both areas just to the south of London, in Kent. William and his wife were next seen in the 1980s and 1990s living in Huntley, a village just west of Gloucester. He died in the Gloucester district in 1996 at the age of 78.
Ellen's birth was registered in West Ham in 1891 and she was at home with the family in 1901. Ten years later she was in service as a servant in a household in Palmers Green in North London. In March 1918 she was in West Ham again, when she wrote a letter to the military authorities enquiring about the whereabouts of her brother Joshua (see below). It was written from Holy Trinity Vicarage in Canning Town, but there is no indication of whether this was her address or whether she was visiting. Perhaps she was in service there. She was certainly living in the area in July 1919 when, in military documents relating to Joshua, her address was shown as that of her married sister Daisy in Chauntler Road, Custom House.
In the first half of 1930 her marriage to a George W Moore was registered in nearby Stepney. Twins, George W and Joshua F, were born within a few months in Hackney. Two years later she was back in West Ham for the birth of daughter Sheila.
Nothing more is known at present of Ellen Louise
| | |
| --- | --- |
| | Elizabeth Rose (also Rose E) |
Elizabeth was born in late 1892 or early 1893. She was at home in 1901 but has not yet been located in the 1911 census. She would have been 17 and thus perhaps, like her next eldest sister Ellen Louise, in service. She was back in West Ham in 1919, staying with her sister Annie at what seems to have become the Fardon house, now calling herself Rose. In 1924, as Rose E, she married Alfred W Brown locally. Perhaps the Alan A Brown born the following year, mother's maiden name Fardon, was their son. His birth was registered in Orsett, in Essex just east of London. It is thus possible that the family moved from West Ham, but so far no further record is known.
The last Fardon son, Joshua had left school and was working as a labourer when war broke out in 1914. He falsified his age and followed his brother into the Royal West Kent Regiment. He saw action in France and returned home on sick leave. In spite of attempts by his family to stop him being sent back to France, he was again posted to the Western Front and was lost at the Battle of Cambrai.
Joshua was born on 30th June 1898 at Silvertown, West Ham, London. He was at home in 1901 and 1911, and on leaving school became a labourer. By 1915 he may have moved, to live with his married brother; this is the address that the military authorities held for him, though there is later documentary evidence from his married sister Daisy Belfall that he was living at her address. Wherever he was living, he enlisted in the army on 11th January 1915, falsifying his age to 19 (he was actually 16). He seems to have been the victim of the "don't ask" culture, for at only 5ft 4½in tall, with a chest measurement of 35in and weighing less than 9 stone he can scarcely have looked 19.
His older brother Francis had joined the Royal West Kent Regiment at the beginning of the war and Joshua followed him into the same regiment, being posted to the depot at Maidstone the day after enlistment. He did his training with the 9th battalion and in October was posted to the 8th battalion on the Western Front in France. The 8th had been involved in the unsuccessful counter-attack at Loos in October 1915 and had suffered casualties involving 23 of its 24 officers and 550 of its 800 men. Joshua will thus have been among those sent as replacements at a critical time for the battalion.
In mid-1916 he was withdrawn from the Front suffering from myalgia and spent two weeks in a military hospital in Etaples, France, before being repatriated on the hospital ship Brighton. He then had two weeks sick leave, which he presumably spent in West Ham. It was during this period that attempts were made to prevent his return to France. His sister Daisy wrote to the military authorities, on behalf of their mother, pointing out that he was under-age for service abroad. She had read in the newspapers that the minimum age for sending young soldiers abroad was 19, and Joshua was only just 18; she enclosed a copy of his birth certificate.
Daisy's actions arose from a public outcry, including questions in the House of Commons, about the sending of underage soldiers in the field of action. The military authorities were forced to issue an Army Council Instruction (ACI 1186 of June 1916) designed to put a stop to this practice. Internal correspondence within the military showed that Joshua's case was in fact being dealt with under this ACI.
But it was only a temporary reprieve. The ACI stated soldiers under the age of 18 would be returned to their families. Those who had reached the age of 18 would be held at their depots until they were 19. Joshua was unlucky. He was just three weeks beyond his 18th birthday when he was due to return to his unit. He thus missed by this amount the opportunity of returning home, and would be held at the regimental depot until he reached the age of 19.
Joshua was thus posted in mid-July 1916 to the 3rd battalion of the RWK, at the regiment's depot in Kent. Whether he was given anything useful to do is not known. What is known from his record is that he was not the best of soldiers. Between 21st October 1916 and 9th July 1917 he appeared eight times on charges within his battalion, mostly for being absent from parades and roll-calls or overstaying his pass out, the first at Fort Darland, Chatham, the rest at Rochester. For all this he suffered a total of 35 days of confinement to barracks, one period of 120 hours in detention, and on one occasion a loss of eight days pay. Perhaps all this was the result of his previous experiences in France or perhaps boredom at having to wait around at the depot for nearly a year.
There must have been some good in him as a soldier for he was promoted to lance-corporal in February 1917. But this was a brief interlude, for he was deprived of his stripe just nine days later after appearing on a charge of "neglect of duty while in charge of defaulters". He would, however, regain the stripe after his posting to France.
The authorities did not waste much time when he became eligible for posting. On 18th July, just 18 days after his nineteenth birthday, he was posted to France, to join B Company of the 6th battalion of the regiment. There is no information about his exact movements there, though the activity of the company can presumably be found in the RWK records. What is known is that at the end of October he was again promoted to lance-corporal. Then at the end of November the company took part in the Battle of Cambrai and on the last day of the month Joshua was lost. His body was not recovered.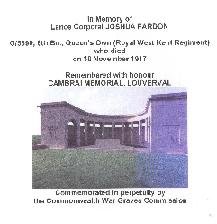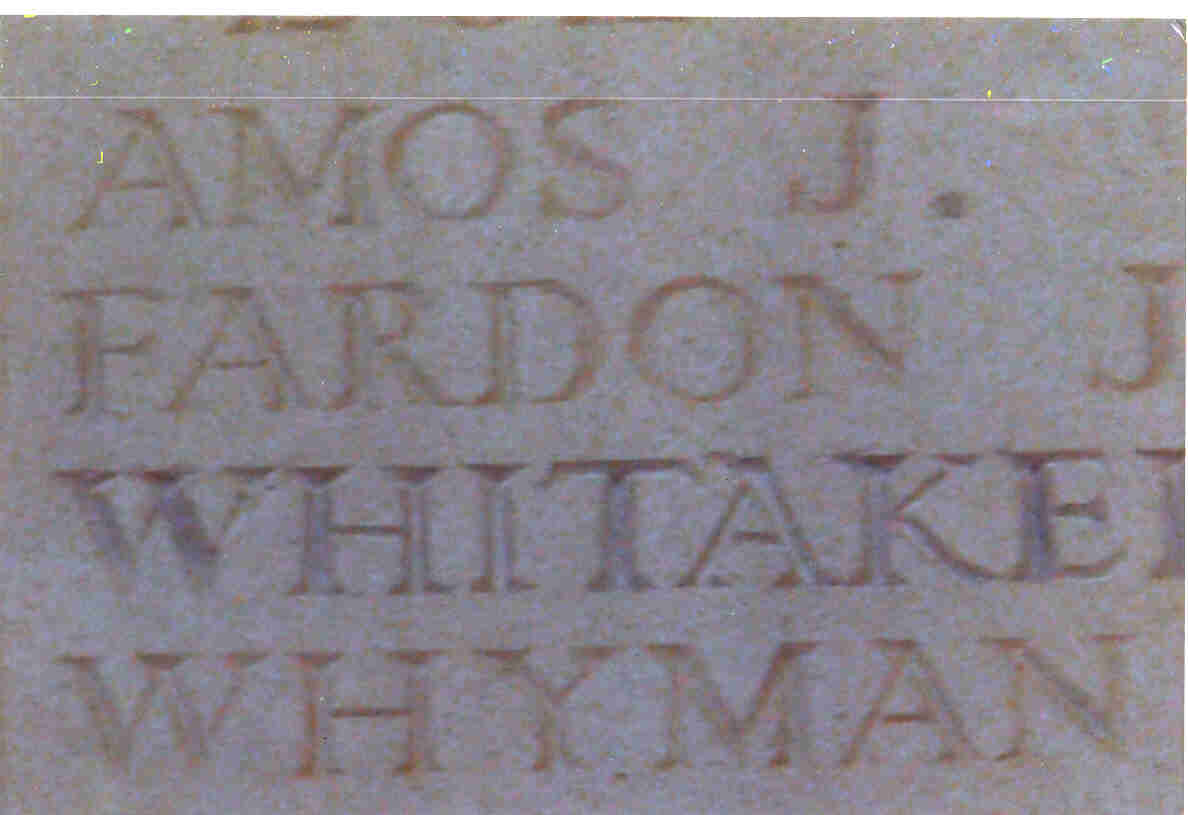 Joshua is remembered at the Cambrai Memorial in Louverval in France, which commemorates more than 7000 servicemen from the UK and South Africa who died at Cambrai. His name is recorded on one of the memorial walls.
The military documentation following his death records the receipt by his mother of the medals that he was awarded, the standard Victory and War medals, and also the 1915 Star to record his having been in a theatre of war in that year. Also the plaque and memorial scroll in his commemoration sent "in accordance with the wishes of His Majesty the King."
Transcripts of all the military documents are given here in Appendix A
C3c James Richard (the North London Fardons)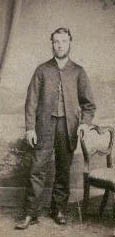 This part of the family was at first difficult to trace through, because in the 1901 census many of them were listed by names other than their baptismal names, though always having the same initial letter as the baptismal name. It was not unusual for a familiar, rather than baptismal name to be entered into a census, but this is a very extreme example, almost like a joke!. Since other records may come to light which contain these "secondary" names the people involved are shown here as, for example, James Richard (aka John), ie James Richard, but listed as John in the 1901 census.
James spent his whole life in north London, producing there a large family of 12 children and following the traditional Fardon craft of blacksmith. He was born in Sudbury, Harrow in 1863. He was at home in 1871 in Sudbury and in 1881 in Greenford, when he was already working as a blacksmith and where in 1885 he married Sarah Chambers at the parish church. She was aged 21, the daughter of an engineer and born in Spitalfields, London Their first child was born in Greenford, in the Brentford Registration District This and later children's birthplaces and censuses show the family in various suburbs of north London over the years:
Greenford (Brentford registration district) 1885
Hanwell (Brentford R.D..) 1887-1891, at 5 Maunder Road in 1891
Hampstead (Hampstead R.D.) 1893-1896
Willesden (Hendon R.D..) in 1896-possibly 1906, at 6 Stafford Road in at least 1899- 1901
His wife Sarah died in 1906, her death registered in Hendon. James was left with a large number of children, aged 2 and upwards, though the four eldest were girls aged between 14 and 19 some or all of whom could have become "mother" of the family. There is no evidence that James remarried.
The places at which his children were married - Paddington, Kilburn, Willesden - suggests that he remained in the north London area during the period up to about 1923, and he must be the James Fardon whose death was registered in Brentford, also north London, in 1931 at the age of 67.
James worked as a blacksmith/farrier between at least 1881 and 1901 and presumably beyond. He had thus taken up the traditional Fardon occupation which, as far as we know, his father had passed by. His son James Edward (see below) would follow the tradition.
The descendants of James Richard
James Richard produced twelve children, of which eight were girls. One son died as a baby. His three surviving sons gave him 22 grandchildren, no doubt daughters provided more, but the latter were not Fardons and are not followed. Together with members of subsequent generations, this represents a very large family group.
The children were all born in north London, the dates and places shown in the following table being those of registration of birth (from GRO source) plus, where known, the actual place within the district as derived from the censuses. The ?aka' names are those of the 1901 census (see above), except that Rose for Sarah Rosina was in 1891.
| | | | |
| --- | --- | --- | --- |
| name | aka | birth registered | birthplace |
| Annie Elizabeth | Alice | 1886/1 Brentford | Greenford |
| Sarah Rosina | Rose | 1887/1 Brentford | Hanwell |
| Mary Jane | | 1888/3 Brentford | Hanwell |
| Ellen Maria | Emily | 1890/1 Brentford | Hanwell/Acton |
| James Edward | John | 1891/3 Brentford | Hanwell |
| William Frederick | | 1893/2 Hampstead | Hampstead |
| Daisy Elizabeth | Dorothy | 1894/3 Hampstead | Hampstead |
| Ethel | Eliza | 1896/1 Hampstead | Hampstead |
| Joseph Emmanuel | | 1899/1 Hendon | Willesden 21/2/1899 |
| Alfred John | Arthur | 1900/4 Hendon | Kilburn |
| Florence Maud | | 1902/1 Hendon | |
| Ethel Mabel | | 1904/1 Brentford | |
Joseph died as a baby. Of the three surviving boys James Edward "emigrated" to Devon, married and brought up a family there. He continued the family tradition as blacksmith. William Frederick spent some 25 years in north London, but then, during World War 2, took his rather large family to live at Brixworth, Northampton, where there are still descendants. Alfred remained in north London, but two of his sons would later move away, one to the north of England, one to Berkshire.
| | |
| --- | --- |
| | Annie Elizabeth (aka Alice) |
Annie was born in Greenford in January 1886 and was at home in 1891 in Hanwell and 1901 in Willesden. She was listed as Alice on the latter date and as a domestic servant, presumably helping out at home. In 1904 she was married to William Wilkinson, 25, in Paddington. She had 3 children with William Wilkinson who, according to family information, he abandoned the family sometime before 1911. She later married John Thomas Ives and had another 6 children with him, 3 before their official marriage in 1920. Annie appears to have always lived around the Willesden area of North London and died there in 1969.
Sarah was born in Hanwell in late 1886 or early 1887 and was at home, listed as Rose, in 1891. Unusually she was double counted in the 1901 census, at home and shown as a 13-year- old domestic nurse, and also at her grandparent's house in Hornsey. It is likely that she was at the latter place and that her parents had misunderstood the rules of the census, thinking that they had to enter those who lived there rather than those that were present on census day. She married James Henry Higgins on Christmas Day 1904 at the Church of St John the Evangelist in Kilburn, when she gave her address as 9 Granville Road. In the 1911 census the family are in Notting Hill with three children and James' brother Samuel. Sarah died in 1950 in the Kensington area of London.
| | |
| --- | --- |
| | Mary Jane and Ellen Maria (aka Emily) |
The next two children are typical of female offspring who can be followed up to near- marriageable age and then disappear, presumably on marriage though registration details have not been found. They were born in Hanwell, the births registered in Brentford in 1888 and 1890, and both were at home in 1891 and 1901. Thereafter nothing so far. Ellen was entered in the 1901 census as Emily.
| | |
| --- | --- |
| | James Edward (the Devon Fardons) |
James's family can be followed through to grandchildren. James himself, a blacksmith, moved early to Devon, and members of the family remain there into the twenty-first century,
James was born in Hanwell, the birth registered at Brentford in 1891. He was at home in 1901. In 1916 he was in Blackawton in Devon, just west of Dartmouth, where he married Charlotte Louise Wallace at the parish church. On his marriage certificate he gave his address as Blackawton, and it is thus probable that he had moved there before he married. He remained in Devon, the birth of four children being registered at Kingsbridge between 1918 and 1932 - perhaps still at Blackawton, which is within the Kingsbridge Registration District. The family had probably moved north to the Totnes/Newton Abbot area by the mid-1950s, as his children's marriages were registered in Totnes between 1954 and 1959. He himself had died in 1952, age 60, his wife died in 1966, age 70, both deaths registered at Newton Abbot.
The picture here was taken in about 1930. The only available record of his employment was on the marriage documents of 1916, which show him as a blacksmith and son of a blacksmith, thus continuing the Fardon traditional employment for another generation.
There is no firm information about any war service, for which he ought to have been eligible. The WW1 medals listing shows a James Fardon who served with the Cheshire Regiment and, after being withdrawn from fighting (he had the Silver War badge), with the Labour Corps; but there no confirmed association with James.
There were four children, the births all registered at Kingsbridge, and whose marriages were registered at Totnes. The dates are the years of birth registration in Kingsbridge:
Alfred James 1918 Kathleen HA 1929 Bernard R 1931 Allan W 1932
Available details are confined to births marriages and deaths, of themselves, children and grandchildren, as derived from GRO indexes. All the boys and their descendants remained in Devon. Kathleen married in Devon but she disappears from Fardon records after marriage.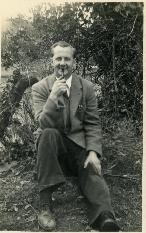 Alfred was born in 1918. In 1943 he was in Horncastle in Lincolnshire, where he married Elsie Hellwell. This was during World War 2, in which he presumably served. Was Lincolnshire the location of his military service, perhaps at one of the many Air Force bases there? He was back in Devon after the war in the Newton Abbot area, where his wife died. He remarried in 1955, the marriage to Eva D Scoble registered at Totnes. The births of two children were registered, Sharon Elizabeth at Newton Abbot in 1957, Nigel J at Totnes in 1958. Sharon was married in 1979, to David B Hall, Newton Abbot
In 1966 Alfred was living in Buckfastleigh, Devon, He died in 1999 at the age of 81, the death registered in just Devon.
The picture here dates to about 1950.
Kathleen was born in 1929, married Gerald Cole in 1954 (marriage registered in Totnes). There is at present no further information
Bernard was born in 1931, married Lillian J Caple in 1958, has a son Paul in 1967. Paul married Trina Rossiter in Newton Abbot in 1997 and there were two children, births registered in Torbay, Alex William in 1997, James Lewis in 2000.
Allan was born 1932, married Anne E Hole 1959 (registration in Totnes), had at least three children Timothy 1963, Jeremy 1964 and Nicholas James 1966 or 1967, births all registered in Totnes. Timothy James died as a young baby, Jeremy married Wendy Agar in Exeter in 1990. Nicholas married Ann E Hole in 1959 (event registered in Torbay). He had moved to Plymouth by the end of the century, where the births of two children were registered, George James in 1998, Maddi Jane in 2001
| | |
| --- | --- |
| | William Frederick (the Northampton Fardons) |
William spent the first twenty-five years or so of his married life in his home area of north London, but during World War 2 moved with his large family permanently to Brixworth, Northampton.
He was born in Hampstead, where the birth was registered in 1893. He was at home in 1901, in 1916 married Emily Kate Parker at the Willesden Register Office. Although only 21, she was a widow, maiden name Quinnell, and was working as a railway "porteress". This was during World War 1, and her occupation, perhaps unusual for a woman in normal times, may reflect the way in which women were rallying to fill in for the absent menfolk. Her father, Henry Quinnell, was a carman, which was also William's occupation, and it may have been through this that William and Emily met. William's address at the time was 42 Andover Road in Willesden.
The couple remained in north London, and produced twelve children there between 1917 and 1939. A thirteenth and last child was born in 1942 at Brixworth, Northamptonshire, where the family had moved and which was now their permanent home town. William died in Brixworth in 1965 at the age of 72. His wife Emily survived for another quarter of a century, and her death was registered at the grand age of 95 in Northampton in November or 1991.
The children were as follows, the dates here being those when the births were registered. William's birth was registered in Marylebone, the next eleven children at Willesden in north London, the last at Brixworth in Northamptonshire. Read in columns:
| | | | | |
| --- | --- | --- | --- | --- |
| William F 1917 | | Henry James 1928 | | Roy 1936 |
| Arthur H 1919 | | Albert Edward 1930 | | Maureen 1937 |
| Kathleen L 1921 | | Margaret J 1932 | | Patrick J 1939 |
| Eileen E 1923 | | Iris 1934 | | Valerie A 1942 |
| Cyril Henry 1925 | | | | |
All the information received so far is from GRO sources, showing details of births, marriages and deaths, and where these were registered. No addresses or occupations.
Four of the seven boys died as babies or in early childhood:
William F in 1922, aged 4
Arthur H in 1920, aged 0
Roy in 1938, aged 2
Patrick Jin 1946, aged 6
There is no further information and they are not discussed further below
All six girls married and thus disappear from Fardon records:
Kathleen L to Herbert A Kimball in 1957 registered at Brixworth
Eileen E to Frederick R Wills in 1943 at Northampton
Margaret J to Frank R Harris in 1949 at Brixworth
Iris to Roy Lantsbery in 1955 at Brixworth
Maureen to Walter W Warren in 1958 at Brixworth
Valerie A to Gerald V Bonsor in 1963 at Brixworth
There is at present no further information and these are not discussed further below
The three remaining boys married and had families. Cyril H moved to London, and one of his children later to Swindon, Wiltshire; the others remained in the Northampton/Brixworth area.
Cyril's birth was registered in Willesden in 1925, and the marriage of a Cyril H Fardon, presumably the same person, to Brenda Savage was registered in Hampstead in 1953. Since Cyril was only 15 when the family moved to Brixworth it is likely that he went with them and later returned to London. He then seems to have remained in the capital, for following his wedding three children were born, their births registered in Paddington: Alan C (1955), Gary W (1957) and William F (1960).
Alan C remained in London. His marriage to Maureen Hogan was registered in Camden in 1980, and three children are known (Ryan Alan, 1983, Kimberley Jane, 1986, and Kayleigh Louise, 1988, all registered Brent). Gary also married in London (to Margaret J Hiney, 1977, Paddington) and a child was born (Leigh 1977, Paddington). But he then moved to Swindon, where two more children (Lorraine and Samantha Jayne) were born, in 1979 and 1983. William F married Caroline Hogan in Hendon in 1987, and three children are known (Russell William, 1992; Daryl Reiss, 1994 and George Henry, 2000, all registered Brent)
Henry's birth was registered in Willesden in early 1928 and he presumably moved with his family to Brixworth, Northants in the early 1940s. He was in Ipswich to wed Patricia M Richer in late 1953 or early 1954, but he returned to live in Northampton, where the births of three children, Anthony J, Trevor J and Timothy H, were registered in 1954-1965. Anthony married Maureen Drage in Wellingborough, Northants, in February 1975 and there were two daughters whose births were registered in Kettering, Northants , Jane Marie in 1975, Claire Michelle in 1979.
Albert's birth was registered in Willesden in 1930 and he presumably moved with his family to Brixworth in the early 1940s. He was married there to Eileen Alibone in late 1953 or early 1954, and five children are known, their births registered between 1955 and 1965 in Brixworth and Northampton (Sally, Kevin Anthony, Cheryl, Michael, Elaine S). At least four of these later married, in the 1970s and 1980s, three of them in Northampton, but Sally in Glamorgan. Kevin had at least three children, all born in Northampton (Daniel Anthony, Gary Lee).
| | |
| --- | --- |
| | Daisy Elizabeth (aka Dorothy) |
Daisy's birth was registered in Hampstead in 1894. In the 1901 census she was at home, registered as Dorothy. In 1913 her marriage to Albert Edward Blomfield is registered in Paddington. Albert was in the Army and was killed in Flanders in July 1916. Daisy later married John Thomas Foster in 1917, again in Paddington. In 1922 she lived at 81 Albert Road, Kilburn, in London. She later died in 1973 in London.
Ethel's birth was registered in Hampstead in 1896, and she was at home in Willesden in 1901, shown as Eliza. In 1914 her marriage to Walter H Smith was registered in Paddington, after which she disappears from the Fardon records.
Joseph died in his second year. He was born at home in Willesden in February 1899, his death was registered in Paddington in the second quarter of 1900, aged 1 year.
Alfred spent his whole life in north London, producing a large number of children. His birth was registered in Hendon in 1900 and appeared in the 1901 census as Arthur. He married Louisa Edmunds in 1921 in the Willesden district. The records then show a relentless stream of children between 1921 and 1942, the births all registered in Willesden. Both he and his wife died prematurely. The death of Louisa, at age 44, was registered in early 1944, of Alfred, age 46, in 1947, both in Willesden. The only information available so far on his occupation came twenty years after his death, when, in 1967, his son David Raymond's marriage certificate records him as Alfred, deceased, toolmaker.
There were thirteen children, the first eleven births registered at Willesden, the next at Hendon and the last at Brentford (read in columns, the dates are of birth registration). Again there is a preponderance of girls, eight against five boys. Read in columns:
| | | | | |
| --- | --- | --- | --- | --- |
| William AJ 1921 | | Grace E 1930 | | Peter J 1936 |
| Charles Arthur 1923 | | Jean 1932 | | Kathleen M 1938 |
| Violet Doreen 1925 | | Sylvia 1934 | | David Raymond 1940 |
| Frederick C 1927 | | June E 1935 | | Rosina A 1942 |
| Elizabeth M 1929 | | | | |
All the information received so far is from GRO sources, showing details of births, marriages and deaths, and where these were registered. No addresses or occupations. The early deaths of their parents left some seven parentless children at home aged between about 5 and 15. There is not information on who looked after them.
Two, possible three of the boys died as babies, Frederick in 1928, Peter in 1938, both age 1. Of William, no further trace has been found after his birth in 1921. These are not further considered below.
Seven of the girls married and then 6 disappear from the Fardon files, except Violet who died in 2003 in Brentwood Essex. All marriages were registered in Willesden except that of Kathleen in Brent, the new name for Willesden under boundary reorganisation:
Violet to Edgar Fellowes in 1946
Grace to Neil J Doherty in 1952
Jean to Kenneth Thorne in 1951
Sylvia to Francis Tracy in 1954
June to Douglas C T Simmons in 1958
Kathleen to Robert Cordery in 1958
Rosina to Robert J Osborn in 1967
No record has been found of Elizabeth after her birth registration in 1929 and her fate is thus unknown.
The remaining two boys, Charles and David, remained in north London until marriage, but later moved out, one to Berkshire, the other seen at various places in the north of England and East Anglia, as detailed in the following paragraphs.
Charles's birth was registered in Willesden in 1923 and his marriage to Hazel Yard, also at Willesden, in 1946. Thereafter he seems to have led a rather peripatetic life. He remained briefly in Willesden, with first child Christine born there in 1947. Son David Raymond was born in Sunderland in 1952 and William in Durham in 1956.
He was probably in Grantham, Lincolnshire, in 1971, when his son David Raymond, 19, a machine operator (automobile engineer) married Linda Smith at Grantham register office. David's address, which may be the same as his father's, was 28 Great Close, South Witham. Linda was 18, a machine operator for a boot and shoe manufacturer, daughter of a carpenter and living locally. At the time of David's wedding in 1971 Charles Arthur was working as a boilerman in a potato precessing plant. He probably remained in Grantham, for this is where he died in 1982 at the age of 59. Hazel survived until 2001, when her death was registered at the age of 73, also in Grantham.
David's birth was registered in Willesden in 1940, where he probably spent his early years. In 1967 he married Margaret Armstrong at St Michael & All Angels church, Stonebridge, Kent. He was still living in Willesden, at 166 North Circular Road, his occupation driver. She was 24, an IBM punch operator, daughter of a security officer. David's sister Rosina was a witness at the ceremony. Their first child Dawn Marie was born in Brent in 1968, but the family then moved to Berkshire, and the births of the next two children were registered in Reading (Jane Louise in 1970) and Easthampstead (Keith David in 1974).
David's death was registered in Bracknell, Berkshire, in 1991, at the early age of 51.
| | |
| --- | --- |
| | Florence Maud and Edith Mabel |
The last two children of James Richard were girls the registration of whose births and marriages are known, and who thereafter disappear from Fardon records. The births were registered in 1902 in Hendon (Florence) and 1904 in Brentford (Edith). Florence married William W G Hawes in the Willesden district late 1922 or early 1923, Edith married Thomas Mulady in the Edmonton district in late 1921 or early 1922.
C4 - William (also known as John)
William was baptised in Stoneleigh in 1825, his home at Stareton. He was at home in Kenilworth in 1841, entered in the census probably as John. He was definitely shown as John when his death was registered in 1846 in Warwick at the age of 20
Catherine was baptised at Stoneleigh in 1832, just 2 weeks after her mother's funeral, with her home shown as Mary Lodge. She lived for only 5 months and was buried at St George's Church, Didbrook on the 6 February 1833.
With his eldest half-brother Emmanuel living and working in London and his next elder having died as a young man, it was Edward who would take over the family blacksmith business, and indeed expand it and hand it on to his own son. But not before having first ploughed his independent furrow, in Coventry, London and abroad. Perhaps as a result of his experience in the wider world Edward became a skilled exponent of the ornamental blacksmith's art, responsible for ornamental gates both at home and abroad, and also smaller household objects, some of which remain in the family.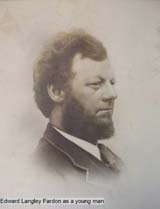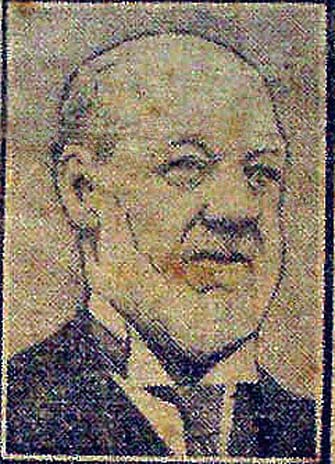 By the end of his long life he was well known in his community, and was the subject of a number of press reports in old age and when he died. This and the documentary information held by his descendants has given considerable detail of his life. The photographs here show him as a young man and on the eve of his 83rd birthday shortly before his death.
Edward was the first of John's children by his second wife Mary Langley, and was the first of several generations to have his mother's name Langley as his own second name. He was born in Leamington in late 1839 and was at home in 1841 and 1851, listed on the latter date as a scholar. He worked at home until 1857 when he went into employment at Skidmore's in Coventry. This was a fast-developing business. Francis Skidmore had exhibited at the Great Exhibition of 1851 and he was renovating a number of churches in Coventry. At around this time he met the great architect Sir George Gilbert Scott and the two collaborated, with Skidmore building Scott's designs, for example the screen in Hereford Cathedral, and the Albert Memorial in London. Skidmore would become one of the best metalwork craftsmen in the country, his innovative iron, brass and silverwork gaining him acclaim and commissions. All this must have had a great influence on Edward and on his own later work, particularly if he met or was influenced also by Scott; and it must help explain the high quality of Edward's work..
But he could not have been long at Skidmore's, certainly not long enough for an apprenticeship, for example. For over the next four years he had taken employment in London and then spent several months, probably in 1860-61, working in Switzerland and France. According to a newspaper report he walked from Coventry to London (it took him 4½ days, the present distance by road is 98 miles), and then worked in a street off Cheapside. It was from here that he was sent abroad to work at Baron Rothschild's houses in Switzerland and at Boulogne (one report says "near Paris", could it thus have been the Bois de Boulogne area in that city?), where he created the wrought-iron gates. This must have been during the winter of 1860-61, for Edward's passport, which is in the family's possession, for the journey to Geneva, was dated 24th October 1860; also, he has not been found in the British national census which was taken on 7th April 1861. Bearing in mind his young age his skills must have been impressive.
He returned to London, and during this time created the ornamental gates for Lord Dudley at Witley Court in Worcestershire. In September 1862 he married Mary Ann Cook at the parish church of St George's, Hanover Square in London. She was the daughter of a farmer and born in Wickham Market, Suffolk. The witnesses were an otherwise unknown Henry and Sarah Glover. Edward and Mary both gave their address as Gilbert Street, which runs south from Oxford Street at the point where the present Bond Street underground station is located. Edward was shown as a smith in his marriage certificate.
They were at Mary's birthplace in Suffolk - or at least Mary was - for the birth of their first child in January 1863, and back in London two months later for the child's baptism in St Anne's Soho. Presumably Edward was working in central London.
Perhaps to this time belongs his work on the ornamental gates at Witley Court in Worcestershire, at St Anthony's Hall in Cornwall, and at St Clement Dane Church in London. These are known from family and press sources, there may also have been other work attributable to Edward.
Edward's father James died at the turn of 1864-1865, and Edward had returned to Kenilworth by June 1865, when second daughter Tryphena was born there. Press sources report that he took over his father's business in 1865 but it was James's widow Mary, not Edward, who was shown as the blacksmith at Rosemary Street in Kelly's directory 1866. But Edward was certainly in charge of the business by 1870, and in Kelly's for that and subsequent years he is shown as blacksmith, first at Castle End, Kenilworth, where his father had operated, later at 2 Church Place, Stoneleigh, near the church and next to the Old Vicarage. Probably five children were born at Kenilworth, with three more at Stoneleigh.
The move to Stoneleigh is reported to have been in 1873 at the request of Lord Leigh of Stoneleigh Abbey, and he was to work as "an engineer in the minor branches"; his father had worked for the Abbey since arriving in the area in about 1814. An accounts book in the possession of descendants lists all the work done for the Abbey, and shows that Edward was not a salaried employee, but more like a self-employed worker. The book gives details of work done, its cost, and details of periodic payments made to him by Lord Leigh. Here Edward would live until his death some 50 years later. The family smithy where he worked is still standing on the village green (picture at end of this item).
It was while working at Stoneleigh that the Leigh family commissioned Edward to create the gates for the family park and also at the Grecian Lodge (see photograph below). There are other similar commission farther afield that may date from this period.
Information from the directories and censuses shows the expansion of what must have been a successful business. It eventually became Edward Fardon & Son, reflecting the presence of Edward's son Charles Langley who would eventually in his turn take over the business. The emphasis changes over the years from simply blacksmith/whitesmith to "engineer", including heating, and this would continue under son Charles. In summary:
| | |
| --- | --- |
| 1870-74 | blacksmith (whitesmith) at Castle End, Kenilworth |
| 1874 | move to Stoneleigh |
| 1876-80 | shoeing and general smith, wheelwright |
| 1881 | master blacksmith at 2 Church Place, Stoneleigh, employing 2 men and one apprentice |
| 1884-1900 | business described variously as ironmonger, engineer, machinist, general smith, and once (1888) also timber merchant and farmer. Still at 2 Church Place, Stoneleigh |
| 1901 | heating engineer and iron worker at 2 Church Place, Stoneleigh |
| 1904-1924 | as Edward Fardon & Son, ironmongers and engineers to 1916, just engineers after WW1, address not shown |
| 1911 | heating engineer and art metal worker iron gates and general ornamental ironlink(sic) at Stoneleigh |
One claim to fame is Edward being credited with building the first iron bicycle with rubber tyres, and to have built the first suspension wheel for it, a project which would appear to have occupied him during his first years at Kenilworth - one report says that it was made in 1868, and the blueprint drawings. which the family still have, are dated 1869. The blueprints show a "penny-farthing"-type model (picture below). Edward did not patent his idea and is said to have shown it to Starley, the cycle maker in Coventry, who supposedly cashed in on the design.
Edward's wife Mary predeceased him, though not before celebrating their golden anniversary (in 1912). She died in 1915 at the age of 75. He himself died on 9th February 1926 at the age of 83 at Stoneleigh and he is buried next to Mary at the church there (photograph at the end of this section). Probate was granted to his son Charles Langley, engineer, and William Bernard Lees, his son-in-law (see under Isabella. below). His effects totalled £2612 14s 10d, a not inconsiderable sum in the 1920s.
A press report on Edward's funeral lists the family members who were in attendance (detailed below). All five surviving children living in England were present, as were a number of grandchildren and also friends and acquaintances. The Leighs, owners of Stoneleigh Abbey, were represented by the Hon Cordelia Leigh who placed a wreath at the graveside marked "In affectionate remembrance from Lord and Lady Leigh, Miss Leigh, Miss Cordelia, Mr Rowland and Mr Robin Leigh"
A celebration in a local newspaper of Edward's birthday, headed Stoneleigh Village Worthy At 83, A Noted Artistic Gate Maker, is worth quoting, as it shows the respect and affection in which Edward was held.
"On Monday next - for he was born on December 11, 1839 - Mr Edward L Fardon, the Stoneleigh village engineer and blacksmith, will attain the ripe old age of 83. There is no man better known or more respected in his own locality, and nobody in his own station of life has had so many distinguished visitors. Often guests at the [Stoneleigh] Abbey find their way across the park to see him in his well-built stone house. "Fardon of Stoneleigh" has a name for first-class gates erected at the entrances of mansions up and down the country.
"He was born in Leamington where his father had a whitesmith's business till he removed to Kenilworth. As a youth he was at Skidmore's works in Coventry, famous in that day for the high character of its metal products. In later years young Fardon was employed in London, and was sent to work at Baron Rothschild's mansions in Switzerland and at Bolougne, France. He worked on the ornamental gates at Witley Court Worcestershire. In 1865 he returned to Kenilworth, and after removing to Stoneleigh has since done the engineer's work of the Stoneleigh estate. The bicycle was just appearing, and in 1868 Mr Fardon made a machine all steel and with indiarubber tyres.
"Mr Fardon tells many interesting stories of his countryside; he has "honourable mention" [in] published books of reminiscences, and his sitting-room is adorned with photographs of noblemen and gentlemen who have been his visitors from time to time, and who respect his personal worth and find keen interest in his career."


The children of Edward Langley and Mary
Between 1863 and 1877 Edward and Mary had nine children, the first born in Wickham Market, Suffolk, five born probably in Kenilworth, the rest in Stoneleigh. Some of the girls had rather exotic names, the boys more traditional.
| | | | | |
| --- | --- | --- | --- | --- |
| | C6a | - Mary | 1863 | Wickham Market, Suffolk |
| | C6b | - Tryphena | 1865 | (Kenilworth) |
| | C6c | - James | 1866 | Kenilworth |
| | C6d | - Myra Agnes | 1868 | Kenilworth |
| | C6e | - Malvina | 1870 | Kenilworth |
| | C6f | - Edward | 1872 | Kenilworth |
| | C6g | - Isabella | 1874 | Stoneleigh |
| | C6h | - Charles Langley | 1876 | Stoneleigh |
| | C6i | - George Henry | 1877 | Stoneleigh |
Three of these emigrated, Mary to Australia and James and Myra to the United States. Typically the girls who remained in the UK went into service or nursing and most, if not all, married and left Stoneleigh, for example Tryphena to Bromsgrove, Malvina to Coventry and then Bournemouth, Isabella to Birmingham. Of the boys, one continued the family engineering business while two of his brothers went into the new occupation of motor engineer (one of them later becoming the licensee of the local inn at Stoneleigh). A snapshot of those children still alive and living in England, as adults, and some of their children, is given in a report of Edward's funeral in 1926, detailed below.
Edward kept a notebook, a family record, in which he wrote down the names of his children and their dates of birth; and of grandchildren and great-grandchildren, with proud comments such as that for the birth of Myra Jean Griffiths in Wisconsin, USA as "my first great-granddaughter". This is in the possession of family and has been of great help is establishing lines of descent. It is clear from this that at least James and Myra kept in contact with him from America.
Mary was born in 1863 in Wickham Market, Suffolk, her mother's birthplace, and was baptised in London. This was during the period when her father was living and working in London. She was at home in Kenilworth in 1871 but ten years later was living elsewhere, for although listed at her parents house in the 1881 census, she was shown as working as an assistant cook and "home for the holiday" - presumably Easter, though Easter Day would not be for another fortnight; see also sister Tryphena below.
She was next seen in 1888 in Fulham, London, where she married George Wilkie Green at St Dionis Church. He was a 28-year-old bachelor, a butler, and son of a house steward. Both the witnesses were from the Green family.
At some point after that she emigrated to Australia, for she was found there in 1923 living in Katooma, New South Wales. There are no further details yet of family.
Tryphena's birth was registered in Warwick in 1865 and she was at home in Kenilworth in 1871. She was probably living away from home in 1881, albeit that she was only 15. Like her older sister Mary she was listed at home in Stoneleigh in the census of that year, shown as working as a nursemaid, but with the note "home for the holiday", presumably Easter.
In 1888 her marriage to George Jones was registered in Warwick. He was a native of Bromsgrove and the couple went to live there, and were in Victoria Road, New Town Estate, in 1891. Ten years later they had moved to All Saints Road, in the All Saints area of the town. There were then three children, Helen, George and Charles, all born in Bromsgrove. Husband George was working as a clerk in a retail warehouse. According to the personal diary of her father Edward Langley there was a further daughter, Winifred Isobel, born in 1905.
The couple attended the funeral of Tryphena's father Edward Langley in Stoneleigh in 1926, when they were listed as still living in Bromsgrove.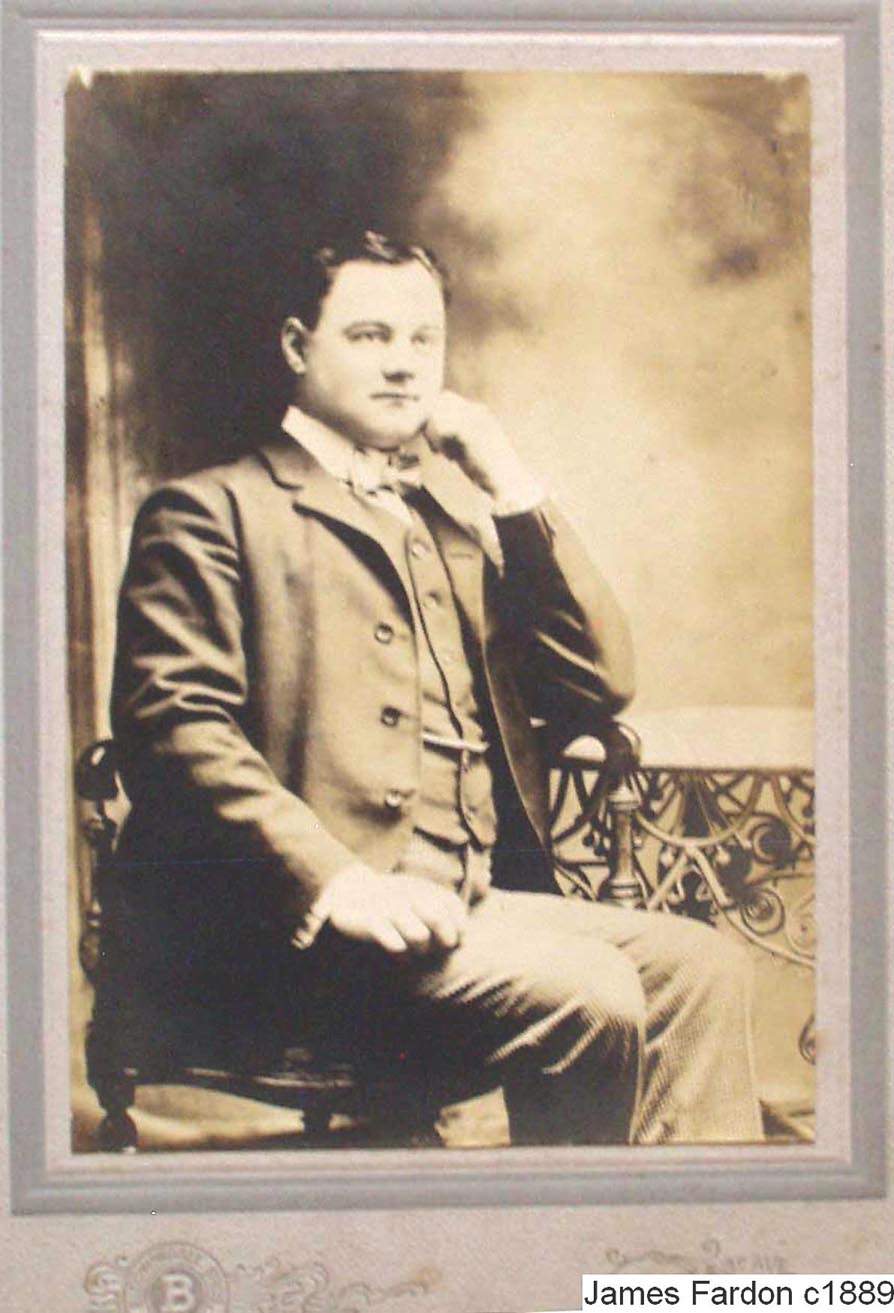 James's birth was registered in Warwick in 1866 and he was at home in 1871 (Kenilworth) and 1881 (Stoneleigh). In 1881 he was listed as a "blacksmith (helping father)", and as the eldest sone might have been expected eventually to inherit the family business. However, in about 1889, while in his early 20s, he emigrated to America and was later found to be living in New York. The picture dates from around this time. In about 1896 he married Gertrude (last name unknown) and four children, all boys, were born in the city between 1902 and 1908. In 1910 he was living in Manhattan Ward in New York and working as a waiter, in 1914 he died at the age of about 48. The first of James's sons, James Langley, had the now traditional grandmother's maiden name as his second name.
Little is known of his four sons in America. Two of them died in the 1990s, one of them in Seattle, Washington. The first son, James, had the second name Langley.
Myra's birth was registered in Warwick in 1868, and she was at home in 1871 (Kenilworth) and 1881 (Stoneleigh). At around the same time as her elder brother James she emigrated to the United States of America in 1891, arriving New York on 22nd June on the 6392-ton Alaska run by the Guion Line. Her occupation was domestic. She did not stay there but in the same year was in the mid-west, at an address in Ashland, Wisconsin. She remained at Ashland until at least 1930, though at various addresses over the years. She married Thomas Griffiths in 1894, and by him had at least two children, Charles and Myra, each of which gave her grandchildren. Charles's first daughter, Myra Jean Griffiths, born in 1921, was proudly noted in Edward's diary, at home at Stoneleigh as "my first great-granddaughter"
Malvina's birth was registered in Warwick in 1870 and she was at home in Stoneleigh in 1881. She may have left home by 1891, for on census day that year she was in Bromsgrove, staying with her married sister Tryphena (see above) and working as a domestic servant.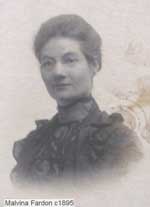 She was back in her home town of Kenilworth in 1894 to marry Arthur Bonnick, who had been born in Coventry. (This paragraph contains information kindly provided by Damien Kimberley of the Coventry Transport Museum). Malvina's husband Arthur was the younger brother of Alfred Bonnick, both sons of Thomas and Elizabeth Bonnick. It was probably the older Alfred who began a cycle business around 1885 as Bonnick & Co., which was purchased by the Riley family in 1890, keeping Bonnick on as manager. Arthur would probably also be working there at the time, though his work in early 1891 (according to the census of that year) as a coach builder may suggest the car rather than the cycle industry. The firm became the Riley Cycle Co. in May 1896, by which time the first Riley Car was being built. By 1901, as stated above, Arthur was in Bournemouth as a cycle agent, though it is not known whether he was still involved with the firm in Coventry. Then back to Coventry by 1911 in the car industry. The association of Arthur with the cycle industry is interesting in view of the activity of his father-in-law Edward Langley Fardon of Stoneleigh (see above) in the early development of the bicycle, a subject under study.
The photograph here dates from around this time. The couple went to live in Coventry and two children were born there, their births registered in the Foleshill district in 1896 (Caroline Eveline - Carrie in the 1901 census) and 1898 (Malvina).
By 1901 the family had moved to the St Clements area of Bournemouth where they were living at 53 Palmerstone Road and listed in the census as a self-employed cycle agent working from home. He was also an employer. This has all the marks of a shop-owner living over the shop, as was also the case with his neighbours in Palmerstone Road - self-employed house-builder, gardener, dressmaker, butcher, greengrocer, most of them working from home, perhaps shop-keepers. In 1902 a third daughter was born, Myra whose birth was registered at Christchurch (near Bournemouth).
They were back in their home area ten years later, when the 1911 census records them at an address in Coventry with their three daughters. Arthur was now an Inspector of Motor Cars, though it is not known whether he was self-employed or an employee. Later, in 1926, Malvina attended her father's funeral at Stoneleigh with two eldest daughters but not her husband. She was still living in Coventry. She is reported to be buried with husband Arthur at St Mary's Church in Stoneleigh, but details of their death are not yet known.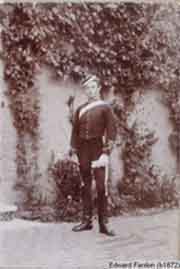 Edward, the sixth child, was born in Kenilworth in 1872 and was at home in 1881 as a schoolboy. In 1891 and 1901 he was still at home, listed as a mechanical engineer on the first occasion, motor fitter on the second. This must cover the "ten years practical experience in the largest Coventry Works" in an invoice of 1910 by which time he had his own business (family information states that he had worked in the Daimler car factory in Coventry). The invoice, dated 7th June that year, contains a receipt for a bicycle sold to a Miss J Prime. The invoice (see photograph below) is headed Edward Fardon, Motor Engineer and Agent, of Stoneleigh, Kenilworth, with a picture of an open-top car.
In 1908 he married Beatrice Nellie Ford at Feckenham in Worcestershire, and the following year he was back in Stoneleigh, where the Kelly's directory shows him as a beer retailer. This will have been at the Stoneleigh Arms in Stoneleigh, where he and Beatrice were listed in 1911 and he in 1917, and which his widow would run after his death. His entry in the 1911 census shows that he retained his motor business after taking over the inn. Perhaps Beatrice was running the hostelry from the beginning with his name as licensee.
On 30th December 1917, at the age of 45, and resident at, presumably licensee of, the Stoneleigh Arms, Edward died. The death was registered at Warwick early in 1918. Letters of administration were granted to his widow Beatrice for an estate total £446 6s 4d.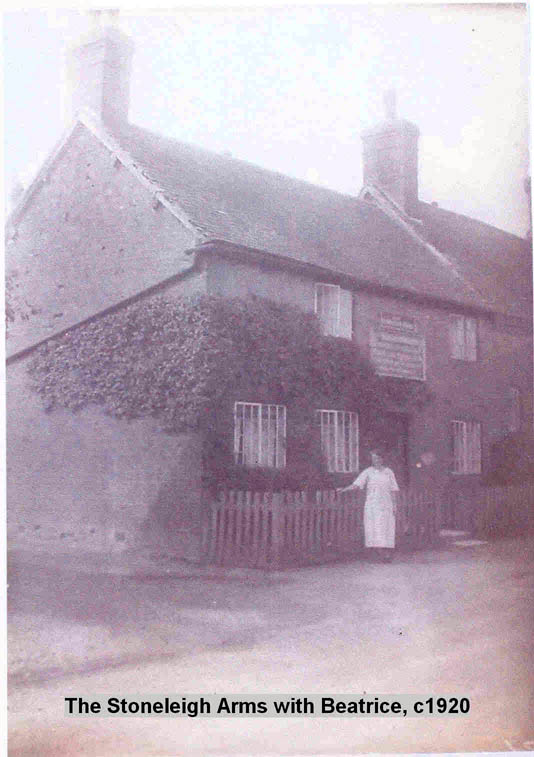 His widow Beatrice continued as a beer retailer, presumably taking over her husband's licence at the Stoneleigh Arms, until at least 1940, when the source (commercial directories) ceases. She attended father-in-law Edward Langley's funeral in Stoneleigh in 1926 with her son George. She did not remarry and is presumably the Beatrice N Fardon whose death was registered at Bromsgrove, aged 70, in 1951.
The picture is of Beatrice outside the Stoneleigh Arms in about 1920. Edward's daughter-in-law Miriam still lives in the building, though it is now a private house.
There was one child, George Edward, pictured here, who was born on 22nd November 1911 and whose birth was registered in Warwick. He married Miriam Nicholls in the Warwick district in 1948, and there were three children from that marriage, all of whose births were registered at Warwick:: Edward Langley (1950), Nicholas John Langley (1954) and Judith Mary (1962). The name Langley was thus preserved in a further generation.
Isabella was born in Stoneleigh and baptised there in 1874. She was at home until at least 1901, when she was working as a hospital nurse. In late 1904 or early 1905 she married William Bernard Lees, originally from Staffordshire. They remained in the Stoneleigh area and had three children there between 1905 and 1910. At some stage they moved to Furzen Hill Farm, where they were listed in the 1911 census. William is shown then simply as a farmer, Isabella as "assisting in business milk and poultry", which may define the nature of the farm. Although shown as "near Kenilworth", the farm is in fact on the Coventry Road only about a mile southeast of Stareton. It still exists as a working unit, though also very much in the hospitality business (farm cottages etc for rent).
William will probably have been too old to serve in World War 1, and the next information we have is when Isabella and William attended her father's funeral in Stoneleigh in 1926. They were then living in Yoxall in Staffordshire, perhaps the same as the "Hamstall Ridware Staffordshire" officially transcribed in the 1911 census as William's birthplace. William was also one of the two granted probate (the other was Charles Langley, see below) for the estate of father-in-law Edward Langley Fardon. His occupation was then an assistant overseer (not further specified).
At least three children are known: Bernard Henry, birth registered in 1905), George Edmund (1909) and Mary Isabel Blanche (1910), all born in Stoneleigh and registered at Warwick.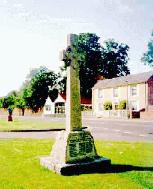 Their son George Edmund appears in the records of the Commonwealth War Graves Commission, which show that he lost his life in action in Italy in World War 2. He was serving in the 6th battalion of the Grenadier Guards in World War 2, a Lance-Sergeant, service number 2613094, when he fell in action on 30th January 1944. He was 34 years of age. He is buried at Minturno War Cemetery (pictured), some 50 miles north of Naples in Italy. He left a widow Marjorie and at the time of his death was living in Haddenham, Cambridgeshire, where his name is inscribed on the village war memorial (pictured)..
Charles Langley was born in Stoneleigh in 1876. His eldest brother James had emigrated to America, his next older brother was dead, and thus it was he who would continue the family business. He was at home with his parents in Stoneleigh in 1881, 1891 and 1901, and was also registered in Stoneleigh in 1911, after his marriage, though no specific address is known on this occasion.. He would have been the second element of the title Edward Langley and Son which his father's business had become by 1904. A family document of 1916 confirms that he was running the business (and working for Lord Leigh at Stoneleigh Abbey) which his grandfather had begun in 1814 and which his father had taken over.
He was married in 1904, in the parish church at Cubbington, just to the east of Leamington Spa, to Mary Anne Wells. She was aged 34 and the daughter of a shoemaker. He seems to have remained in Stoneleigh until at least the late 1920s, though the birth of his son in 1908 was registered at Coventry. The various records, between 1881 and 1928, list him as a heating engineer, once also an iron worker and once as a mechanical engineer, which accords with what is known of the business that he took over at Stoneleigh from his father. Only once, in 1911, was there any evidence of his continuing the specialist artwork of his father, with the description "artmetal worker".
Soon after his father's death in 1926 he disappears from the commercial directory records. Later, in 1937 he is in Coventry at the wedding of his son Henry, who is married from an address in Baginton, near the city, and he would die there thirteen years later. It may be that he had moved to Baginton from Stoneleigh, perhaps for the last twenty years of his life. In 1937 he was still being shown as a heating engineer, but it is not known from these records whether this was still running the Stoneleigh business, or whether the business was no longer in existence there.
Charles attended his father's funeral in Stoneleigh in 1926, with his wife, son Henry and daughter Edith. He was one of the two (the other was his brother-in-law William Lees, see under Isabella above) to whom probate of his father's estate was granted later that year. Charles's death at the age of 74 was registered in Coventry in 1950, his wife having died there three years before. Both were aged 74.
The birth of his son Henry Langley was registered in 1908 in Coventry and was recorded at home in 1911. The next information is his marriage in October 1937 at Coventry Register Office to Gladys Eileen Johnson, 26, a domestic servant and daughter of Arthur Henry Johnson, builder's labourer. He give his profession as gauge and tool-maker, which may suggest that he was now working for someone else and that perhaps the family firm was no more. His address was in Coventry Road, Baginton, just to the south of Coventry and on the Stoneleigh side of the city; she lived in Coventry. Correspondence in the possession of the family shows him still living in Coventry in 1948. I have not yet found any children of Henry's marriage. Henry died in 1993 in the Coventry district at the age of 85.
Charles's daughter Ethel Mary was born in 1910, probably in Stoneleigh and was recorded at home in 1911. She married Lesley Bryan in 1937, the next information being of her death in 1992 in South Warwickshire in 1992 at the age of 81. She is buried in the church cemetery at Stoneleigh with her husband, who had died in 1979 (see picture below).
Edward Langley's last son George Henry was born in Stoneleigh in 1877. He was at home in 1881, and in 1891 he was staying with married sister Tryphena in Bromsgrove. Like his brother Edward he seems to have been attracted by motors, for in 1901 he was in Coventry, working as a motor-cycle engineer and lodging with a George Adams, watch finisher, and his wife. This was also apparent in 1911 when, still unmarried, he was visiting his married sister Isabella (see above) at her home at Furzen Hill Farm near Kenilworth and his occupation was shown in the census record as "Motor Engineer Constructing".
George served in the Royal Marines Artillery in France in the First World War. In 1920 he was back in the Warwick district, where he married Millicent White. There appear to have been no children.
George was present with his wife at his father's funeral in Stoneleigh in 1926, when he was living in Leamington. His death was registered at Warwick in 1946. He was 68. His wife Millicent died in 1962, age 84.
The Fardon children in 1926
The funeral of Edward Langley Fardon at Stoneleigh in 1926 was the opportunity for a family gathering in which all of his children who were alive and living in England were present, plus the widow of the dead son Edward; and also some of the grandchildren. A press report of the funeral lists the following:
| | | |
| --- | --- | --- |
| name | address | with |
| Tryphena | Bromsgrove | husband George (shown as Mr and Mrs G Jones) |
| Malvina | Coventry | as Mrs A Bonnick, but no husband listed. With daughters Caroline and Malvina |
| Edward's widow Beatrice | Stoneleigh | as Mrs Edward Fardon. With son George |
| Isabella | Yoxall, Staffs | husband William Bernard (shown as Mr and Mrs W B Lees) |
| Charles | Stoneleigh | wife (shown as Mr and Mrs C), and son Henry Langley. Perhaps also daughter Ethel, listed separately as [Edward's] granddaughter E Fardon |
| George Henry | Leamington | wife (shown as Mr and Mrs G) |
In addition the children of Edward's sister Mary, Messrs E and F Gray were present, but not Mary herself. They were living in Leamington.
Isaac died in childhood. He was born in January or very early in February 1841 (he was four months old on census day, 6th June), baptised at Kenilworth on 7th February of that year. He died in 1946, aged 6, and was buried in Kenilworth in December.
Mary's birth was registered in Warwick in 1842 and she was baptised in Kenilworth the same year. She was at home in Kenilworth in 1851.
Her marriage to Edwin Gray was registered in Warwick in 1870 and there were at least two children, both sons, Edwin and Frank, whose births were registered in Foleshill, Coventry, in 1875 and 1879. There is nothing more on Mary herself, but evidence of continuing contact with her brother Edward Langley is shown in the attendance at Edward's funeral in 1926 of sons Edwin and Frank, Edward Langley's nephews; though not of Mary herself, who perhaps was no longer alive. At that time the nephews were living in Leamington.
Elizabeth's birth was registered in Warwick in 1844 and she was baptised in Kenilworth the same year. She was at home in Kenilworth in 1851 and 1861. According to family descendants she is thought to have married Edward (George) Taylor about 1868 before emigrating to New Zealand in 1872 on the ship Miltiades. What happened to Edward Taylor is not known but during this voyage she had a son Edward Miltiades Taylor. After her arrival in New Zealand she married James McCraith in 1875 in New Zealand.
They went on to have 7 children and Elizabeth died in 1910 in Auckland, New Zealand and James in 1923 also in New Zealand.
James's birth was registered in Warwick in 1844, he was baptised in Kenilworth the same year and was at home in 1851. He died in early 1859, aged 12, of a "diseased spine several years". his address then being Abbey Hill, Kenilworth. His death was registered the day after his death by a Mary Hewitt of Spring Bank, Kenilworth, who had been present at the death. Perhaps James died in a hospice or similar institution.
Some illustrations for the account of Edward Langley Fardon (C6) and descendants.
Click on the images for a larger version.
This page was last Updated 16 January 2018