Isaac Fardon - Chapter 20
Chapter 20 ~ S - Isaac, son of Richard and Susannah
(the red letters and digraphs cross-refer to similar in the Source Listing and the Trees) - (Click images to see enlarged versions)
This is not a large branch, mainly because of a shortage of male children in the early generations to carry forward the Fardon name - just one from the first generation, two in the second. Isaac's occupations were in the licensed trade and in farming, and farming would be carried through several generations, with Fardons as both tenants and farm workers on many of the farms in the Winchcombe are up to the middle of the twentieth century. One of the third generation sons moved to London and joined the police force, and his descendants continued to live in the London area.
There was an unusually high level of infant mortality in the first and second generations.
Isaac was born in the Temple Guiting hamlet of Ford and was baptised at the parish church on 25th June 1809. There is no more information until 1833, when he was living as a married man in Brockhampton in the parish of Sevenhampton and when, on 16th September of that year his daughter Jane was baptised there. The day after the baptism Isaac's wife Martha (maiden name unknown) was buried, aged only 28. The baby did not survive for long, and was buried on 13th January 1834, aged just 17 weeks. Presumably the death of mother and child were reflections of problems at childbirth.
Seven months after Martha's death, on 31st August 1834, Isaac was in Burford, Oxfordshire, to marry Harriet Anne Denley at St John The Baptist church there. They were both shown as "of this parish", she a spinster, he a widower. The witnesses were otherwise unknown William and Alice Bayliss. This is curious, as children's records showed the family to be in Brockhampton in late 1833 and again Spring 1835. Burford was not Harriett's birthplace (it was Sevenhampton) and the reason for their going to Burford to marry, even to the extent of establishing residence, is unknown.
The were back in Brockhampton for the birth of their first child in May 1835, the first of their nine children born over about eighteen years - two boys, seven girls. But there was a poor survival record. Only one of the two boys survived beyond babyhood to carry on the Fardon name and he died prematurely, though fortunately not before producing a male heir. Of the girls, one died as a toddler, one as a teenager, one in her 30s.
There is no record to show whether in his early days Isaac assumed the traditional family role of blacksmith. In the first few years for which there are records he had a variety of occupations, as a labourer (1833, 1835), then a grocer (1841), then a "special dealer" (not further explained)(1843). From around 1846 he is shown variously and at different times as farmer, innkeeper (from at least 1861 at the Craven Arms inn), and grocer in circumstances suggesting that he was all three most of the time..
His farm was described in 1871 as being of 200 acres, employing 4 men, two women and a boy. There is no information as to where the farm was, but it may be worth noting that Goldwell Farm in the neighbouring parish of Charlton Abbots seemed to be without named tenant in the 1871 census (just two labourers are listed there), with Isaac listed at home in Brockhampton, and it seems to be without any sign of occupation in 1881, shortly after Isaac's death. An association cannot be proved, but one would be interesting as this was the farm that was later associated with Fardons (Isaac's grandson and beyond) from around 1900.
Isaac died in 1881, aged 71 and was buried at Sevenhampton on 6th March. This was only weeks before the census of that year, in which his widow Harriet is shown as head of household and "beerhouse keeper (public)" at the Craven Arms; but not a farmer. Two of her daughters were there, one, Harriett A, curiously listed as a, barmaid "out of employ". She died the following year and was buried at Sevenhampton on 27th September.
The Craven Arms, with which Isaac and then his widow Harriett were associated presumably as licensees between at least 1861 (possibly 1846) and 1881, is a 16th century building which is still standing and still trading as an inn. Other information on its status is for 1891 and 1903, when it was licensed as a beerhouse. Presumably this was true of Isaac and Harriet's time. It did not stay in the family after Harriet's death. By 1891 it was in the ownership of a James Walker of Guiting, with Fanny Taylor as Licensee, and this was still the status in 1903.
Isaac had ten children, eight girls and two boys, the first child by Isaac's first wife Martha, the rest by Harriett. All were baptised in Sevenhampton, the parish church for Brockhampton. Survival rates were low. Of the girls, two died as babies, one as a teenager and one as a married woman in early adulthood. The other four girls married and had children One of the two boys died as a baby, the other in his late 20s, though not before leaving two sons among his six children to carry forward the Fardon name.
| | | |
| --- | --- | --- |
| S1 - Jane | 1833 | died at 17 weeks |
| | | |
| --- | --- | --- |
| S2 - Lucy Ann | 1835 | died in 1852, aged 17 |
| S3 - Daniel John | 1838 | married, died 1868 aged 29 |
| S4 - Susannah | 1841 | |
| S5 - Sarah Jane | 1843 | |
| S6 - Alice Eliza | 1846 | married, died at about age 35 |
| S7 - Charlotte Bessie | 1848 | |
| S8 - David | 1850 | died 1851, aged 6 months |
| S9 - Harriet Rose Emily | 1852 | died 1853, aged 6 months |
| S10 - Harriet Ann | 1853 | |
Jane, the only child of Martha, was baptised in Sevenhampton on 10th September 1833. Her address was Brockhampton, within the Sevenhampton parish. This was one day before the burial of her mother in the same parish. She herself did not survive long, and was buried on 13th January 1834, aged just 17 weeks.
Lucy was baptised at Sevenhampton on 19th July 1835 and was at home in 1841 and 1851. No more is known about her until she died in 1852 at the age of 15. She was buried at Sevenhampton two days after Christmas of that year.
S3 - Daniel John (aka John)
Daniel John was the only son of Isaac to survive into manhood and thus enable the Fardon name to be perpetuated within this branch of the family. He died young, and his widow brought up their sons in the context of a second marriage. His descendants were farming in the area to the middle of the twentieth century and continue living in north Gloucestershire in the twenty-first. He seems to have been known as John rather than Daniel.
Daniel's birth was registered in 1838 and he was at home in Sevenhampton in 1841. His baptism was delayed until 1843 when he was five years of age, when he was baptised at the same time as Sarah Jane, his next but one younger sister (the intermediate child, Susannah, was baptised normally at Sevenhampton in 1841). In many instances it was the custom for the first male child to be taken to their mother's home church to be baptised, and this would indeed be the case with Daniel's own first son. It may be that Daniel was intended to be baptised at Temple Guiting, but for some reason this did not materialise.
He was at home in 1851 and 1861. In 1862 he married Elizabeth Joynes from Temple Guiting, daughter of William Joynes, carpenter. The marriage took place in Gloucester following banns, Daniel having given an address in that city. The couple had returned to Brockhampton the following year, where his first son was born.
Records of his occupation are inconsistent, but tend towards the two popular lines of farming and the licensed trade, perhaps in the family businesses, plus being a carrier. He was involved in agriculture from the first, as a 12-year-old labourer presumably on the family farm, and his marriage certificate eleven years later shows him as a farmer. His children's baptism certificates show him as a carrier in 1863 and 1865 and there is a posthumous report of him as a carrier, and a publican in 1866. Two years after this, at his death, the probate documents quote innkeeper and farmer. Nothing more specific has been found, and it could be that he was working at the Craven Arms and the family farm throughout, with a supplementary job as carrier. No record of his residence in the 1860s after his marriage is known (this period falls between censuses).
Daniel died in 1868 at Brockhampton Quarry, aged only 29, and was buried at Sevenhampton. He left an estate of less than £200 (probate records were seldom more specific), to his widow Elizabeth who was the sole executrix of the estate.
Daniel and Elizabeth had six children, consisting of a boy, two pairs of girl twins, and another boy. All the girls died at or very soon after birth, the two boys survived, married and had children of their own.
Daniel's wife Elizabeth was left to look after the surviving children - two boys. Seven months after Daniel's death she married David Denley, who was the son of James Denley, mason, a Sevenhampton family though he was born in Whittington. He also was a mason and in addition held the licence of the second inn in Brockhampton, the Stag and Hounds beerhouse, now temporarily named The White Hart. In 1871 they were living in Sevenhampton, David as mason and innkeeper, and with Elizabeth's two Fardon sons and a son of the new marriage. Five more children would follow, but these were not Fardons and are thus not followed further.
David appears in later Kelly's directories (1876, 1879) again as a beer-retailer at the White Hart. He was also shown as a carrier in 1876 (has he taken over the deceased Daniel Fardon's occupation?), but no longer a mason. Presumably the family, including the two Fardon children, were living at the White Hart during this period.
In 1879 David took over the tenancy of the 200-acre Cotehay Farm, located at the north end of Brockhampton but, due to a quirk in the local boundaries, in the neighbouring Charlton Abbots parish. But he died almost immediately, in May 1880, aged about 35. His will and the National Probate Calendar for the year shows that he died at the farm, occupation farmer, and that he left an estate of under £600. The will was proved at Gloucester on 25 February the following year by Charles Gegg, carpenter, of Brockhampton, the sole executor. The period between death and the proving of the will is perhaps rather longer than usual. David could well have divested himself of the licence of the White Hart by this time (the probate records show him as just a farmer), or perhaps it was given up on his death. By 1891 the landlord was a Job Nash, and not David's widow Elizabeth.
The following year (1881) Elizabeth, a widow for the second time and with eight children (2 Fardon, 6 Denley), was still living at Cotehay Farm, the tenancy of which she must have inherited. No doubt she relied on her Fardon sons to help run the farm, John William, 18 in 1891, and Oliver, 13, the first of whom would himself take up farming, as would his sons. She was 42. Her children by David Denley were then still of school and pre-school age.
Elizabeth was still farming at Cotehay ten years later (1891), but now with only the children of her second marriage still at home. Of the two Fardon children Oliver had left home and was living in London; John William was married and living in his own household, but this appears from its position in the census to be very near to, perhaps part of Cotehay Farm and it may be that, as a shepherd, he was working at the farm.
Neither Elizabeth nor Cotehay Farm feature in the Kelly's directories during the 1890s and it is thus not certain when she gave up the farm. Perhaps it was around 1894, when son John William had left Brockhampton to work at Cockbury Farm a few miles to the north, though seemingly with wife and children still probably at Brockhampton during at least part of his absence (see under John William below). Elizabeth was next seen in 1901, retired and "living on her own means" in Brockhampton. She died in 1907 at the age of 68. Probate was granted at Gloucester in August to the same Charles Gegg who had proved her husband David's will twenty years before. The effects were £139.
An Elizabeth Denley was the (absentee) owner in 1891 of a beerhouse (free house) called the Angle Stores, in Great Norwood Street in Cheltenham. The licensee was a Charles Forty. By 1903 Mr. Forty had taken over the ownership. There is nothing to say whether or not this was the same as the Elizabeth of Cotehay Farm and the White Hart, and Denley was a not uncommon name in Gloucestershire, but the information is placed here for the record.
The Stag and Hounds Inn (temporarily known as the White Hart during the period under consideration) of which Elizabeth's husband David Denley was licensee, was the second public house in Brockhampton. It was located at the top of the village, near the quarry. In 1891, just after the period in question, it was in the ownership of a C W Lawrence, with a Job Nash as licensee, his widow Lavinia in 1903. Perhaps of interest is the re-emergence of the Denleys in the licensed trade after that. Kelly's shows a David Denley as a beer seller at Brockhampton in 1906 and 1910, and a David and Harry in 1914. The former is presumably the first son of the original James, the second perhaps his brother. It could well be that the establishment (not quoted) was the White Hart. The inn was closed in the 1960s and is now a private house.
Daniel's six children, two boys and four girls, were all born in Brockhampton. The four girls - two sets of twins - died soon after birth. The eldest son, John William, remained in the area of his birth and he and some of his sons farmed in the area, the sons to the middle of the 20th century. The second son, Oliver, moved to London and joined the police force.
| | |
| --- | --- |
| S3a - John William | born 1863 |
| S3b - Mary Elizabeth | born 1865, died after a few days. Harriet's twin |
| S3c - Harriet Ann | born 1865, died after a few days. Mary Elizabeth's twin |
| S3d - Alice | baptised 1866, died after a few days. Esther's twin |
| S3e - Esther | baptised 1866, died after a few days. Alice's twin |
| S3f - Oliver | baptised 1867 |
John William was born in Brockhampton, no doubt helped his mother to run the family farm even after his marriage. After a period working as a labourer and then a shepherd at another farm he returned to Brockhampton where he took on the tenancy of Goldwell Farm. He died young but his widow continued with the tenancy, helped by sons. His sons continued to farm in the area, as farmers or farm workers, until the middle of the 20th century.
John was born at Brockhampton in 1863, and as was often the case with eldest sons, was taken to the family parish, Temple Guiting, for baptism. He was at home in 1871 (Brockhampton), a scholar, and in 1881 (Charlton Abbots), farmer's son; presumably he was working on the family farm. In December 1884 the banns for his marriage were read at Sevenhampton parish church (though he was now living in Charlton Abbots); his marriage to Mary Hannah Pritchett Burton took place at Chalford, near Minchinhampton, Glos, where Mary's family had a shop. She was of farming stock, born at Pucklechurch near Bristol.
His first child was born in 1884 in Chalford, though it is not known whether this indicates that he began his married life there or whether this was just a visit perhaps to his wife's parents. In 1891 he was back in Charlton Abbots, now with three children. In the census for that year his household is listed immediately after his mother's, and it may thus be that he was still working on the family farm but with separate household accommodation, perhaps a farm cottage. This is also suggested by the fact that a child (James) born a few months after the 1891 census is registered as having been born on the farm. Between 1889 and 1891 his occupation was listed in child baptism certificate as labourer, in the census as shepherd.
During the early 1890s he left home, perhaps without his family, to work at Cockbury Farm, Cockbury Butts, just off the Cheltenham to Winchcombe Road (the present A4632), where the road begins its descent towards Winchcombe from its highest point. The evidence for this comes from the transfer of two sons, John and James, from Sevenhampton to Winchcombe school, the records showing their new address at Cockbury, and the birth of a daughter Victoria at Cockbury Butts. The overall period covers 1894 to 1898:
| | | |
| --- | --- | --- |
| John B | to Winchcombe October 1894 | left Winchcombe June 1896 |
| James | to Winchcombe July 1895 | left Winchcombe May 1898 |
| Victoria | born Cockbury Butts June 1897 | |
It will be seen that this is not a tidy picture, as the two boys arrived and left at different times. Also, there was no sign of a transfer to Winchcombe of the two older daughters Sarah and Olive, who would also have been of school age, and who were presumably being educated at Sevenhampton. The Winchcombe school records show that at the end of their periods there the boys were transferred (to an unnamed school). This was presumably Sevenhampton where at least James was later identified, but the records of Sevenhampton school are not available for this period.
This pattern is consistent with John William moving to Cockbury alone, leaving the children behind, and that the two boys visited him at different overlapping times for two to three years each. Perhaps relevant to this is the six-year gap after the birth of James, the last child to be born at Cotehay Farm, in 1891; the next child, Victoria, was born at Cockbury, but not until 1897. Was John's wife, Mary, also still in Charlton Abbots during the first part of his employment at Cockbury?
The details from the Winchcombe school rolls are:
| | | |
| --- | --- | --- |
| name | John B Fardon | James Fardon |
| date of birth | 21st May 1889 | 31st May 1891 |
| entry date | 3rd October 1894 | 23rd July 1895 |
| previous school | Sevenhampton | Sevenhampton |
| date left [Winchcombe] | 15th June 1896 | 3rd May 1898 |
| reason for leaving | transferred | transferred |
| parent/guardian | John W | John |
| [father's] occupation | labourer | shepherd |
| address | Cockbury | Cockbury Farm |
John William had returned to Charlton Abbots by 1899 to take the lease of Goldwell Farm, where his next child, William Henry, was born that year. His family - wife and five children (Olive absent, staying with her grandmother on
census day) - were with him in 1901, and two more children were born there at the end of 1901 and in 1904. He then appears each year in the Charlton Abbots electoral register as a householder, and is listed in Kelly's. Then in 1910 he suffered an acute appendicitis and because of the nature of the illness and the urgency, was operated on upon the kitchen table. He consequentially died at the age of only 47, and was buried at Charlton Abbots. Letters of administration were granted to his widow at Gloucester in respect of his estate of £290 18s 6d.
His widow Mary was left with the farm to run (the lease must have been transferred to her) and a number of children to bring up. But she would not have been short of help, and family tradition has it that she was a woman of very strong character, and well respected. Of her sons at least John Burton and James had left school and were still living at home until at least the outbreak of war in 1914, and the school records show that the two youngest spent long periods away from school presumably to help on the farm, Harry in 1913-14, Wilfred at unknown dates. Another son William Henry was at home on the farm until 1924, and Harry Oliver remained there, even after marriage, until at least the outbreak of World War 2 in 1939.
Normally Mary would then have disappeared from the records (other than the 1911 census, which is not yet available), for, as a woman she did not qualify for inclusion in the electoral register. She is, however, shown as a farmer - no address given - in Charlton Abbots in the 1914 Kelly's directory. But by a stroke of luck she appears in the margins of the electoral register in circumstances which confirm her as the holder of the lease at Goldwell Farm. As each became of age, the oldest sons John Burton and James declared themselves lodgers rather than family members, each renting an upstairs bedroom, John from 1911, James from 1913. This was not uncommon in farming circles, allowing them to appear on the electoral register, and to vote in elections. The qualification for inclusion had to be declared in the register, and this was shown for each of them as the rental of an upstairs bedroom from landlord of Goldwell Farm, Mary Fardon.
This continued until 1915, after which the registers were discontinued because of WW1. When they were reinstated Mary was able to appear in her own right as a result of women's emancipation, and she was then listed each year at Goldwell Farm until 1939, when the registers were again suspended because of war. She died there in 1948, aged 85, and was buried at Charlton Abbots on 28th February the same year.
There were eight children:
| | |
| --- | --- |
| Sarah Marion | born 1886, Chalford |
| Olive Mary | born 1887, Cotehay Farm, Charlton Abbots |
| John Burton | born 1889, Cotehay Farm |
| James | born 1891, Cotehay Farm |
| Victoria Alexandrina | born 1897, Cockbury Farm, Winchcombe |
| William Henry | born 1899, Goldwell Farm, Charlton Abbots |
| Harry Oliver | born 1901, Goldwell Farm |
| Wilfred Charles | born 1904, Goldwell Farm |
All except one remained in Gloucestershire (the exception being Olive Mary who went with her new husband to Cheshire), and most of them in the north of the county. Nearly all of them stayed with farming. The three girls all married and went on their way, two of them as the wives of a farmer or farm hand. Generally the boys started by working on the family farm when they left school and all except one took up farming as a living, either as workers on the farms of others, or eventually with their own farm tenancies. Harry Oliver stayed at Goldwell Farm after his marriage. William Henry later took over the licence of an inn. The exception was Wilfred Charles who became a police officer in the Forest of Dean.
Sarah Marion (aka Minnie)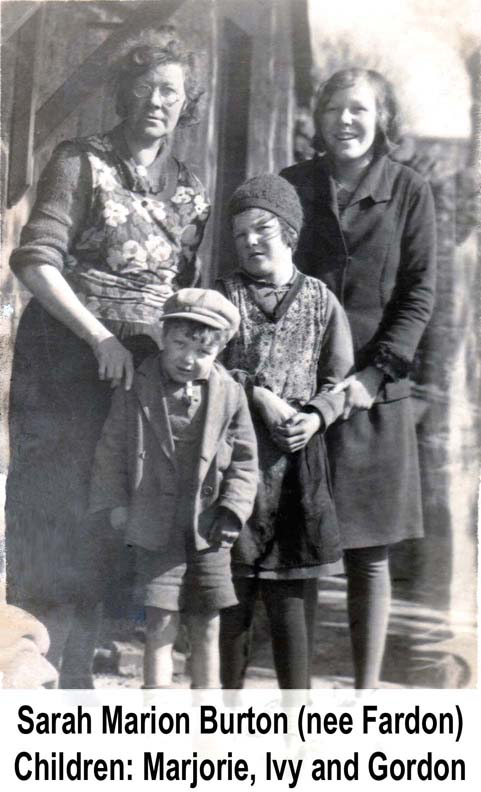 Sarah Marion married a farmer and spent her life as a farmer's wife in North Gloucestershire. She was born in 1886 at Chalford, Gloucestershire, where her father and mother had married. She was at home at Cotehay Farm in 1891, and may have stayed there during her father's sojourn at Cockbury Farm, Winchcombe, in the 1890s; unlike with her brothers, there is no evidence of her transferring to Winchcombe school from Sevenhampton. She was still at home (now Goldwell Farm, Charlton Abbots) in 1901, aged 15 and, typically of an oldest daughter, described as mother's help.
Her marriage to Thomas William Burton was registered in Winchcombe in 1908. In 1914 Thomas was farming at Linworth Farm, Woodmancote. They were probably there also in 1913 when the birth of their first child was registered at Winchcombe, the registration centre for Woodmancote. By 1916 they had moved. Their second child's birth was registered at Northleach, and this probably reflects their move to Dowdeswell, where the electoral register places them in 1918. They remained here until 1925, at Upper Farm (1918), Heyling's Farm (1919-1920) and Cold Comfort (1921-1925) where the Kelly directory shows Thomas as a farmer in 1923.
By 1926 they had moved to Ford, in Temple Guiting parish, where husband Thomas was farming at Village Farm. They were there until Sarah died in 1936 at the age of 50; she was buried at Temple Guiting. Thomas remarried (to Alice M Gardner) the following year and remained at Village Farm until at least the outbreak of war in 1939.
Between 1913 and 1925 Sarah had four children; Marjorie Evelyn Fardon, Ronald F, Ivy P and Gordon D, as listed in the Sources section. They are not Fardons and thus have not been followed further
Olive was the one to have moved out of Gloucestershire. She was born in 1887 at Cotehay Farm, Charlton Abbots, and seems to have followed her older sister Sarah in probably remaining there during the 1890s while her father was at Cockbury. On census day (31st March) 1901 she was not at home but was staying with her grandmother Elizabeth Denley in Lower Sevenhampton. In 1911 she married John Humphreys, at Charlton Abbots. He was a gamekeeper from Nantwich in Cheshire, to where they may have moved very soon after their marriage, as their first child was born there two years later. They had three children, Elizabeth M, Peter John Fardon and Henry Oliver Fardon , both boys upholding the tradition of having mother's maiden name Fardon among their given names. Elizabeth and Henry were born in Cheshire and presumably baptised there, but second child Peter John was born and baptised in Winchcombe in the spring of 1915, his address being shown as Stanway Hill, Winchcombe. It could be that Olive had returned to the area perhaps while her husband was serving in World War 1, though the baptism certificate shows him in his civilian occupation as a gamekeeper..
Olive's husband John died in 1948 at Alveston, Cheshire. His death certificate stated that his occupation then was a storeman in Railway works. Olive died later in 1966 at the family home at Lodge Lane, Hatherton also in Cheshire. The three children were not Fardons by name and have not been further followed.
John Burton, aka 'Ganger', whose second name remembers his mother's maiden name, spent the first part of his life at home at Cotehay Farm, then Goldwell Farm. After his marriage he spent his working life as an agricultural worker at a series of farms in north Gloucestershire.
He was born in 1889 and was at home at Cotehay Farm in 1901. He started his education at Sevenhampton School on an unknown date (the records for this period are not available) and transferred to Winchcombe School in October 1894, when his father was working at Cockbury Farm in the parish. He left Winchcombe School in June 1896 - the school record says "transferred" [to another school] without showing where. Presumably this was back to Sevenhampton. See under John William, above, for the context to this.
He was at home at Goldwell Farm in 1901, and was still there in 1911-1915 where he is registered for electoral purposes as a lodger at the farm. In 1915 he married Alice Eleanor Ayliffe, aka 'Nell', probably at Charlton Abbots. He was still in Charlton Abbots in 1916, when his first child was born, employed as a farm bailiff (at Goldwell?), but by 1918 he had left home. There were then a series of addresses, at Winchcombe, Postlip, Sudeley, Eyford/Fyfield, Temple Guiting/Ford, all in north Gloucestershire, covering the interwar years. Children's birth and marriage certificates in 1925 and 1939 show him as a farm labourer.
After World War 2 he was in Lower Slaughter, at different addresses in 1946 and 1950 (other years have not been studied) the context being compatible with his still working on farms. There is then a gap in records until 1967, when the death of his wife was registered in Cheltenham (which covered a large registration area including Winchcombe and environs), and 1972, when his own death was registered in the Cirencester district at the age of 83.
There were two children, Laura Mary, born at Charlton Abbots, perhaps Goldwell Farm, in1916, and Edna Joan, born at Sudeley in 1925. Laura, aka 'Molly', married Abraham Edgeworth, a quarryman, at Moreton in Marsh in 1939. Her address was given as Ford, Temple Guiting. She had 10 children, the first born at Withington, the next seven at Cutsdean, the last two at Temple Guiting. One child Patricia Elizabeth Ann later became a Dutson after marrying Eddie in 1962. The children are listed in the Sources part of this chapter. Laura's husband, who was 15 years older than she, died in 1963 and Laura herself in October 1988. Edna, aka 'Joan', married David William J Groves 1950 in North Cotswold Registration District. They lived locally around Cirencester and after her husband's death in 1988 she continued to live there until she died a widow in 2004.
James, like his brother, spent the first part of his life at home at the family farm. After his second marriage (his first wife died soon after marriage) he left home and spent his life at various addresses in North Gloucestershire almost certainly as a farm hand, latterly as a foreman or bailiff..
James was born in 1891 at Cotehay Farm. He started school at Sevenhampton on an unknown date but transferred to Winchcombe school in July 1895. This was after his older brother had transferred. Like his brother he spent about two years there before going back to presumably Sevenhampton school. See under John William above for the context to this.
He was certainly at Sevenhampton school in 1904, when, with a number of other students, he was granted an Employment Certificate. These were given to students who had reached early the grade for school-leaving, and meant that they could legally be employed outside school. School-leaving age was 14, John obtained this shortly before his 13th birthday. Presumably he will then have left school. The school log quotes simply J Fardon, but this must be James and not his older brother John Burton, who would already have reached school-leaving age and left.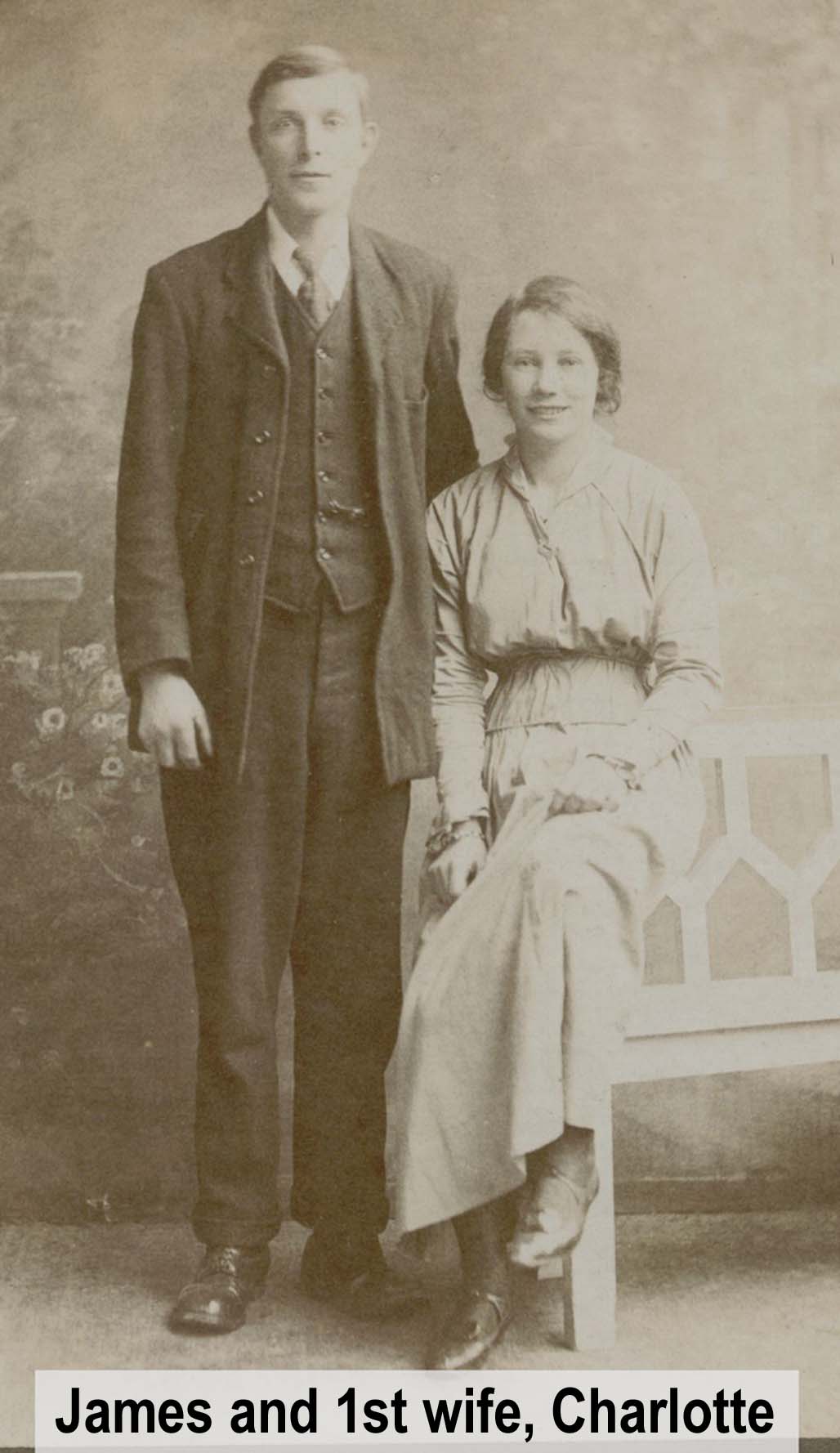 James then lived at home at Goldwell Farm. Like his older brother he declared himself a lodger at the farm, no doubt to enable him to appear on the electoral register, and was indeed included on the register from 1913 when he reached his majority. In 1916 he married Charlotte Toop at Charlton Abbots, but she died within a year of the marriage, aged only 20. He continued to be in the local electoral register for Charlton Abbots when it reappeared after WW1 in 1918, and was listed each year until 1921. It is likely that he was still living at home (Goldwell Farm).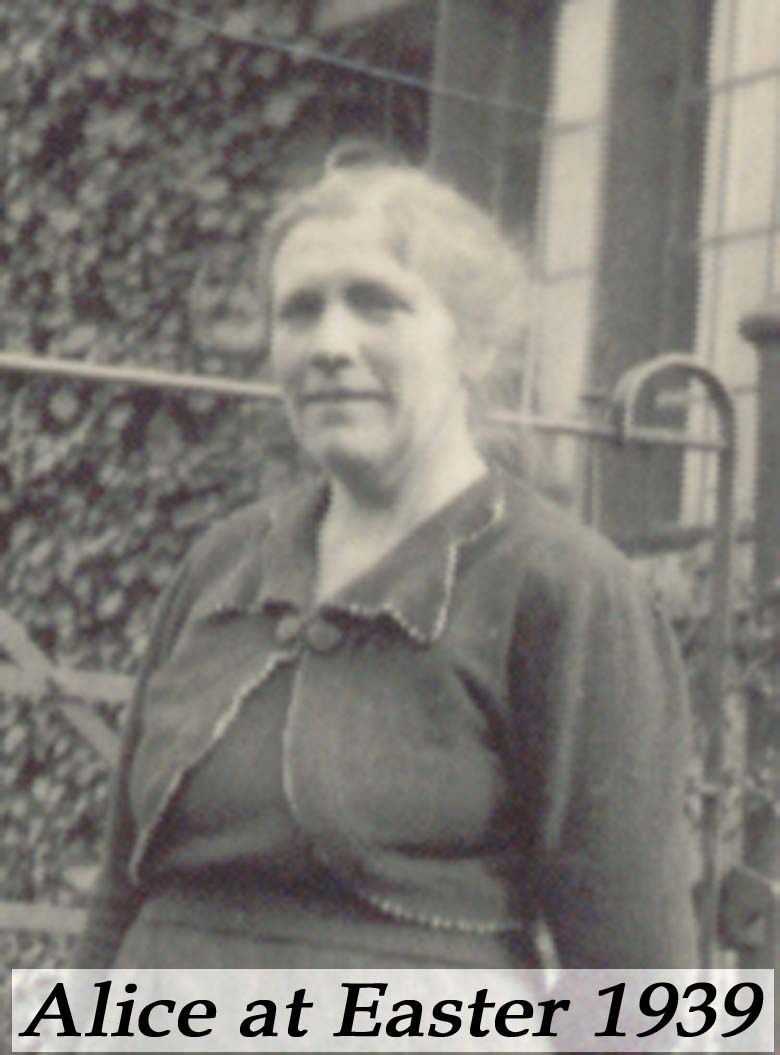 In 1922 he married Alice Hall at the parish church, after which he left Charlton Abbots. From then on, like his older brother, he appears at a number of places in north Gloucestershire, Dowdeswell, Hawling, Eastleach Martin and, after World War 2, Broadwell and Lower Swell. He is almost certain to have been working on farms. His history after 1950 is not yet known, and there is then a gap until 1977 with his death was registered in the North Cotswolds District in 1977. His wife died within six months, the same year as James. He was 86, she 83.
There were three children, John William, Ethel Mary and Raymond James. John William was born at Dowdeswell in 1923 and was educated at Southrop school. He then probably remained at home, working at the same series of farms as his father, until 1951, when he was in Liverpool to marry Sylvia Margaret Cordwell. The couple were back in Gloucestershire for the birth of children in 1953 and 1955. John continued to work in farming, firstly in north Gloucestershire, later at Upton-on-Severn, then Malvern, both Worcestershire. His marriage ended in divorce and both John and Sylvia remarried in Malvern in 1980. John's new wife was Josephine Myrtle Finch. His death was registered ten years later, also at Malvern.
John William had three children, all by his first wife: Barbara Rose was born 1953 in N Cotswold District and she married Ampelio Sperti 1973 in Malvern District.
Paul Laurence was born 1955 in N Cotswold District and married Catherine Sawyer 1998 in Malvern Reg District.
Susan Margaretwas born 1960 in Worcester Reg District and married Peter B McCarthy-Moore 1980 in Ledbury Reg District,. They have two daughters.
The birth of James's second child, Ethel Mary, was registered in Northleach in the second quarter of 1926. This is not entirely consistent with the known addresses of the family in Dowdeswell (Cheltenham District) in the 1926 electoral register and Hawling (Winchcombe District)(1927). Bearing in mind that the registers reflect the potion in the previous autumn this could indicate that the family was in perhaps Charlton Abbots between the two jobs.
James's third child, Raymond James's was born at Fyfield in 1932, He married Caroline Wood, a teacher from Hereford, in 1976 at St Lawrence's Church, Bourton-on-the- water, and there is a son David James, birth registered 1977 in Cheltenham. Ray, as he is known, has always been a professional gardener and a member of Bourton Vale Horticultural Society since 1953, and chairman between 1973 and 2003. At 14 years old he became a gardener working for Lord Ashton at Broadwell Hill, and two years later he worked with his father at Abbotswood in Upper Swell, owned by Harry Fergusson. He worked there for twenty two years before going freelance. He is an active member of the local community involved in various clubs and societies from the local rifle club (a founder member) to the local Amateur Dramatic Society. .
Victoria Alexandrina
("Queenie")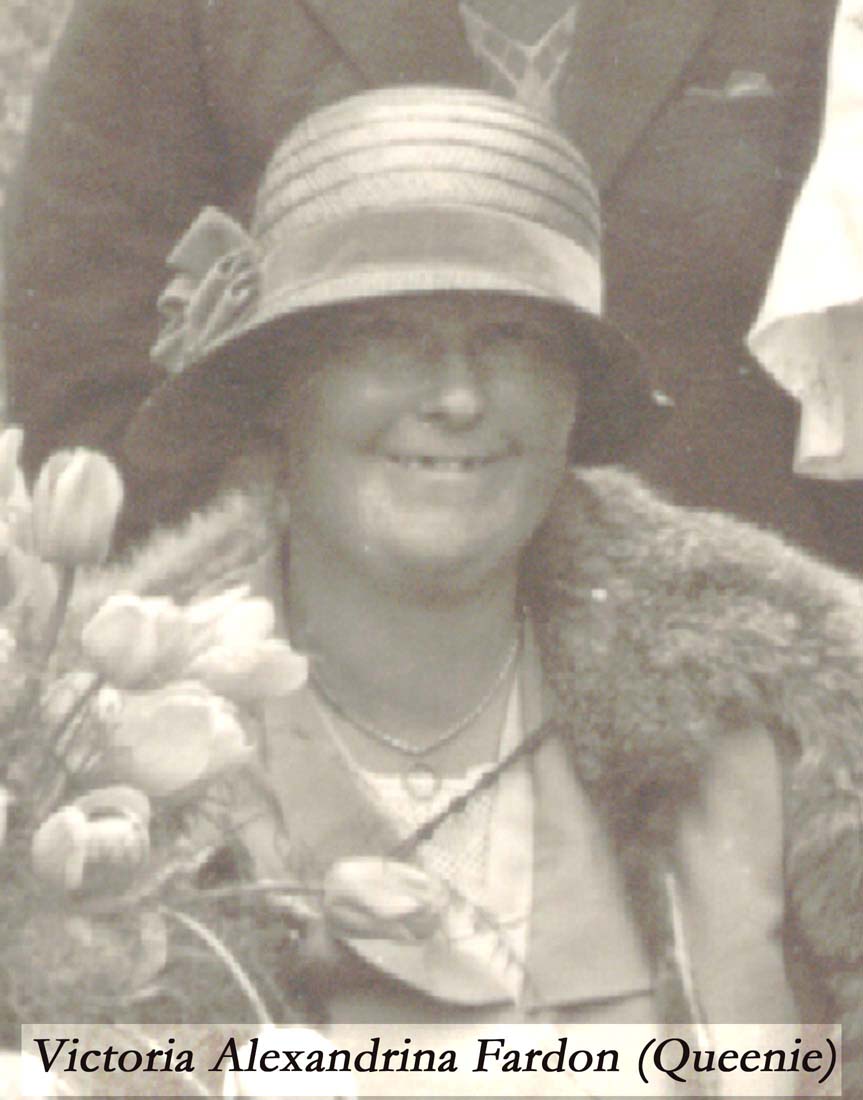 Victoria, known at least later in life as Queenie, was the one child to be born during John William's stay at Cockbury, Winchcombe. She was born at Cockbury Butts, probably at the farm, in 1897, and was home at Goldwell Farm in 1901. She attended Sevenhampton school between unknown dates, during which, in 1906, she appears in the school log as the recipient - one of seven - of a prize for best needlework, which was "examined by Mrs Fairfax Rhodes, Mrs Storr and Miss Alice Lawrence". The first of these was local "nobility", the wife of Colonel Fairfax Rhodes, owner of Brockhampton Park at the time, and whose name lives on in the village in the form of the Rhodes Memorial Hall, given in memory of a son lost in the Boer War.
Victoria married Thomas Richard Bateman locally in late 1919. He had been born at Postlip Mills, and was just back from war service when they married. The couple lived in Postlip for the first years of their marriage, perhaps with Thomas's widowed mother Caroline. In 1922 they had a daughter, Alice Barbara Fardon Bateman (again Fardon as a given name) who was taken to Charlton Abbots for baptism. Thomas is shown as a farmer in the parish record of the baptism. The couple moved to Charlton Abbots in1925, and here they lived until about 1957, living in a cottage there and involving themselves in many local activities. Amongst these were as a family team of churchwarden, bellringer and organist at the Parish church, the Charlton Abbots & Brockhampton district Nursing Association as well as the local council and flower show.
Victoria's husband Thomas had been born at Postlip Mills and was presumably living there on his marriage to Victoria. He fought in World War 1 in the Royal Field Artillery (RFA), was badly gassed [in France] and was repatriated to the UK where he spent the last part of the war. He was still shown as an absentee military voter in the Winchcombe electoral register of 1918. He must be the Gunner Thomas R Bateman, shown in the Army medals listing as firstly number 171910 in the RFA, then number 103200 of the Royal Garrison Artillery, one of whose bases was at Catterick. In later times - after 1930 - the family remembers him as living with Victoria near Goldwell Farm, and their presence in Charlton Abbots is conformed in the electoral register. They lived in a pair of cottages that were tied and belonged to Charlton Abbots Manor. Presumably he worked for the Manor, but he also looked after the horses at Goldwell Farm. The family remembers that he was good with horses, and this is confirmed in a newspaper article which stated that Thomas's and Victoria's one big recreation in their farming days was hunting with the Cotswold Hunt. Tom was a very good horseman and always kept an excellent team. Perhaps it was because of this that he found himself in the Royal Field Artillery during World War 1, a significant user of horse transport.
About 1957 she and her husband moved to an address in Back Lane Winchcombe, where their Golden Wedding anniversary was celebrated in an article in the local newspaper in 1969 and where Victoria died in 1971. Thomas died three years later.
Their daughter, Alice Barbara Fardon, who had been born in 1922, later married Leslie William Howe and produced two boys, Graham and Michael. They lived in Alice's parents' house in Winchcombe where Barbara died in 1989.
William Henry followed the example of his older brothers, leaving home after marriage for a career in farming. But he eventually had a farm of his own, rather than remaining a worker on others' farms.
He was born at Goldwell Farm in 1899 and was at home in 1901. He will presumably have been educated at Sevenhampton School, but the records are not available for the relevant period and the next information is from the electoral register, showing him at home in 1921-1924. In 1924 he married Marion Lilly Denley and the couple were living at Humblebee Cottages in the Sudeley Manor District and very close to Wadfield Farm. He was presumably a farm worker. In marrying Marion Lilly he was marrying his cousin as they shared the same grandmother Elizabeth Fardon (nee Joynes) who, after her husband Daniel John's death in 1868, married David Denley.
In 1927 he had moved back to Charlton Abbots, where he is listed in the electoral register until at least the outbreak of war in 1939. The records do not give his address, other than that it was not Goldwell Farm. It may have been Holt Farm, within sight of Goldwell, where he was known to have been in 1946. At the baptism of his son Oscar in 1938 he was listed as a farmer.
During World War 2 William did his bit as a member of the Home Guard. On 16th September 1989 the local newspaper, the Gloucestershire Echo, published a number of pictures under the Nostalgia heading of the Brockhampton section of the Home Guard on exercise. Among those pictured were William and his brother Harry Oliver.
The next information is in 1955 when he has left farming and is the landlord of the Royal Oak at Andoversford. And then his death in Churchdown in 1966. His wife survived him by 21 years.
There were three children, Lilian Mary, William Henry and Oscar Alan John. Lilian Mary (aka 'Mary') was born in Charlton Abbots in 1927 and attended Sevenhampton school between April 1932 and July 1941. The school record shows her as May Lily. Lilian's first marriage in 1952 to Douglas G Weaver produced two daughters Wendy and Alison. This marriage was dissolved and she then married Edgar Hook about 1959 and a further two daughters, Dean and Leslie were born in 1960 and 1965 respectively. She died in 2002 at Gloucester Royal Hospital.
William's second child William Henry was born at Charlton Abbots in 1933 and started school at Sevenhampton in September 1938; the date of leaving is not shown in the school record. His marriage to Elizabeth J Jacques was registered in Gloucester in 1957 and there were children. By the early 1970s he had moved to the Warwick area where his death was registered in 1973 at the early age of 40. There were three children, Janet M in 1959, Royston W in 1960, both born in the Cheltenham registration district which now extended as far as Winchcombe, and Marion Grace, born in 1972 in the Warwick district. The children's marriages in Warwick and Banbury and children of Royston are listed in the Sources section of this account. All information is from GRO sources and there is no detail of addresses and occupations.
William's third child Oscar Alan John was born in 1938 but he suffered from Downs Syndrome and died in 1946 at the age of seven.
Harry, like his senior brothers, stayed at home after leaving school, but unlike them stayed at Goldwell Farm after he was married, and remained there until his mother's death. Official documentation in the 1940s describe him as height 6 feet, with blue eyes and fair hair.
He was born at Goldwell Farm in 1901. He was on the books of Sevenhampton School between November 1906 and November 1915, but he missed the last two years of education. The school log records that he was taken off the books on 4th November 1915 because he had reached the leaving age (14), but that he had not attended school, with a doctor's certificate, since 28th November 1913. An earlier note showed that he had had eight weeks' absence ending 14th February 1913. He will no doubt have been helping on the family farm at these times.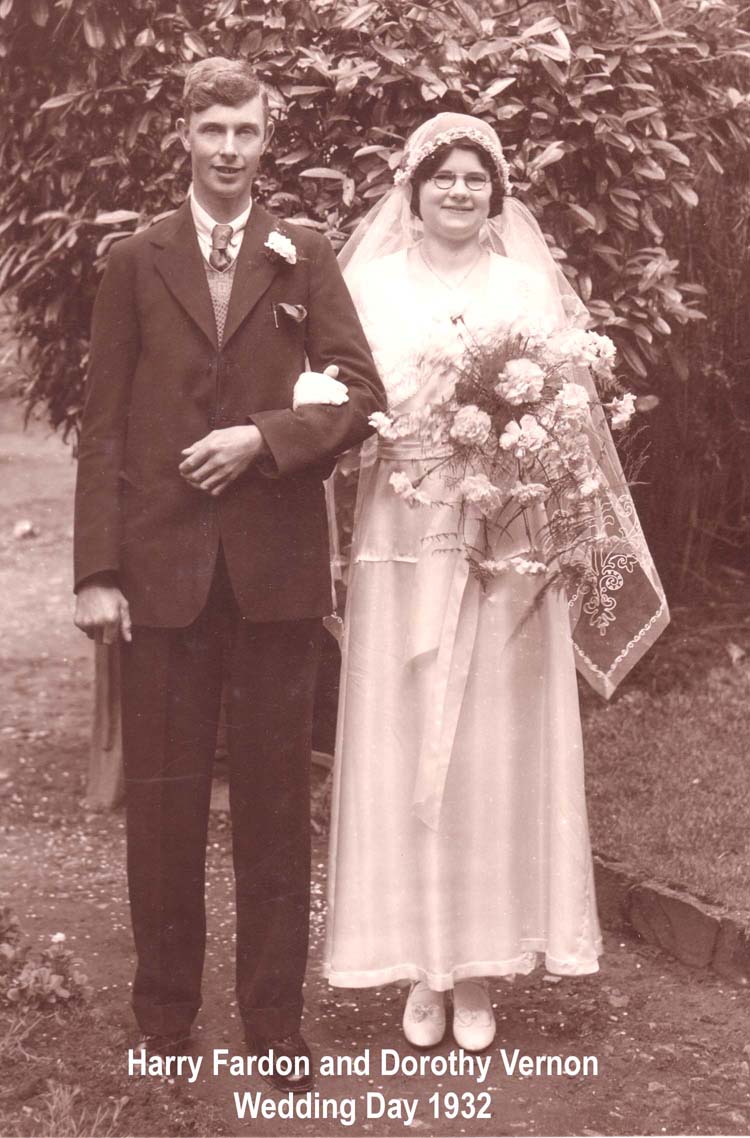 From 1923, when he achieved his majority, he appears in the electoral register at Goldwell Farm and remains there up to the outbreak of World War 2 in 1939, after which the register was discontinued for the duration of war. During this period, in 1932, he married Dorothy Vernon at Sevenhampton. Two children were born in 1933 and 1935, but at the house of his father-in-law in Brockhampton rather than the farm. He was still farming in the area during the war, for in 1943 he was registered with the Northleach Rural District for First Aid Service and was an Air Raid Warden, and also Custodian at Belas Knapp Burial Mound near Winchcombe. He also did his bit as a member of the Home Guard. On 16th September 1989 the local newspaper, the Gloucestershire Echo, published a number of pictures under the Nostalgia heading of the Brockhampton section of the Home Guard on exercise. Among those pictured were Harry Oliver and his brother William.
He was still at Goldwell Farm in 1949, a year after the death of his mother, when a daughter, his third child, was born there. Whatever his status there before his mother's death, he was now listed as a herdsman. By 1955 the family moved to Hawling where he was working at Manor Farm, again as herdsman and farm labourer. Later in 1962 they were at Spring View in Brockhampton, the house owned by Harry's father-in-law, William Vernon. Later, after he died, the house was sold and Harry, his wife Dorothy and youngest daughter Julia, moved to Court Cottage in Brockhampton. This is where Harry, now semi-retired, worked for the family at Brockhampton Court as a gardener.
His wife Dorothy died, aged 57, in 1969 at Winchcombe Hospital and his own death occurred at the age of 77 in the same hospital in 1978.
There were three children. Stanley Vernon, his second name remembering his mother's maiden name, was born at the house of his maternal grandfather at Brockhampton, in 1933. He attended Sevenhampton school from August 1938 to July 1947 when he left to enrol at Cheltenham Technical College. He served an apprenticeship as carpenter and builder for a local company, and after a period of the customary National Service, in the Army, he joined the Post Office. He married Joan Williams in October 1957 at Hawling Parish Church, and they went to live in Cheltenham where they had two children, Andrew and David who both followed the established Fardon tradition and went into engineering occupations with David still living locally and Andrew now working abroad. Each in their turn were married and had children. All events were registered in Cheltenham and are listed in the Sources part of this document.
Elizabeth Ellen was also born at her grandfather's house at Brockhampton in 1935. She enrolled at Sevenhampton School in January 1941, leaving to complete her education at Charlton Kings School in Cheltenham. She married Leslie Roland Goodall at Sevenhampton Parish Church in March 1956; he was the Managing Director of Cleeve Motors in Bishop's Cleeve. After a short period living at Andoversford where their first child Stephen was born in 1962, they moved to Bishops Cleeve, near Cheltenham, where their youngest child Sally was born in 1964.
Julia Mary was born at Goldwell Farm in1949 and baptised at Charlton Abbots. Like her brother and sister she initially went to Sevenhampton School, then on to Andoversford and completed her education at Charlton Kings School in Cheltenham. In June 1970 she married Alan T Harmer at Sevenhampton Parish Church. They initially lived locally at Whittington before moving to Charlton Kings in Cheltenham in 1975, where they remained until 2002 when, after a period in the Civil Service, they retired and moved to Pembrokeshire. There were two children with the first daughter Anne, born in Aug 1978 and living only a few hours. Their second daughter also named Anne, was born in June 1979.
Wilfred Charles
(aka Joseph, Uncle Joe)
Like his elder brothers Wilfred worked on the family farm as a schoolboy and probably also after leaving school. But he did not stay in farming. Instead he became a police officer in the Forest of Dean and spent his career as a bobby in rural Gloucestershire, where he retired at the end of his service. He was known in the family as Joseph, or Uncle Joe, and indeed used this name for his entry in the one (1926) electoral register in Charlton Abbots in which he appeared.
Wilfred was born in 1904 at Goldwell Farm. He entered school at Sevenhampton in 1909 but seems to have missed schooling at various times for various reasons. For example, an entry in the school log dated 14th February 1913 stated that he had returned after a continuous absence of "eight weeks away visiting, but did not unfortunately attend school". At an unknown date, presumably in 1918, the school log shows that he had formally left school because he had reached school leaving age, but that he had been granted "temp ex" to work on the land from [record incomplete]; it would seem that, like elder brother Harry Oliver, he had missed the final part of his schooling to work on the family farm.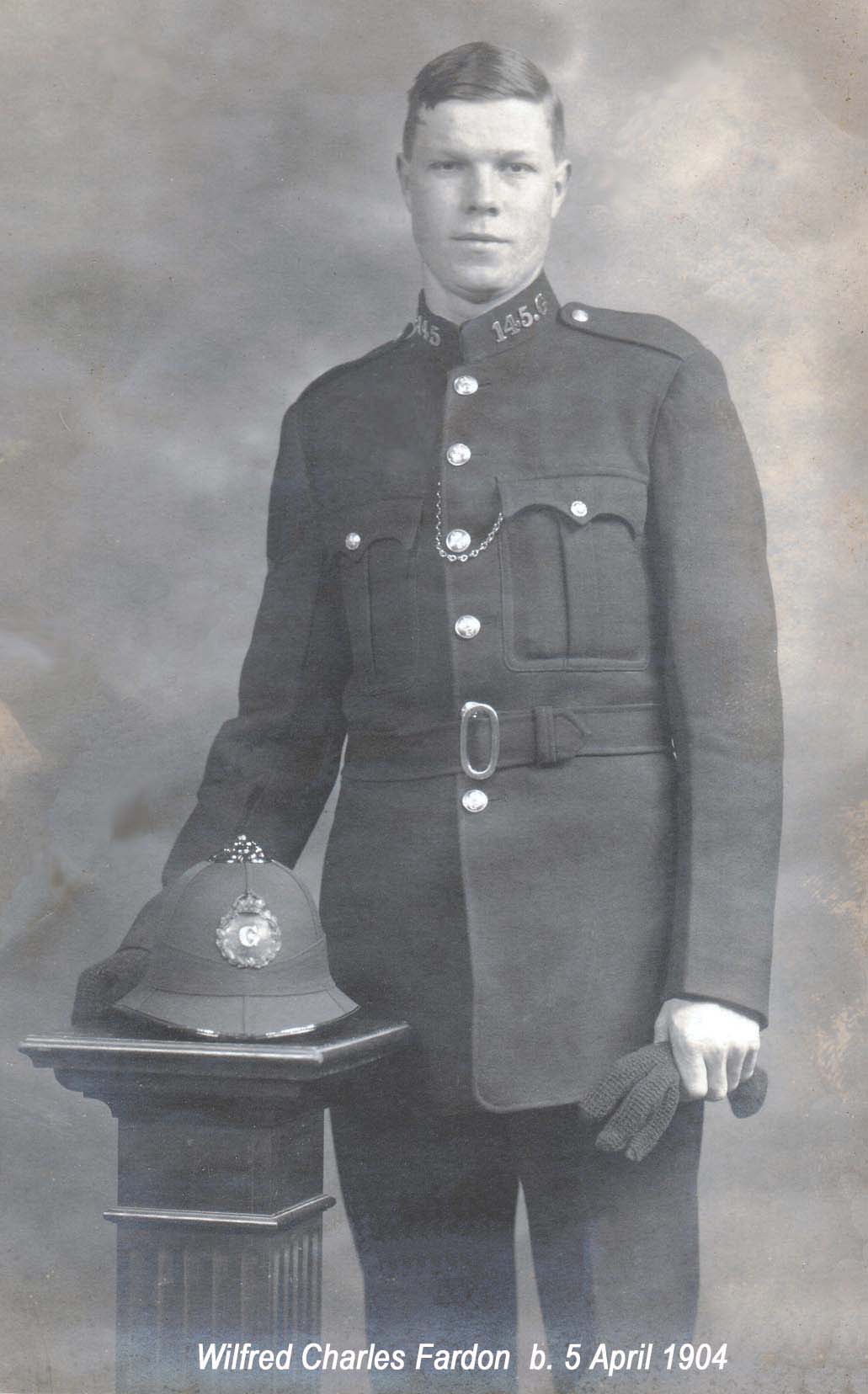 He may, like his elder brothers, have remained on the farm after leaving school. He appears in the electoral register at Charlton Abbots in 1926 when he achieved his majority, but for only one year. By the following year he had joined the police force, and in 1927 and 1928 he was living as a single man at the police station in Blakeney in the Forest of Dean. In 1929 he was back in Charlton Abbots to marry Ada Dorothy Millard (later known in the family as Auntie Dolly), after which they returned to Blakeney where they lived in the High Street probably in a police house. According to the parish record Wilfred and Ada were both residents of Charlton Abbots at the time of their marriage, though this must have been a temporary residence.
Ada's father Montague was a police inspector in Cheltenham, and there is family memory that Ada was living at this time at the Cheltenham Central Police Station, which was then at John Dower House in Crescent Place in the town centre. It was no doubt through the police that Wilfred met Ada, perhaps in the Forest of Dean, as the area west of Gloucester was Millard country. Montague had been born in Frampton on Severn and had lived in the area until joining the police force in Hartpury. Ada herself had been born in Newent.
Wilfred was alone among his brothers in joining the police force, indeed in not having an agricultural occupation. There is family memory that there had been the expectation that one of the sons might join the force, and that this would be older brother William Henry. But when the latter failed a medical Wilfred took his place.
Wilfred continued his police career in Blakeney where son Anthony Montague was born 1933 in a police house. They were there until 1936, when they moved to Yorkley, where they stayed through the war until 1947; and then to Staunton, near Coleford in the Forest of Dean until 1954. Up to now the family had lived in police houses, but it was about this time that they bought their house 'Green Acres' in Staunton. However, Wilfred still had 18months of police service which he was obliged to complete at Chedworth, leaving son Anthony at Staunton to start the necessary renovation work at Green Acres; it is also where his son Anthony still lives. He retired in 1955, moving back to his property in Staunton and died there in1957 at the age of 53. Ada survived him by a decade, and also died at 'Green Acres', Staunton in 1967 at the age of 66
There was one son, Anthony Montague (Tony), born at Blakeney birth registered at Westbury on Severn in 1933. He married June Beard in 1959 and the couple live at 'Green Acres' in Staunton, where they are very much part of the local scene, he having been a Parish Councillor, former chair of the village hall committee, Neighbourhood Watch Coordinator, former Chairman of the School Governors, she a church warden. They produced sons Gary Anthony and Ian Montague. Both sons married and had children, Gary in Worcestershire, Ian remaining in rural Gloucestershire. Details in the Sources listing.
S3b Mary Elizabeth
and S3c Harriet Ann
Mary and Harriet were twins whose birth and death were registered together in the first quarter of 1865, though only Mary appears in Sevenhampton parish records. At least Harriet was baptised on 16th March and buried on 22 March aged "a few days". Harriet is assumed to be similar. This was the first of two pairs of twins to die soon after birth (see Alice and Hester below). Their home was in Brockhampton.
Alice's and Hester's lives were a carbon copy of those of their sisters of the previous year in that they were twins who lived just a few days. Registration at Northleach and parish records at Sevenhampton show that they were born and died in the second quarter of 1866. They were baptised at Sevenhampton on 16th April - their home was Brockhampton - and buried on 25th April aged "a few days".
S3f - Oliver and his children
The last child of Daniel John, Oliver, left Gloucestershire for London while still a young man and made a career for himself in the Metropolitan police, reaching at least the rank of sergeant. His son became the director of a paper company.
Oliver was born in 1867 at Brockhampton and was at home in 1871 (at school) and 1881 (farmer's son, presumably working on the family farm). By 1891 he had left home and was a police constable in the Metropolitan Police, living at an address in Mile End in the East End of London. In 1898 he married Agnes Annie Allen, his cousin, daughter of his aunt Susannah (see below) at her parish church at Bickley in Kent. Agnes's father was working as a butler at Bickley Park there.
By 1901 he had moved to an address in Bethnal Green, off the Hackney Road and still in the East End, which may have been one of at least two police houses as next door was occupied by a police sergeant. He was still a constable. But within two years he seems to have begun a series of moves, with children born in Walworth in the Southwark district(1903) and Putney (Wandsworth district)(1907). In the 1911 census he was listed at Surbiton (Kingston district). These moves presumably represented postings within the Metropolitan Police, and also a promotion, for he held the rank of Police Station Sergeant in 1911.
He probably remained at Surbiton for the rest of his life. The marriage of his daughter Hilda was registered in the Kingston district in 1929 and he himself died at 78 Ellerton Road, Surbiton in 1942. This address is just round the corner from Ewell Road police station, where family remembers that he served, probably in the 1920s.
Probate was given to his widow in respect of an estate of just over £1824. A few years later, around 1949, according to family, Agnes Annie ("Auntie Nancy") and her unmarried daughter Dorothy were still living at 78 Ellerton Road.
There were three children, none of whom seems to have strayed far from Kingston:
Hilda Susannah Nancy was born in Bethnal Green in 1901 and was at home with her parents in 1911. Only two events of her life are known, firstly her marriage to David W May in Kingston district in 1929, and then her death in Esher, also in the Kingston district, in the 1970s.
Dorothy Freda Elizabeth was born in Walworth, Southwark in late 1902 or early 1903 and was at home with her parents in 1911. Little is known of her. She made a trip to America to visit an address in Ashland, Virginia, in 1948. She did not marry, perhaps lived throughout at the parental house, for she was there, with her widowed mother, around 1960. Her death at the age of 92 was registered at Kingston in 1994.
Otto William Oliver was born in Putney, Wandsworth, in 1911. He is next seen in 1935, when he was the director of Fardon & Co, paper merchants in Kingston. In 1962 the firm became Fardon, Swain & Co, and in 1969 Fardon & Son. In 1936 the business had moved to Hampton Wick, still in Kingston. From 1951 Otto's residence was shown as an address in Teddington, just to the north-east of Kingston and a prestige residential area. Otto died in 1993 at the age of 86, his death registered in nearby Hounslow. He had been married, to Cynthia Jean Holdaway, since 1941 and was survived by a son, Graham David, who had clearly been part of the paper firm since at least 1969. From 1971 Graham was the director of a business called Graham Fardon Carton & Packaging Ltd in Twickenham, perhaps the same as, or closely associated with, his father's firm. Graham married Elizabeth Lynn Rider and there was a son Neil Graham. Graham himself died in Teddington in 2001.
Susannah married a butler who worked for many years at an establishment in Kent. She was born in Brockhampton in 1841 and was at home in 1851 and 1861. In 1868 she was in Paddington, London, where she married William Allen who was from Sonning in Berkshire. He was butler at Bickley Park, Bromley, Kent, living at Red Lodge in Bickley Park Road. The couple remained there until at least 1901 and probably beyond. In 1901 William's status was retired butler (in 1898 he had shown himself as "gentleman" on daughter Agnes's marriage certificate), albeit that he was only 55 and still living at Red Lodge. Two of their children were still at home, and they had as a lodger a Thomas Hopgood, 17, a footman, presumably at Bickley Park. Susannah died in Bromley in 1909 at the age of 67.
There were eight children, born at Bromley between 1869 and 1887. These are not Fardons by name and are not further followed, though what is known is shown in the Sources listing; except for daughter Agnes Annie, who reentered the Fardon family by marrying her cousin Oliver. Details of her married life can be found under Oliver above.
Sarah married an innkeeper and stayed in the business after her husband died, and even after a second marriage. She preferred to be known as Jane. She settled in Lechlade and left a reasonable sum of money on her death.
She was born in Brockhampton in 1843 and was at home in 1851 and 1861. Later in the latter year she married Henry Humphris, a publican from Ampney St Peter near Cirencester, though born in Sevenhampton. Presumably the couple went back to Ampney, but by 1868 they were in Lechlade, where their first child was born and where Sarah would live for the rest of her life. Between 1868 and 1870 Henry was landlord at the Swan Inn in Burford Street, Lechlade's oldest hostelry, but in 1871 he was shown in the census at Oak street, living next door to Sarah's sister Alice Eliza and her husband George Bidmead (see below). He was still a publican.
By 1876 Henry had moved to the New Inn, Market Street, in Lechlade, the licence of which he held until his death in 1880 and which Sarah would then hold to near the end of the century. As licensee Sarah is more often listed as Jane Humphris rather than Sarah Jane, except in the census. Sarah and Henry had three children, Florence Mary, Theresa Amelia (or Alice) and Harry John. These are not Fardons by name and have not been followed in detail. Birth and marriage events relating to them are shown in the Sources listing. Harry John had followed the tradition of the first son being baptised at his mother's church (Sevenhampton); he was born in 1874, several years after the family left for Lechlade, and was the third child (the others were daughters, baptised in Lechlade), but was taken back to Sevenhampton for his baptism in that year.
After Henry's death in 1880 Sarah retained the licence of the New Inn, and in 1893 at the age of 49 she married again. The groom was recently widowed Henry Richens, 51, a farmer from Shrivenham, some eight miles south of Lechlade. Sarah's son Henry John was the family witness at the ceremony. After the marriage they remained in Lechlade, she until at least 1897 still the licensee at the New Inn and now as Mrs Jane Richens; one record, a Kelly's directory, lists her as proprietress. Henry was included in Kelly's for 1894 and 1897 among the couple of dozen "private residents" of Lechlade. These are traditionally the town's "great and good", including property owners.
Sarah's husband Henry must be the Henry Richens who was farming at Shrivenham, Berkshire, in 1881 and 1891, listed as farmer and horsedealer at Pennyhooks Farm on the latter date. There was a wife, Jane Ann, and seven children. The death of Henry's wife at the age of 55 was registered in the third quarter of 1892, a little over a year before Henry married Sarah Jane.
Sarah died in 1898, aged 55, and was buried at Lechlade. Later that year probate for her estate was granted in London to Bentley Frank Innocent, a Lechlade auctioneer, (see note below) and William Howard Davis, miller. Her effects were a little over £2087. Henry seems to have returned to Shrivenham. He died on 26th February 1901 and the death was registered in Faringdon, which was the registration centre for both Shrivenham and Lechlade. In the probate report he is described as a dealer and farmer of Shrivenham. Probate for an estate of just over £1028 was granted in Oxford to Albert Richter, farmer, presumably a son by his first marriage.
(Note: Bentley Frank Innocent may have been professional executors. In his will of 1898 a Joseph Stratton of Oxfordshire similarly identifies "Bentley Frank Innocent of Lechlade" as an executor of his will)
Alice married an engineer and, like her sister Sarah Jane (above), went to live in Lechlade where she died young, perhaps childless. She was born in 1845, baptised in Sevenhampton, and was at home in 1851 and 1861. In 1868 she married George Thomas Bidmead, an engineer from Ledbury. He was a widower with a teenager son. He was about 38 years of age, Alice about 23.
They went to live in George's home town of Lechlade, where he appeared in the commercial directories for 1868 and 1870 as an engineer and wheelwright, implying self-employed status. In 1871 they were living in Oak Street, next door to Alice's sister Sarah Jane Humphris (see above). In 1873 Alice died, probably in Ledbury (the death was registered in Faringdon, which was the registration centre for Ledbury), and her body was taken back to Sevenhampton for burial and where the grave stands to this day. She was 27. There are no known children.
Her husband George was next seen in 1881, living in East End, Fairford on census day (3rd April) as head of a household which included his son Charles George, daughter-in-law Emilie (sic) and grandson Frederick. Father and son were both Mechanical Engineers. In the fourth quarter of that year his death was registered at Cirencester at the age of 51.
S7 Charlotte Bessie (once as Elizabeth)
Charlotte was brought up in the family inn and married a farm worker. She lived her life on farms on Cleeve Hill, between Cheltenham and Winchcombe. She seems to have preferred to be known by her second name Bessie, which also comes as Betsie and Bessey in some documents. It is shown thus or as initial letter B everywhere except in her marriage certificate, where her second name is shown as Elizabeth (false correction by a zealous clerk?)
She was born in 1848 and baptised at Sevenhampton the same year. She was at home at the Craven Arms Inn in 1851 and 1861 and in 1867 gave birth to an illegitimate daughter Helen, whose second name is variously shown in different documents as Lovacy, Lovesay and Lovsey. Lovsey was a common surname in the area and it is likely that this was the name of the father. The daughter died before her third birthday.
Charlotte was still at home in 1871. In 1880 she was in Cheltenham to marry John Hall, her address shown as Cleveland Street, his as Townsend Street in Cheltenham. He was two years younger than she, labourer and son of a labourer. He was unable to sign his name on the marriage certificate but placed a cross instead It is not known what Charlotte was doing in Cheltenham as the "profession" box on the marriage certificate is left blank, or how long she had been there. On census day (3rd April) the following year she, her husband and one-week old son Isaac John were back in Brockhampton, at the Craven Arms. Her father Isaac had just died and her mother Harriet was licensee. They were still in Brockhampton in December of that year, when son Isaac was baptised at Sevenhampton, his address given as New Road, Brockhampton, perhaps the address of the Craven Arms. His father John was working as a labourer.
Following the death of her mother in 1882, Charlotte and her family moved to Wontley on Cleeve Hill, between Cheltenham and Winchcombe, near Belas Knapp. Here children were born from 1883. In 1891 the address was one of two Wontley Farm Cottages, with John an agricultural labourer presumably at the farm. By 1901 they had moved to the next door farm, Cockbury, living in one of the two farm cottages, with John now working as a shepherd. Here they remained for a quarter of a century. They were there in 1910 when daughter Alma Jane underwent adult baptism at Bishop's Cleeve her father John still a shepherd. (Could they have taken over from John William Fardon, who had been working as a shepherd at Cockbury Farm during the 1890s? (see above)).
After World War 1, and with Charlotte qualifying under the women's emancipation laws, she was listed in the electoral register with her husband at Cockbury Cottages each year from 1918. Also with them were two sons and their wives (Isaac John and Elsie, Matthew and Eliza listed as Lizzie), the first probably not continuously. In 1927, when Charlotte was nearly 80, she and John moved to Driffield near Winchcombe, perhaps retired, with son Isaac remaining at Cockbury Cottages for one more year. But in1928 Charlotte and John were back in Cockbury, though at an unknown address which was other than Cockbury Cottages now occupied by other families. In 1930 Charlotte died at the age of 82.
Of the children, the illegitimate Helen Fardon was born in late 1867, almost certainly the issue of the relationship with a man called Lovsey (see above). She died three years later. The first Hall child, Isaac John, was born at Sevenhampton in 1881 and baptised there. The rest were born at Wontley 1883-1890, of these the first two girls Annie and Alice returning to Sevenhampton for baptism. Alma Jane seems not to have had an infant baptism, the ceremony taking place at Bishops Cleeve in 1910 when she was 21 and baptised as Jinny; no record of the baptism of the last child, Matthew, has yet been found.
The girls disappeared from the records, presumably on marriage, but the two boys remained in the area. Both married, Isaac to an Elsie at unknown time and place, Matthew to Eliza Handley, known as Lizzie, in 1911 in the Winchcombe district. Both were living at Cockbury Cottages after the First War, with their wives , presumably working with their father at Cockbury Farm. Isacc remained at Cockbury in 1927, after his parents had retired to Driffield, but for only one year. The following year, when the parents returned to Cockbury, he had gone. These are not Fardons and have not been followed further.
S8 David
and S9Harriet Rose Emily
Back now to the rest of Isaac's children. These are two who died while still babies, David after six months, Harriet after about a year. David was born and baptised in Sevenhampton in mid-1850 but died early the following year. Harriet was born probably in early 1852 and given a private baptism in June of that year. She died within a year, in mid-January 1853.
Harriet, the last of Isaac's children, married a gardener, spent the first part of her married life locally but later moved with her family to the Bicester area of Oxfordshire where she spent the rest of her life. On the basis of 1891 and 1901 census entries she seems to have preferred to be known as Annie in later life. She was born in Brockhampton in 1853 and was baptised taking the first name of her recently-deceased sister. She was at home at the Craven Arms Inn in 1861, 1871 and 1881. Perhaps she worked at the family inn, for in 1881 she was listed as a barmaid, though, curiously, "out of employ" at the time. This was in the short period between the deaths of her father and mother, when her mother was listed as the innkeeper.
In late 1881 Harriet, shown as age 24, married Henry Phipps, 28, at Sevenhampton. She was still resident at the Craven Arms. He was a gardener, son of an agricultural labourer from Upper or Lower Slaughter who had been lodging with Thomas Hoare, shoemaker, in Brockhampton earlier in the year, and more recently at Brockhampton Post Office. Like her sister Charlotte, Harriet will presumably have left the Craven Arms following the death of her mother in 1882, but she did not move far. In 1891 she, with her husband and three children, were living in Sevenhampton, listed in the census as now being next door to the Craven Arms which had a new licensee.
By 1897 the family had moved to Oxfordshire, with the birth of a son registered that year in Banbury. In 1901 the death of a daughter was registered in Bicester and the family was shown in the census of that year to be living at Mereton, Bicester. The next information on Harriet was the registration of her death in Bicester in 1904 at the age of 50.
There were four children, three girls born probably in Sevenhampton (registered in Northleach), a boy born in Banbury, Oxfordshire. The third girl died at age 11. These are not Fardons by name and have not been further followed. Known details are listed in the Sources part of this document.
The Fardons as farmers in Gloucestershire
A feature of this branch of the Fardons was the number of its members who engaged in farming, all of them locally in north Gloucestershire. Indeed, at the end of the nineteenth century through to the middle of the twentieth there were few farms in the area bounded by Cheltenham, Winchcombe and Andoversford that had not had a Fardon in residence, as well as a few farms further east (though still in Gloucestershire). There are the full range of farming occupations, from (presumably tenant) farmer, though bailiff to herdsman, shepherd and labourer. Some Fardons were relatively static, spending long periods in one location, others moved from farm to farm.
The following table pulls together from the Sources listing all the places and farms associated with Fardons in this context. In some cases the information is from electoral registers, which may or not give an address; in the latter case, where all that is known is that the subject was living in a certain parish, the continuation of his agricultural career is assumed (eg John Burton at Postlip).
Those involved here were Isaac himself, his daughter-in-law Elizabeth, her son John William, and some of John's sons and daughters; also Isaac's daughter Charlotte Bessie. In addition, there was a Fardon family from another family branch farming in the area (Henry at Spoonley Farm, Sudeley, and following him his son Frederick, see chapter 6). These are included in the table for completeness.

Farms in the Cheltenham-Winchcombe area associated with Fardons
Notes:
John William is the John, b1862, son of Daniel. John William2 is his grandson, b1923 and son of James.
All are of the Isaac branch (chapter 20) except Henry and his son Frederick, at Sudeley/ Spoonley, who are of the William branch of the family (chapter 6)
| | | | |
| --- | --- | --- | --- |
| place | farm | name | occupation, address, dates, comments |
| Broadwell | Manor | James | address Bowl Cottages, 1941-50 |
| Charlton Abbots | Cotehay | Elizabeth | farmer's wife 1879-80, farmer 1871-9x |
| Charlton Abbots | Cotehay? | John William | labourer, shepherd, c1889-91, prob working at mother's farm |
| Charlton Abbots | Goldwell | John William | farmer 1901-1910 (widow Mary continued as farmer up to 1948) |
| Charlton Abbots | (Goldwell) | John Burton | bailiff, perhaps at mother's farm, 1916 |
| Charlton Abbots | Holt | William Henry | 1927-50. At least 1946-50 at Holt Farm, probably farmer |
| Charlton Abbots | Manor | Victoria Alex. | perh farmer's wife, 1922-57 |
| Cheltenham | Oakley | William | farmer, 1907-19 |
| Cleeve Hill | Cockbury | John William | labourer and shepherd, 1890s |
| Cleeve Hill | Cockbury | Charlotte Bessie | wife of farm labourer, 1901-1930 |
| Cleeve Hill | ?Corndean | John Burton | unknown, 1918-19, addr Corndean Hall Cottages |
| Cleeve Hill | ?Postlip | John Burton | address Postlip, 1924, presumably in farming |
| Cleeve Hill | Wontley | Charlotte Bessie | wife of farm labourer, 1883-90 |
| Dowdeswell | Heylings | Sarah Marion | farmer's wife, 1919-?25 |
| Dowdeswell | Upper | Sarah Marion | farmer's wife, 1918 |
| Dowdeswell | unknown | James | address Cold Comfort 1922-1926 |
| Evenlode | unknown | John William2 | diary farmer 1951-58, address Wells Folly |
| Eyford | Swiss | James | farm foreman, 1937-38 |
| Eyford | unknown | John Burton | 1927-34, address unknown |
| Ford (T Guiting) | Village | Sarah Marion | farmer's wife, 1926-35 |
| Ford (T Guiting) | unknown | John Burton | farm labourer, 1935-39, address unknown |
| Fyfield | unknown | James | farm bailiff, 1929-37, address unknown |
| Hawling | Manor | Harry Oliver | herdsman, 1955-62 |
| Lwr Slaughter | Lower | John Burton | 1946, address Lower Farm Cottages |
| Lwr Slaughter | unknown | John Burton | 1950, address Cress Cottages |
| Postlip | unknown | John Burton | 1920-24, address unknown, agr. occupation assumed |
| Postlip | unknown | Victoria Alex. | 1919-24, address unknown, ,husband's agr occupation assumed |
| Pendrock | unknown | John William2 | herdsman 1958-79 |
| Sudeley | Parks | John Buxton | 1926, address Parks Cottages |
| Sudeley | Spoonley | Henry | farmer, 1871-1908 |
| Sudeley | Spoonley | Frederick | farmer 1908-12 |
| Sudeley | Sudeley Lodge | John Burton | labourer, 1925, addr Sudeley Lodge Cottages |
| Sudeley | ?Wadfield | William Henry | addr Humblebee Cottages, 1925-26 |
| Woodmancote | Linworth | Sarah Marion | farmer's wife, 1913-14 |
This page was last Updated 11 July 2015